Bullet
A fast and relatively inexpensive bullet journal app with Android, iOS, and Web apps that sync quickly. It has room for improvement but a good start.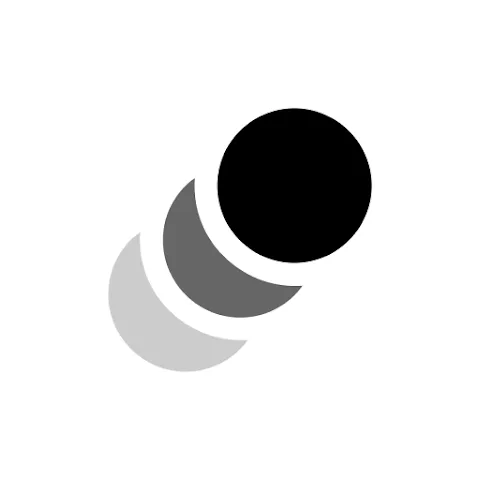 Welcome to Episode #78 during what seems to be an endless winter here outside of Toronto, Canada. A couple of new folks joined the ride this week.
💡
Welcome, Silvio from Brazil and Jakob from Denmark to my newsletter. Those are two places I'd love to visit and thanks for subscribing!
This week I tested a fairly simple and effective app called Bullet which I read about last week in Elizabeth Butlers's "The 12 best new note-taking apps to watch in 2023".  I have a bunch of the apps on her list in mind but most require subscriptions so they've been further down the backlog.
There are not enough features in the free version of Bullet which makes it slightly disappointing when you are trying it out and annoying as you keep getting asked to upgrade. That said, there's a 3-day free trial on the subscription and that should be longer in my opinion.
The app has potential but it's not one that I will be using. At least not yet. If you need a fast bullet journal or you like testing apps, definitely try it out. There's a 'guest' mode where you can play but if you have any inkling that you will use the service, register first.
The Developer Hamish Johnson appears responsive to user feedback and questions and the pricing is reasonable at CAD (that's Canadian dollars eh!) 5.49/mo or 27.99/yr.
Hamish has done a few nice things in the snappy user interface like colouring checkboxes based on the priority of a task, integrating with your device's calendar, and custom daily prompts for diary/journalling.
My biggest concerns are the lack of sharing, no exporting of notes, no backup and restore, and no Markdown support. These are non-starters for a note-taking app, especially a cloud one by an independent Developer who may decide to stop providing the service at any time or forget to pay their cloud bill(s)!
Read on for the ugly, bad, good, great, and awesome aspects of Bullet.
Screenshots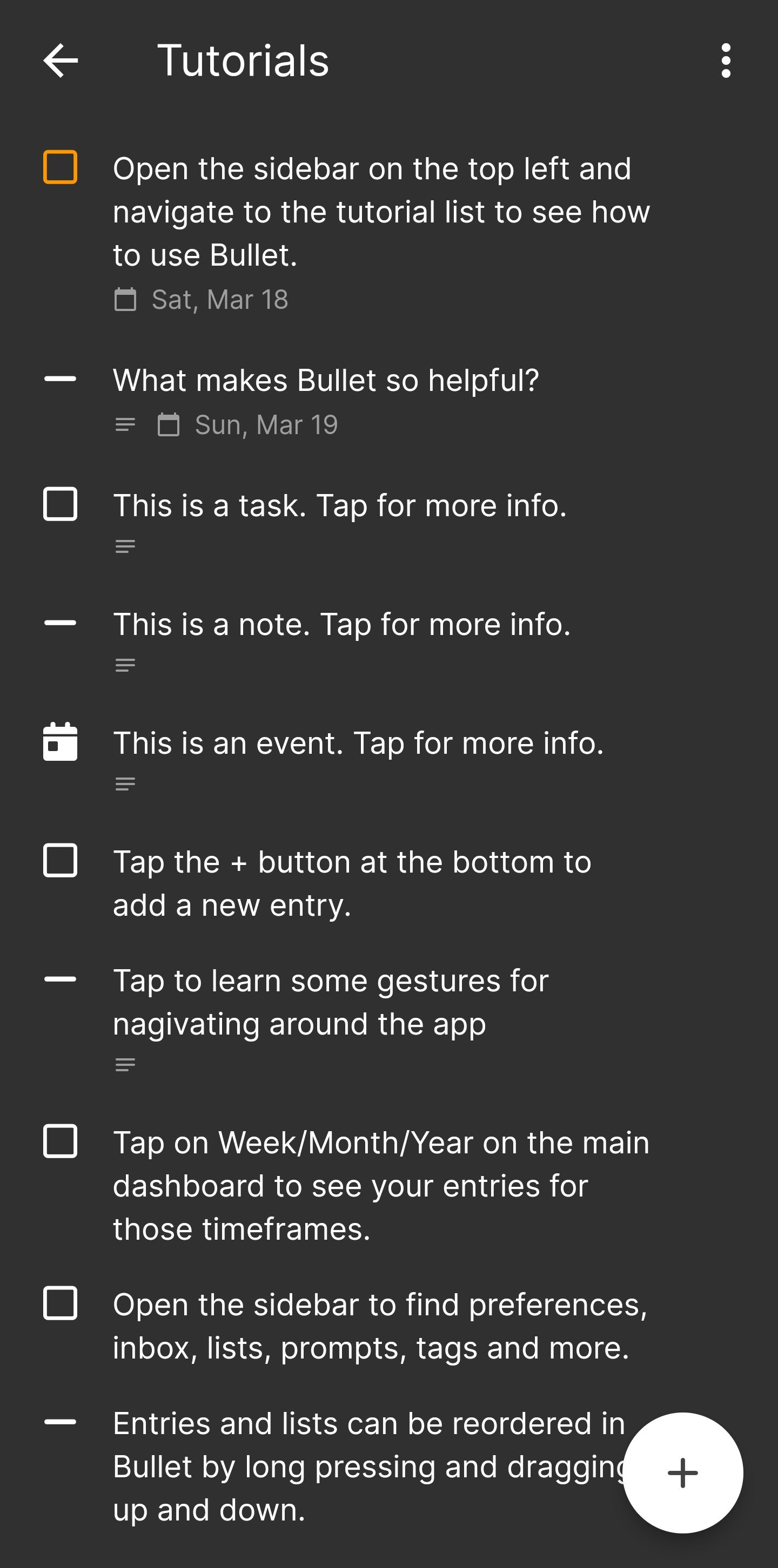 Meta
Ugly
No export
No backup and restore
No sharing of a collection of items
A new item has very little space to write but does expand. The list of choices should really be a toolbar
Too many features require upgrading
Bad
Not local first
Too much sample data (Tutorial)
The "+" to add a note is too far up from the bottom of the screen
No Markdown support
No text formatting
No undo/redo
If you have one item complete, the v is obscured by the + button
When in the calendar, today is not highlighted/does not stand out
Open and closing items use transitions that make it feel like the UI is flashing
Good
Sublists (Premium)
Hide notes (Premium)
Tags (Premium)
Images (Premium)
Search (Premium)
Set importance: High, medium, low, none
Add photos(Premium)
Dark mode
Inline checklist items
Biometric lock on the app (Premium)
Being maintained
Archive an entry
Change the default entry type: task, note, event
Reasonable price
Move ("migrate") bullets to another day, week, month, or year
Great
Fast
Free
Connect to the device's calendar
Include checklist items, notes, and events in the same place
Repeating tasks (Premium)
Subtasks (Premium)
iOS version as well
Puts completed items at the bottom of the page in a collapsed section
Uses Canny for a public backlog of bugs and features
Awesome
Simple to use, clean UI
Calendar list view: day, week, month, year
Drag and drop bullets around the page
Android, iOS, and Web apps
Sync is superfast between devices
The calendar is friendly e.g. "Last Thursday"
Nicely colour-coded checkboxes based on importance, subtle and powerful
Custom prompts to ask each day e.g. "what you're thankful for?
Happy note-taking and "see" you in a week!
Stone.