Bundled Notes
Markdown support and the ability to sync notes between devices with Kanban boards and reminders make this a top app except that its is "cloud" first.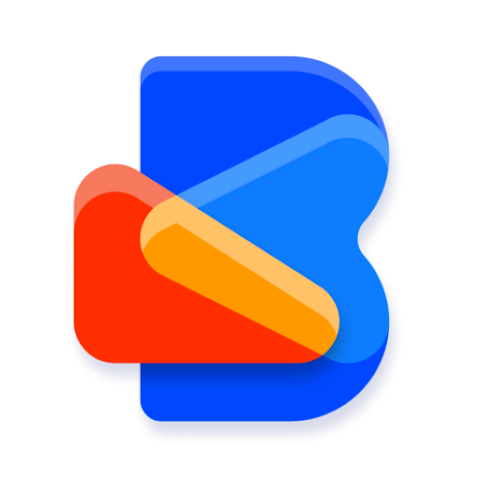 Welcome to episode #75 of my "are we there yet?!" adventure to find the best Android (for now) note-taking app for me and maybe for you too. This week I review another cloud-reliant app as I'm running low on worthwhile local-first, open-source, Markdown-based apps to review. Please let me know if you find one worth checking that I've missed!
My preference is for open-source apps created by small companies or a few developers who are fully transparent about how they develop, how they protect my notes, and how they will continue to maintain their app. My notes are important to me so I can't rely on a pet project that dies when the Developer changes hobbies.
A new subscriber! A new subscriber!
💡
Welcome to RK from India, the sole new subscriber to the newsletter this week. RK, you are not alone!
I just did my weekly vanity check and am now at 1,290 followers across all social networks or what the cool kids call "socials". Big time stuff!
This was a snowy, icy week in the Toronto area. I ventured out to Arby's for lunch yesterday and ice was flying off the top of cars in front of me just like how a Blackjack dealer whips out cards. I survived that and the Beef and Cheddar combo. Back home last night I started testing an app called "Bundled Notes" that's been in my backlog for quite some time.
I first heard about this app from Santa Chest Hairs on reddit. What a catchy user id that is!
The app looks beautiful and uses the Android Material theme with nice colours but it only provides a selection of 3 fonts, none of which are my favourite. Why is it called Bundled Notes you ask?
You can bundle notes into a collection which is better than just plain folders. You can add a description to a bundle, tag a bundle, and archive a bundle. With the free version you get six bundles which is plenty for most people. For example, you could have a bundle of notes for home, one for work, and still, four left for your hobbies.
The free version has a ton of functionality and if you subscribe for USD 2.19 per month or USD19.99 per year, you get Web access to your notes, more bundles, an unlimited number of notes, and 15GB of storage. That's a reasonable price for a note-taking app, a good amount of storage, and you can always get your notes out in a ZIP file and then easily delete your data.
Bundled Notes has Markdown support, the ability to sync notes between devices, Kanban boards, and reminders, and you can see all your files and photo attachments in one place. It also has a few surprises up its sleeve.
I don't get surprised very often anymore but this one surprised me with its actions on notes feature. You can create actions on notes very easily via three selectable options per folder: add a checkbox, archive, or swap tags. It's hard to explain but their TV and Movies example shows it off. I was blown away by how simple and innovative was. You can use it to have simple workflows which is quite powerful.
Another innovative feature is the ability to archive a bundle of notes. This would be great for mini projects that have a bunch of notes and you want to get them out of sight once you're done but also keep them. Very smart! Who is behind these innovations?
Xavier Tobin is the Developer and they are based out of a land down under. Can't you hear, can't you hear the thunder? (sorry, had to as that was one of my favourite songs). The link from Xavier's site to GitHub is broken but you can see his GitHub bio. Again, there the page links to another dead end: reveried.com. I was worried until I found him on LinkedIn and saw that he's actively working on a new, refactored Android version.
What's impressive is that Xavier is a self-taught Developer. As of late last year, he's working with an iOS Developer Maximiliano ("Max") Chiesa to create a version of Bundle Notes for Apple. That would be amazing since they'd cover Android, iOS, and the Web which gives access to any platform with a Web browser.
Warning
! if you choose an app like this, make sure you export your notes periodically since simple things like the
Developer's credit card expiring
could impact your service. It's not specific to Bundled Notes but it's important to be aware of. Remember that cloud just means someone else's computer which someone else has to pay for.
OK, That's enough writing for today. Read on for the ugly, the bad, the good, the great, and the awesome aspects of Bundle Notes and thanks for reading!
Screenshots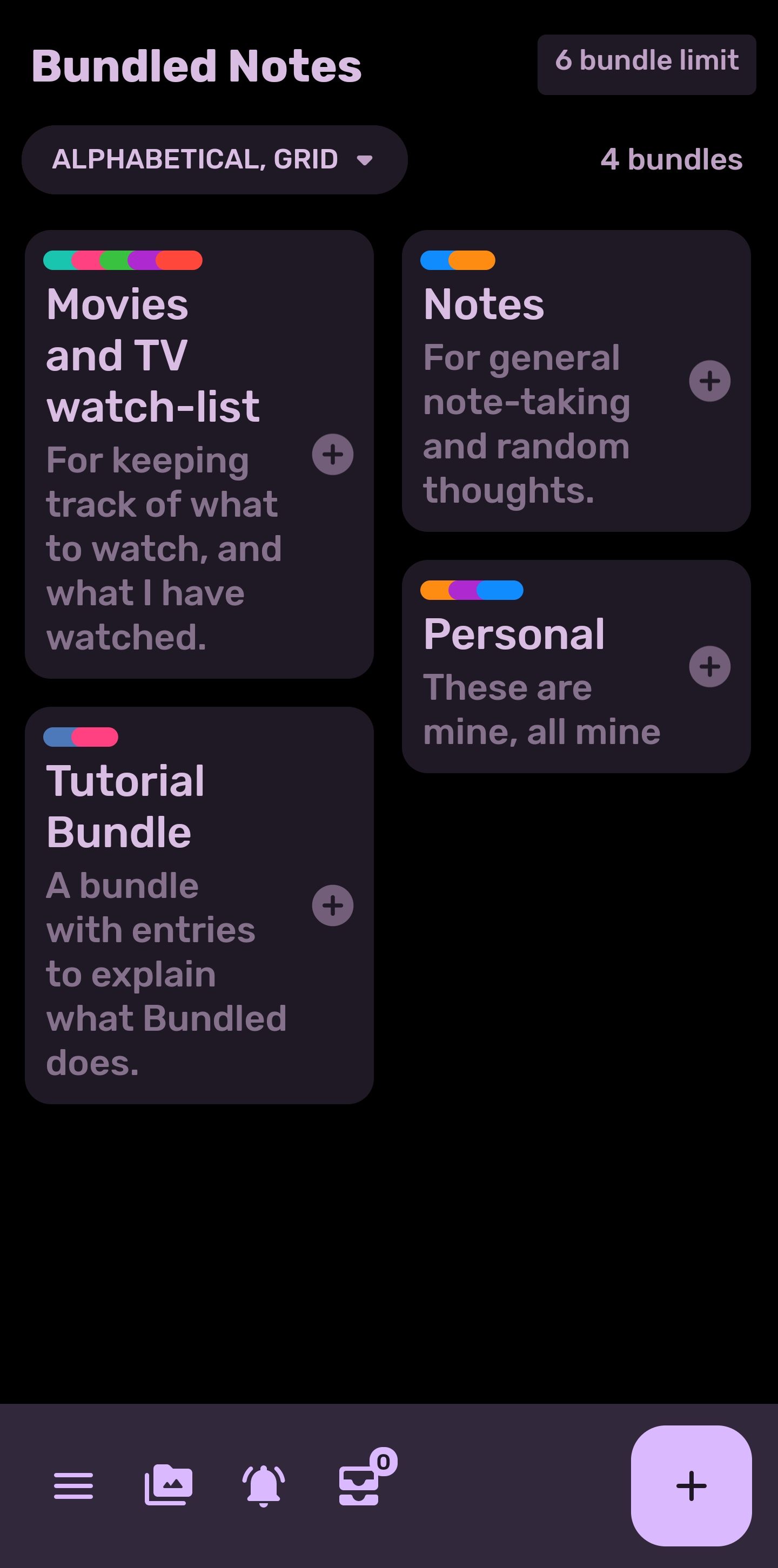 Play Store Description
powerful notes, lists, reminders and to-do app. Easily organise notes, lists, photos, files, and more. Pro users can access and edit their notes instantly at bundlednotes.com
Meta
Ugly
Requires an account, not local first
The Kanban board setup is confusing
Forgot to pay his hosting bill which interrupted the service
Bad
Does not put the note in the subject line when sharing via email
UI is a bit clunky
Confusing with so many options
Buttons and other UI elements are too big
No scheduled backup to SD or personal cloud services
Good
Text formatting: bold, italics, strikethrough
code and code blocks
Tags on notes
Inline checklists
ordered (numbered) list
Attach image
Attach other files
Toolbar
Headings
3 Heading levels
Undo and redo
Hyperlinks
Note info: word count, character count, date created, date modified
Share as text
Share via email
Share via SMS
Duplicate a note
Archive a note
Search across notes
Grid, card, and list view of notes
Collections (Bundles) of notes
Sort by date created, modified
Sort alphabetically
3 fonts
25 font sizes
Archive a note
Pin a note
Reading mode
Dark mode
Duplicate a note
Colour notes
Select multiple notes is really nicely done
Export notes
Great
Markdown support
Markdown sample note showing the tags
Attach file
Colourful
Reminder on a note
Share as HTML
Templates: Notes, Movies & TV Watchlist, Project, Tutorial
Copy note text as HTML or text
Pin note to the notification bar
Custom settings for bundles themselves
Sort notes manually
Kanban board (see ugly)
Descriptions on collections (bundles)
Image preview in the note list
9+ languages
OLED mode
500 MB attachment size (paid)
Unlimited notes (paid)
Attachment and file gallery
Shows completion x/y notes done and %
Awesome
Free with option to upgrade
No ads
Actions on notes: checkbox, archive, swap tags
Device sync
Colours on tags
Web access (paid)
Add a note to a collection (bundle) directly from the main screen using +
Shows tags on notes in the note list
Hyperlink previews
Toolbar buttons are great: H toggles between H1, H2, H3 and o toggles between unchecked checkbox, checked checkbox, no checkbox
Group notes by priority
Search within a collection (bundle)
Swipe from left or right and the actions are configurable: add reminder, pin, delete, archive