Coda
Well designed from a UI perspective and has WYSIWYG editing using Markdown syntax but a significantly limited companion to their Web app.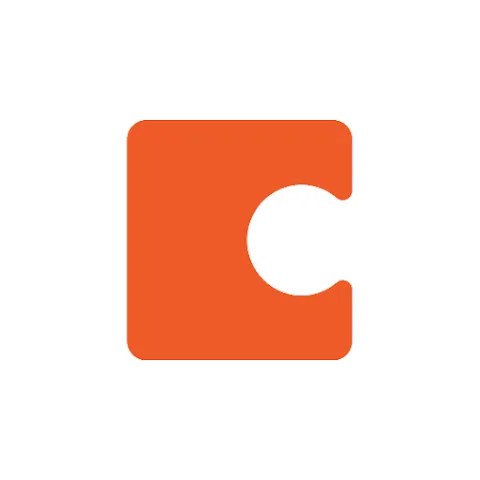 Welcome to Episode #96 of the quest to find the best note-taking app for Android.
This week I tested out an app called Coda that is closer to a document collaboration tool than a note-taking app.
The co-founders Shishir Mehrotra (CEO) and Alex DeNeui (CTO) have significant experience working at Microsoft and Google and both graduated from M.I.T. They obtained close to a quarter of a billion dollars in funding according to Crunchbase. I can't imagine they would need 240 million USD to build and run this service.
Coda is well designed from a UI perspective and has WYSIWYG editing using Markdown syntax. It's a significantly limited companion to their Web app.
The app requires you to create an account so is not local first. It does not support image attachments which is a huge gap unless you're looking for a writing tool. An image added on the Web is visible in the app but I couldn't figure out how to add an image within the Android app.
The corresponding Web app is very good and has oodles more functionality including tons of integrations, templates, @mentions, buttons to automate actions, suggest changes, and advanced tables.
Read on for the ugly, the bad, the good, the great, and the awesome aspects of Coda.
Screenshot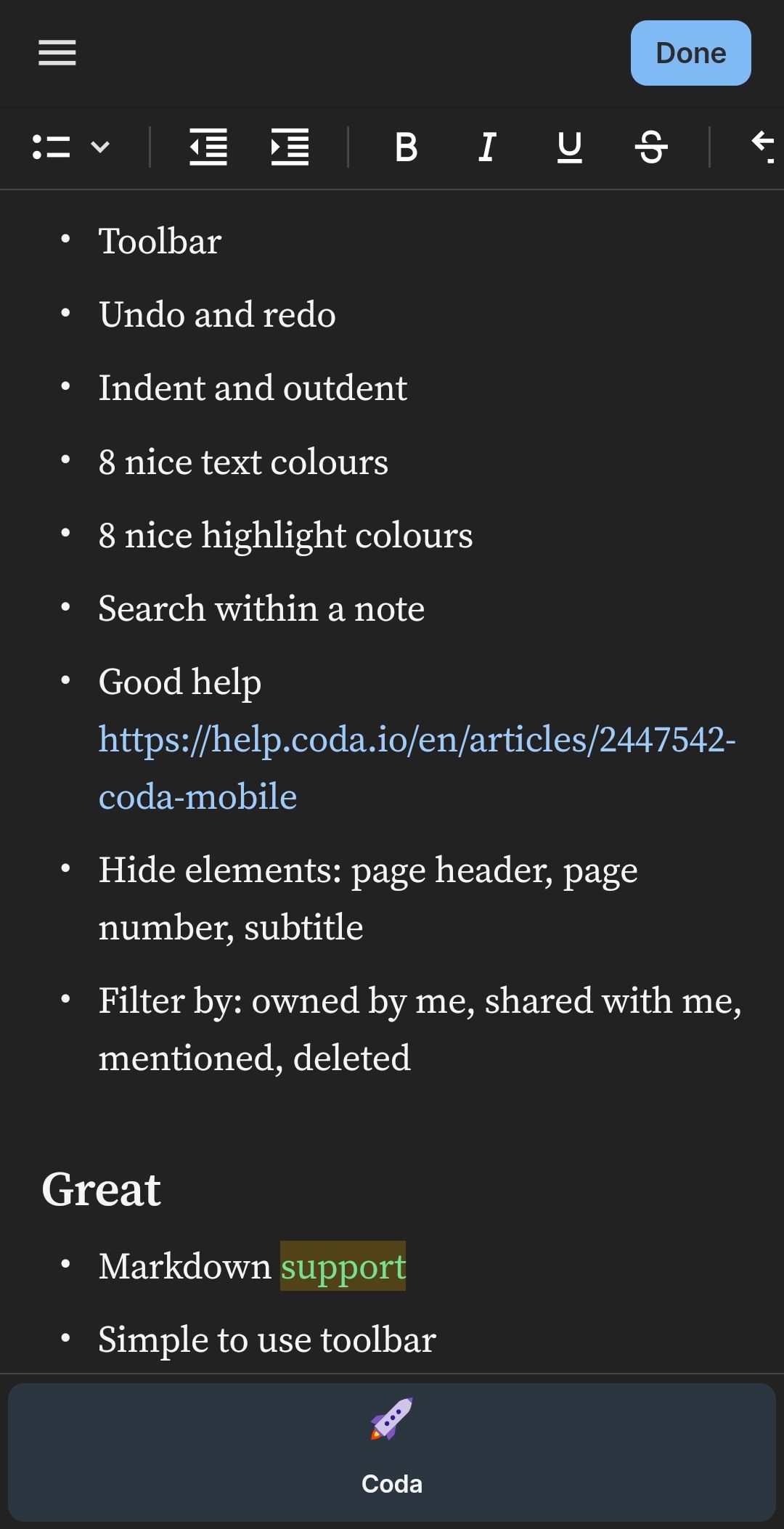 Quotes
Meet the evolution of docs. Simple. Familiar. But built to adapt to your team's needs. Coda brings all your words, data, and teamwork into one powerful doc.
Coda combines all your forms, documents, & spreadsheets into one flexible surface.
Meta
Score: 6/10
Device: Samsung S34 Ultra
Version: 1.0.30
Google Play rating: 3.6*
Last updated: 2023-06-15
Developer: Coda
Location: Mountain View, California
Ugly
Bad
The first creation of a doc is sluggish
Requires account
No export to PDF or Markdown
No share as text or Markdown
No image attachments
No audio attachments
If you paste a URL into a bullet it's difficult to edit it
Good
Text formatting: bold, italics, underline, strike-through
Bullets
Inline checklists
Quotes
code and code blocks
Toolbar
Undo and redo
Indent and outdent
8 nice text colours
8 nice highlight colours
Search within a note
Good help
Hide elements: page header, page number, subtitle
Filter by: owned by me, shared with me, mentioned, deleted
Great
Markdown support
The toolbar is simple to use
Bookmark a note
Notifications (not sure of what but I expect re. comments from collaborators)
Page subtitle
Nice clean UI
Import from Google Docs, Excel, Notion, CSV, Markdown, Confluence, Airtable (beta), Trello
@mention collaborators
Awesome
Add collaborators via email but then they need to create an account
Add collaborators with comment-only access
Add collaborators as viewers or editors
Add collaborator via Slack
Pages with a table of contents
Share with Google Groups
Comments
Show or hide the page author
Google-ish sharing options: anyone in the same domain, specific email address
Document navigation in the sidebar or as tabs on the bottom of the page
Thanks for reading my review and have a great note-taking week ahead!