Effie
A minimalist native writing app with support for Markdown, mind-mapping, oodles of fonts, and sync across devices. No Web app and not local-first.


Hi there and welcome to Episode #81 of my never-ending journey looking for the best Android note-taking app. This hobby just keeps on giving and before I tell you about this week's app, a quick thank you to my sponsors:
💡
Doh! No new subscribers this week. Instead, let me say THANK YOU to you for subscribing and continuing to follow along. It's nice knowing there are folks out there interested in the same thing as me!
This week I tried out Effie which is an app from China which may deter some fellow Canadians and some neighbours to the South. That said, you should read on as Effie is quite good and worth checking out. From what I can see they're using Amazon in the U.S. to host the back end so at least your data is on U.S. soil. Who is behind Effie?
The CTO is Min Shen who has a long career in serious software development including driver-level work and large-scale software-based services. I crept his Twitter feed and I like his book collection! Min is based in Shanghai and, from what I can tell, he started creating the desktop version of this app in 2017 and his company Sunisoft in 2018. The app was called Inspire at the time. Then, in early 2020, he started the company, Effie.
Min's co-founder and Product Manager is Nate Lee who joined in 2021 according to LinkedIn. Nate is also from Shanghai and is a venture partner at Happy Tiger Capital which invests in the food and beverages industry. Interestingly, he also has a video channel with more than 1 million subscribers across social media. I found his channel on YouTube with 187K followers. That's the first note-taking app founder who's also an Influencer!
You can sign up for Effie with a Google or Apple account or an email address and there are native apps for Windows, Mac, iPhone, iPad, and Android but no Web app which surprised me.
They support Markdown with some variances which is ok, but not a great idea. Most of the basic Markdown syntax is supported. The user interface is intentionally clean, fast, simple, and stays out of your way so you can focus on writing.
Effie also supports mind mapping which is rare in a writing or note-taking app so kudos to them. I'm not certain it's available on the Android version as I didn't sign up to check.
Adding inline images to a note is easy and it's one of the simplest user interfaces I've seen to change the thumbnail size from small to medium or large. The default is about the size of my thumb which is perfect (I have good Dutch farmboy-sized fingers and thumbs).
Effie supports comment blocks which are like callouts and a nice feature. The number of fonts supported is insane, I kept scrolling forever and stopped counting around 50. Unfortunately, you can't see what the font style will look like until you choose one.
I'm not sure how long the evaluation version runs but what's great are there are no ads. You can upgrade for USD 6.49/Mo or 37.99/yr to be able to store the original/full image files and publish them to WordPress, plus a number of customizations.
Read on for the ugly, bad, good, great, and awesome features of Effie! The pic is from a sunset over our street this week.
Screenshots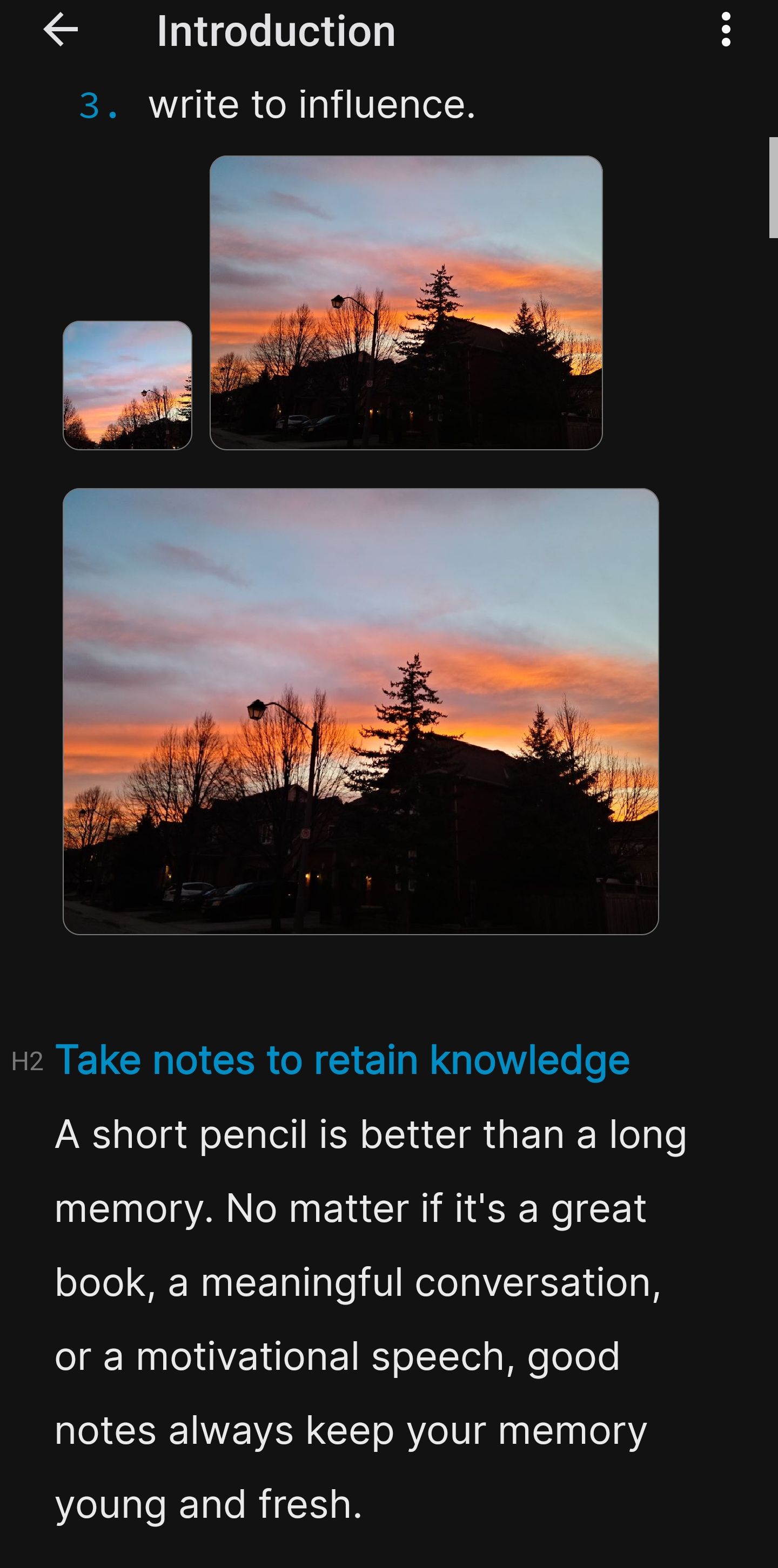 Quotes
We always have been committed to developing Effie independently with no financing and acquisition. As we step forward, we'd love to devote ourselves to bringing out the best of Effie as a timeless brand.
Effie is a writing app I made for myself and later opened up to the marketplace for everyone to use. The app currently has more than 300k+ users. Effie focuses on immersive writing and integrates the function of mind mapping, and is recommended for everyone who writes creatively.
We strongly recommend that you don't use Effie offline
Pure native code, 0% JavaScript
Meta
Score: 8/10
Version: 1.5.2
Device: Samsung S20 5G
Web: effie.pro
Organization: 7S2P Inc.
Location: Shanghai, China
Ugly
Not for offline use
Have their own flavour of Markdown
Bad
Can't use [Markdown hyperlink](https://google.ca) format
No inline checklists
No Web app
Doesn't show images in the note list
Good
Text formatting: bold, italics, strike-through
Highlight
Horizontal line
Toolbar
Undo and redo
Bullets
Numbered (ordered) list
Indent and outdent
Export to text
Export to Effie sheet
Copy note
An insane number of fonts
Folders
Dark mode
Hyperlink
Word and character count
Reading time
17 font sizes
6 heading levels
code
code block
Good blog posts
Trash
Quote
Blockquote
Great
Very fast
Free trial
Markdown support (see Ugly)
No ads!
Search across and within notes
WYSIWYG editing
Change line height
Change font sizes for headings
export to PDF
export to Docx
Share as image
Very cool Markdown toolbar
Toolbar button > to move one character to the right or left `<
Insert hyperlink dialog
Sample notes and well-written help
Awesome
Windows, Mac, iPhone, iPad, and Android
Comment block
Device sync
Share as image with 7 templates (upgrade)
Mindmap view (upgrade)
Share to WordPress (upgrade)
The end.
Happy note-taking week ahead!