Is the 54th note app the best one?
Clipto errata, cross-border notebook shopping, tags on posts, Obsidian doings, and app review #54 : jtx Board.
Thanks again to note-app whisperer Sahil, a university student in India, for suggesting that I try Clipto, jtx Board, and Graphite. As a fellow de-Googler, we share a common interest in protecting our privacy and keeping our notes under our control. Thanks, Sahil for the suggestions!
Before I get into app review #54, I have a few updates to share from my week in note-taking. If you prefer to only see the app review, scroll down to the big pink banner.
Inching forward
I'm inching towards my goal of 1,000 people across social networks. Up to 713 "followers" not excluding duplicates, fake identities, or my sister Janet!
A big warm welcome to the +2 folks who signed up for this newsletter this week.
💡
Welcome to James from France and Zyair from Poland!
I enjoy meeting people, even briefly and virtually. There are so many interesting people out there and if we share a common interest, bonus points! Before reflecting on my past week in note-taking, I need to correct the last review.
Clipto errata
I made a couple of errors and omissions in last week's update. In my haste to publish, I incorrectly linked to Joplin, it should've been JotterPad. I also had a few grammatical errors which the robots over at Grammarly suggested I correct so I cleaned those up.
One big correction I made was related to the pricing of Clipto. The $5/mo plan is for a maximum of 30,300 notes, not 300,300.
I also missed a few features and one limitation of Clipto plus a feature that I stumbled upon!
6 Heading levels
Authentication via Google
Tables (Markdown)
No front matter
You can add a description and an abbreviation on a note
(almost) full-screen mode while editing a note
I played with the app a bit more this week and enjoyed it. I will keep it on my Android desktop, in my second-class Note Apps folder.
Now that I've admitted my mistake, let me offset that by telling you about some of the improvements that I made this week.
Incremental improvements
I enjoy trying new approaches and techniques related to work and my hobbies so while I was editing some of the older posts, I made some changes.
All posts are now public: no more Subscriber-only sections or posts! If you find one that is still paywalled, please let me know. Thanks to folks for encouraging me to make this change by using account names like lol what, mehhhhh, test, Giveme Free, and my favourite stfu!
I split out the past four weekly newsletter posts from the actual app reviews. This is so future viewers can read only the app review and, when I cross-post a review, those interested in only the app don't get the extra verbiage of the newsletter.
Finally, I added a few more tags to each of my reviews and am excited to tell you a bit more about that.
Tags on Posts
I have a few tags on my www.noteapps.ca reviews that are important to me. Click on any of these to try it out:
Ghost recently added search support so you can also search all of my posts by clicking the hourglass at the top right of the site and entering a keyword.
If you need a rank-ordered list of apps, please visit my sister site which is still a prototype: noteapps.softr.app. It's on my backlog to play more with Airtable and add more filters. One feature of that site is the ability to filter apps based on their ease of use.
I am Readwiser
This week I finally signed up for the paid Readwise plan after learning about Readwise Reader. Thanks to Nicole van der Hoeven for sharing the news and insights into the new tool in her great video: I can finally tell you about Readwise Reader.
Right after signing up for Readwise, I got value out of it. I noticed there was an integration with Kobo so I connected my old account and it pulled quotes from a couple of books I had highlighted. I had forgotten about this one.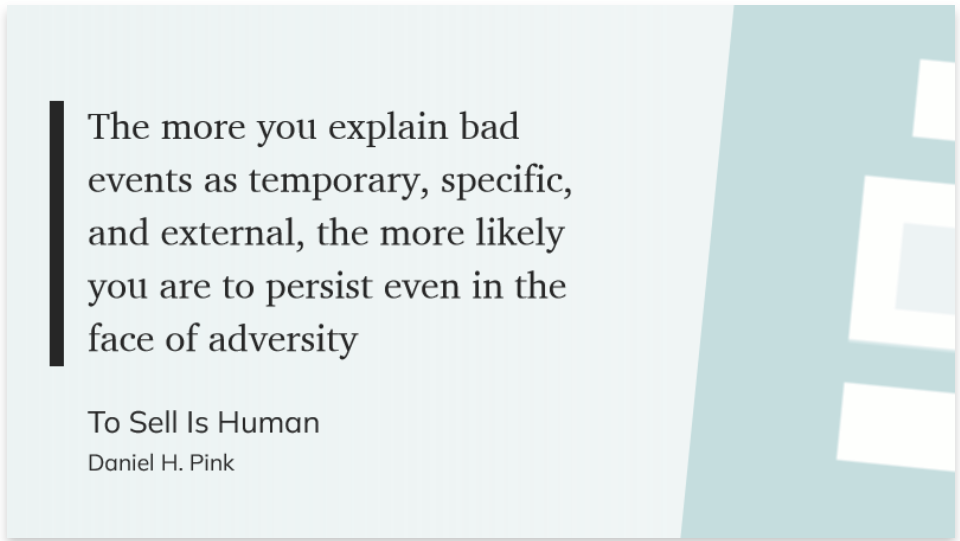 Another nice touch was the welcome note I got from their Community Manager Erin on reddit. I've signed up for the preview of their Readwise Reader and am excited to try it once I get access.
That reminds me, I need to re-enable the official Readwise Obsidian plugin! And speaking of Obsidian, it wouldn't be a week-in-review without telling you what I did related to Obsidian this past week.
Obsidian Weekly
As in previous weeks, I did some work on my Obsidian vault. A few interesting things I tried this week:
I did buy a few apps this week but had nothing to declare when crossing the border when coming back into Canada.
Cross-border note shopping
One final note before we get to the weekly app review. My wife and I were on staycation this week and did a few day trips. One was to Buffalo, New York to do some shopping at Target and Trader Joes which we don't have here in Canada. She bought a few home decor things and oodles of spices and I killed time checking out the note books and journals! To see some of the books I didn't buy, check out this Twitter thread.
OK, you are so patient and here is this week's review!
jtx Board
app review #54
Summary
jtx Board is an Open-Source, standards-based app with calendar integration, Markdown-based notes, and tasks. It's OK for short notes but a bit awkward for longer notes. jtx could be great for meetings with its calendar integration and support for attendees, location, and tasks. Supports VJournal which I don't know much about, but I intend to research. I expect students could benefit from it.
Images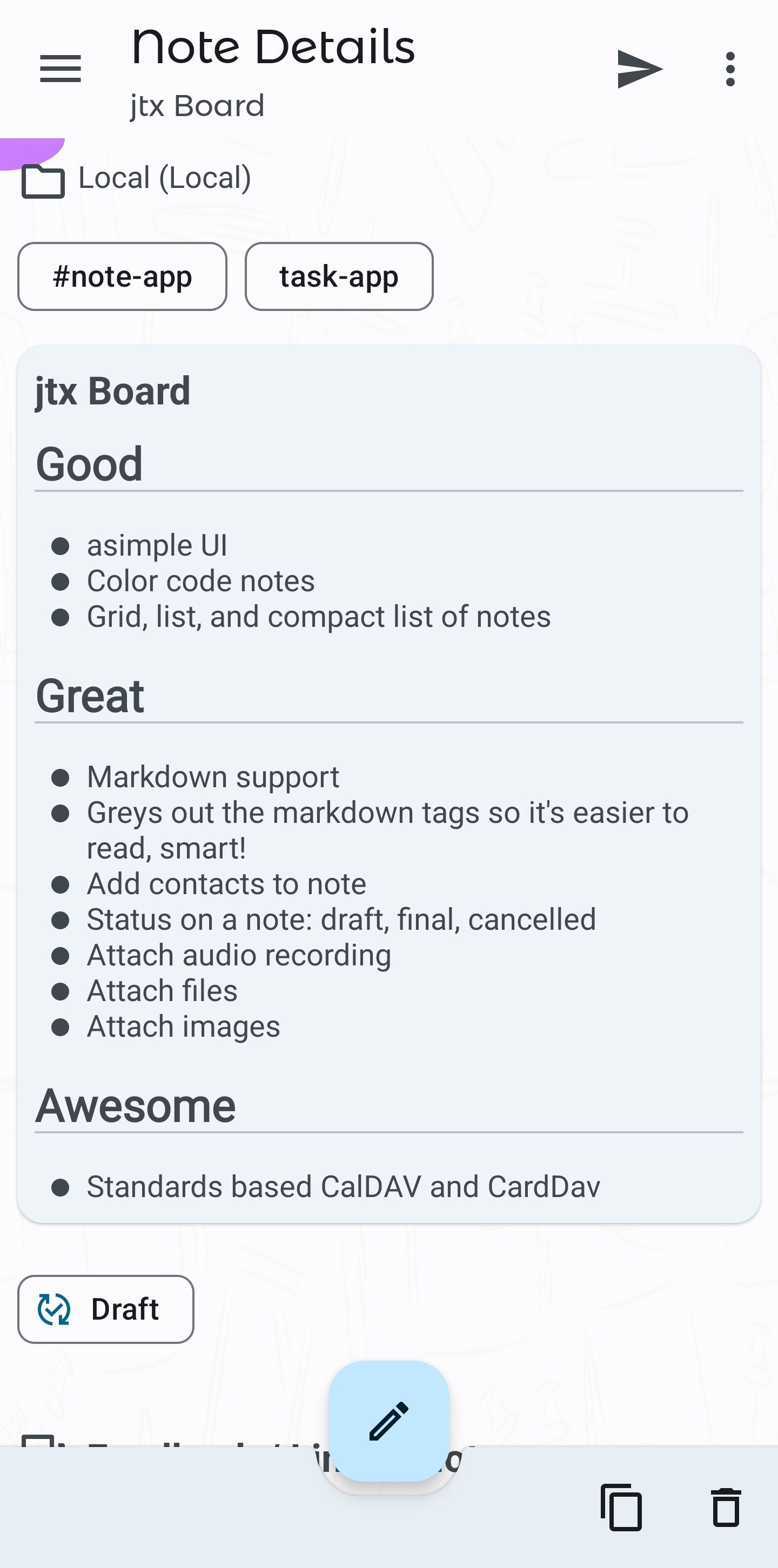 Quotes
"More than a decade after the finalization of RFC-5545 there is finally a beautiful and clear app that supports the VJournal component for journals and notes :-)" - Thomas Frank - [1]
DAVx5 has had a collaboration with jtx Board to bring that to [life] and thus you can synchronize it via CalDAV with your own server, which is super nice - so all the data stays where you decide it should. - [4]
References
Meta
Score: 8/10
Device: Samsung S20 5G
Version: 1.02.04-rc08.gplay
Location: Wien, Austria
Ugly
Fastmail and Gmail couldn't open up the .ics file that I shared from the app
Bad
Bullets aren't added when I press enter on the existing bullet, have to manually type "- " for each bullet :(
In Kanban View of notes, you cannot see the "Planned" queue as the app swipes to the next function (tasks)
Status of note defaults to final, would be good to have an option to default it to draft
No #tags in notes
No WYSIWYG editing
Too much "chrome" around the note when editing
Wish it could go full screen i.e. remove the blue frame around the note text
Share via email puts note title in the subject line (good) and the body (bad)
Menu item to delete all visible notes, dangerous as I could accidentally do that. I would hide that and make it an optional feature
Everything slides in from the right, was cute at first but became annoying and adds a perceived sluggishness to the UI
Good
A simple UI
Colour code notes
Grid, list, and compact list of notes
Order by date created, modified, alphabetically
Tags on notes
Share via email, includes the title in the subject line
Works offline
Add a separate related URL to a note
Duplicate a note
iCal export
8 languages supported: English, German, French, Italian, Spanish, Greek, Russian, and Chinese
Great
Markdown support
Greys out the markdown tags so it's easier to read, smart!
Add a contact to a note (owner of the note)
Quick add dialog
Status on a note: draft, final, cancelled
Attach audio recording
Attach files
Attach images
Confidential, public, and private visibility flag per note
Add geo-location to a note and view it on Google Maps
Collections of items
Sync using DavX5 to Fastmail, Nextcloud, or other
Add comments on a note
Filter by category, classification, category
Awesome
Open-Source
Local and/or remote collections of notes and tasks
Standards-based CalDAV and CardDAV
Create subtasks on a note, first I've seen this!
A progress bar on subtasks: I'm in love
Can check off subtasks right from the note list
Kanban view of notes list out of the box
So, is jtx Board the best?
In the end, jtx Board is not the best Android note-taking app but it is very good and it deserves a lot more downloads than the 1,000+ it has on Google Play. It is Open-Source, standards based, supports Markdown, and attachments. Pretty much all of the key requirements on my list.
Until next week, have a great note-taking weekend and a good week!