Microsoft Loop
Easy to use, componentized content, calendar widget, comments and reactions on bullets, user mentions, a command menu, hyperlink previews, change tracking, and super-simple inline tables.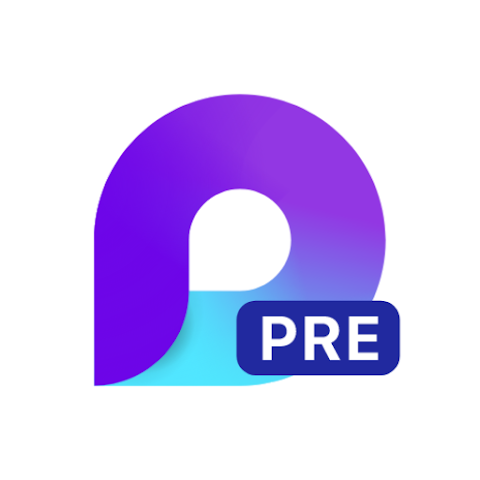 Welcome to Episode #94 on my journey down this deep rabbit hole to find the best Android note-taking app for me and maybe for you. Will Microsoft Loop be the one? Before I tell you, a quick shout-out.
💡
Welcome, Lucas from Brazil and thank you for joining this illustrious club!
For those who've been following along, you might recall that I started a new job back in Dec at an organization that uses Microsoft's stack. For non-techies, a "stack" is simply a collection of software tools. Previously I'd been using Google Workspace – Google Keep for notes – at work for almost a decade and hadn't really been exposed to Microsoft beyond running Windows.
Microsoft has done very well with their cloud apps even though their legacy desktop apps feel like boat anchors coated with barnacles: the seemingly endless features built over decades. Moving between the Web and corresponding desktop apps in MS365 you're constantly pestered with "Are you sure?" and "Tell me why" you have to go to the Desktop version of the app. But I digress and let's get back to Loop.
I've been reading about Loop as I immerse myself in Microsoft 365 (M365) and I'm really excited about its componentized approach to content for collaboration especially on projects. I strongly dislike Sharepoint so this is something much closer to a wiki that I've been looking for at work.
At this point, Loop is in the public preview stage for Microsoft Personal and Business accounts so it's early days. They're definitely targeting the Notion crowd and, even though they have a ways to go, I expect them to "embrace and extend" in true Microsoft fashion.
"The Microsoft Loop app is a web and mobile experience designed for co-creation. It brings your team and ideas together in one place. The Loop app is organized via Workspace and Pages"
I couldn't see the Co-Pilot functions exposed on Android and I couldn't access the feature on the Web app where it shows as an "Experiment":
Copilot is enabled for a limited preview audience for now. Please check back as we slowly allow more people to enable Copilot in Loop.
Oh well, I don't need my brain augmented just yet although I do use ChatGPT every so often.
💡
With Loop, the promise is that you can create something and have it embedded as live content in an email (Outlook for Web), a document (Word for Web), a drawing (Whiteboard), a chat (Teams), or a plan (Planner).
This means that a note ("Page") or a part of one like a task list or a table is exactly the same wherever it is accessed and any changes in other places are reflected in the original and vice-versa!
I haven't tested that part out beyond the app itself but the promise is amazing, especially for people who use Word for Web to take long-form notes, write concepts, proposals, or reports since they can include live, embedded content from somewhere that is controlled. A single source of truth. I can imagine once Microsoft adds Loop support in OneNote for Web that it'll be even more interesting.
I tried it on the Web by pasting a Loop URL into Word for Web and it crashed! It turns out you're supposed to use Insert > Loop Component which doesn't exist in Word for Web for me yet.

Loop components are being gradually rolled out and are available only through your work or school account. In Word, they are available only if your organization allows creation of links that can be edited or viewed by anyone in the organization. Loop components are currently not available in Word for mobile or desktop. Additionally, Loop components in Word are currently available only to targeted release users in your organization.
Back to the Android app.
Collections of notes are called "Workspaces": you get 5 of them and can collaborate with up to 50 Microsoft users in a Workspace. Although they call it a "limitation", the limit of 5GB on a workspace is more than enough for me.
On the downside Loop is not local-first, requires a Microsoft account, no search (FTW!), nothing is customizable, Markdown is not fully supported, no ability to collapse sections, and no ability to export to text, Markdown, or PDF. That said, copy and paste a complete Loop note and it pastes well into other places.
The app is available if you have a Microsoft subscription and includes a Web app which shows changes made on your phone instantly on the Web and vice-versa. Loop is intended to be a collaboration service but from my testing, it works just as well for personal notes. It's really easy to use with a clean user interface.
Other great features in Loop include a calendar widget for date insertion, comments and reactions on individual bullets, user mentions, notifications of mentions and changes, a command menu, a recent file list, hyperlink previews, change tracking, and super-simple inline tables.
Read on for the ugly, the bad, the good, the great, and the awesome aspects of Microsoft Loop.
Screenshot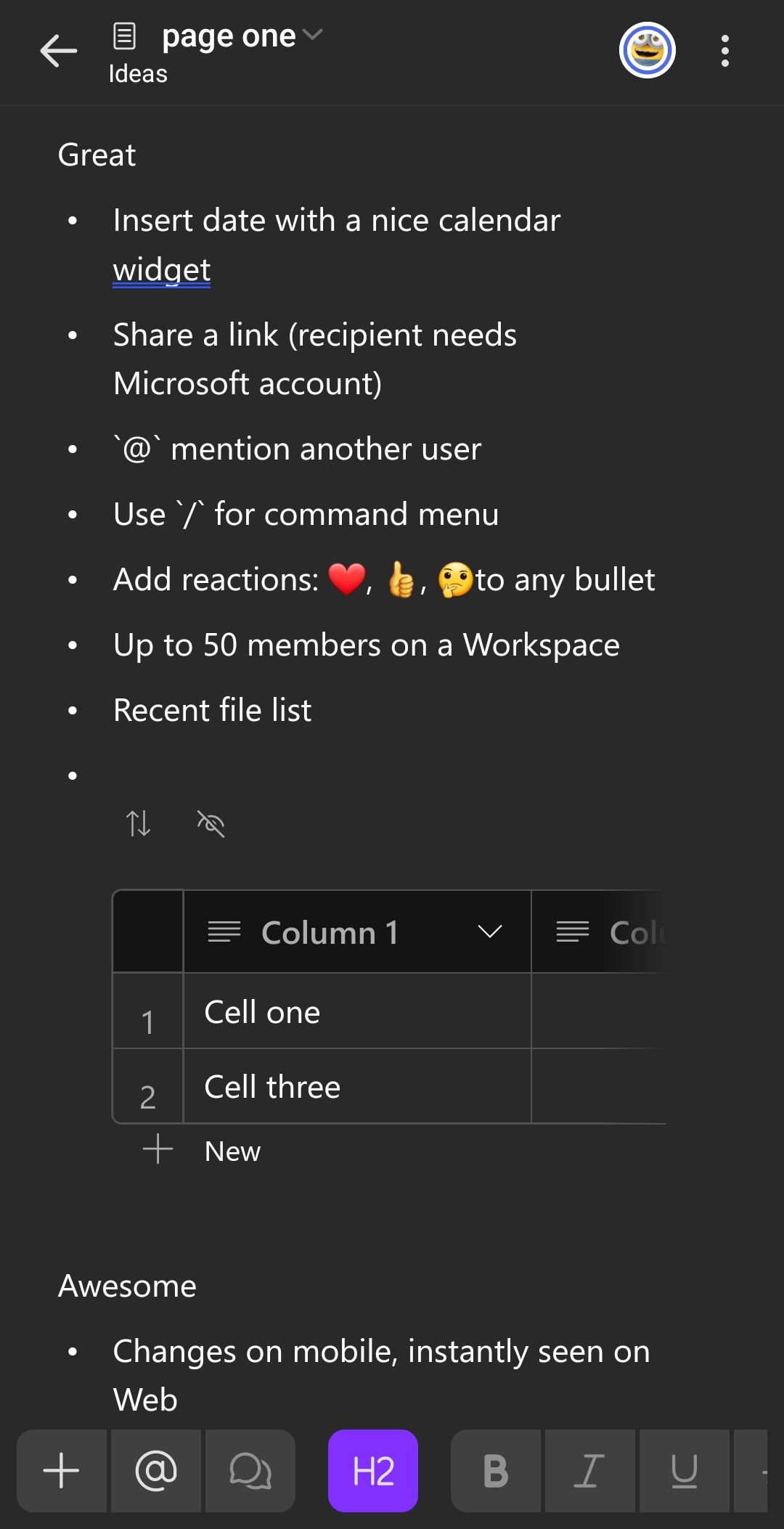 Meta
Score: 6/10
Version: 1.0.0616.67
Device: Samsung Galaxy S23 Ultra and S20 5G
Updated: 2023-03-22
Web: aka.ms/LoopAndroid
Developer: Microsoft
Location: United States
Ugly
Requires a Microsoft account
Not local first
No search?!
No custom settings
Cursor seems to jump around when I try to insert text or select text
Bad
Not full Markdown support
Extra stuff I don't need like a progress tracker table but some may like it, kind of a mini schedule
You can't just type a label with a #
No export to PDF or Image or Markdown
No sharing as text
No quote or quote blocks
One font and one font size
As a single user, it's not helpful to show me my avatar when I click on a bullet to show that I created it!
No delete page
No collapsing of sections
No backup and restore
No images are shown in the list view
"Deletion of pages and version history will only be supported on web during Loop app Public Preview"
Good
Nice font
Text formatting: bold, italics, underline, strikethrough
Undo and redo
Toolbar
Horizontal divider
Indent and outdent
Hyperlink via a simple dialog
Only Markdown support is ## for H2 headings
Relatively fast UI
Inline labels
Inline checklist
Inline images look good
Up to 5 workspaces
Great
"Free" (included in Microsoft subscription)
Insert a date with a nice calendar widget
Share a link (the recipient needs a Microsoft account)
@ mention another user
Add reactions: ❤️, 👍, 🤔to any bullet
Use / for command menu
Up to 50 members in a Workspace
Recent file list
Awesome
Add a comment on a bullet
Inline task lists with nice formatting
Alt text on images
Hyperlink previews
Can see who modified an object and when
Show and hide the task checkbox or title or due date
Amazingly simple inline tables
Show and hide table columns
Sort table columns alphabetically Collaborate on Notes with others
In Conclusion
Is Microsoft Loop the best Android note-taking app? No, but if you're already subscribing to Microsoft services, want to be an early adopter, be cool amongst friends, you always have Internet access, and need a simple app, then I suggest checking it out. If you're going on a hike and need access to your notes, don't use Loop.
Loop will be getting better every week/month. It's not if they address the gaps, but rather when.
Thanks for reading through and have a happy note-taking week ahead!