Nimbus
Supports Markdown, linking of notes, versioning of notes, great table of contents, lots of online help, inline drawings and images, sharing a public link to a note, notifications, and filtering.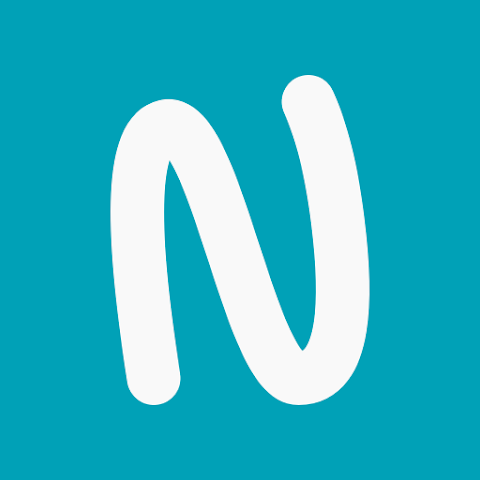 Welcome to Episode #85 of this bizarre, somewhat random hobby to find the best Android note-taking app in the universe. Another great week with no additional newsletter subscribers but I'm up to 1,456 followers across all socials and I haven't started my TikTok streaming. I kid, not going there!
This week I tested Nimbus Note, one of a suite of apps from Nimbus Web which is a company founded in Sep 2014. They are based in Cleveland, Ohio but if LinkedIn is correct they have close to 40 people in Ukraine (my thoughts are with all of you), 13 in neighbouring Poland, and 1 person here in Canada!
Nimbus had an undisclosed seed round of funding in Oct 2021 and their Founder and CEO is Pavel Shcherbakov aka Pavel Sher aka Paul Sher. He has an interesting background, originally appears to be from Tashkent, Uzbekistan where he worked initially in Marketing and doing some programming and then moved to Cleveland where he was a Market Research Analyst for Magic Micro computers for about 6 years.
From Pavel's LinkedIn profile, he has been CEO of Nimbus Productivity Apps from Sep 2014 to Jul 2017 and from his LinkedIn profile:
"Development and distribution of Productivity Apps: Browser extensions and mobile apps. Most of them were acquired."
From Jul 2017 to Oct 2020, Pavel became CEO and Founder of Nimbus Note and finally in Oct 2020, he became CEO and Founder of Nimbus Web Platform (Nimbus Note & Clarity) which is described as:
digital collaboration hub with client portals, wikis, databases, project management and more.
Since 2014 Nimbus Platform turned from a note-taking app into an entire ecosystem of collaboration and productivity tools. After this, more than 1 Million remote teams and professionals have joined Nimbus Platform.
We plan to move forward to grow our company and become the number 1 digital collaboration tool on the software market.
The free version of Nimbus Note allows unlimited devices and provides all of the editor features (smart!), a document scanner, public pages, and integrations. It also includes Nimbus (Web) Clipper and Nimbus Clarity for video creation.
The Pro plan is USD 7/mo and adds unlimited notes and video/audio, image recognition, search in images and docs, weekly (huh?!) server backups, export to PDF (from the Web app), password-protected public pages, version history, and 2-step authentication.
Nimbus Notes supports Markdown, linking of notes, versioning of notes, a great table of contents, lots of online help, inline drawings and images, sharing a public link to a note, notifications, and filtering. Here's a draft of this review in Nimbus Note so you can see how nice the Web version of the note I took on Android looks. The task integration and user interface are very nice and clean.
If you're into cloud apps and collaboration, I'd say check out this app. I enjoyed testing it and opening it each time as it's pleasing to the eye. Just wish it was faster.
Read on for the ugly, the bad, the good, the great, and the awesome aspects of Nimbus Note.
Screenshots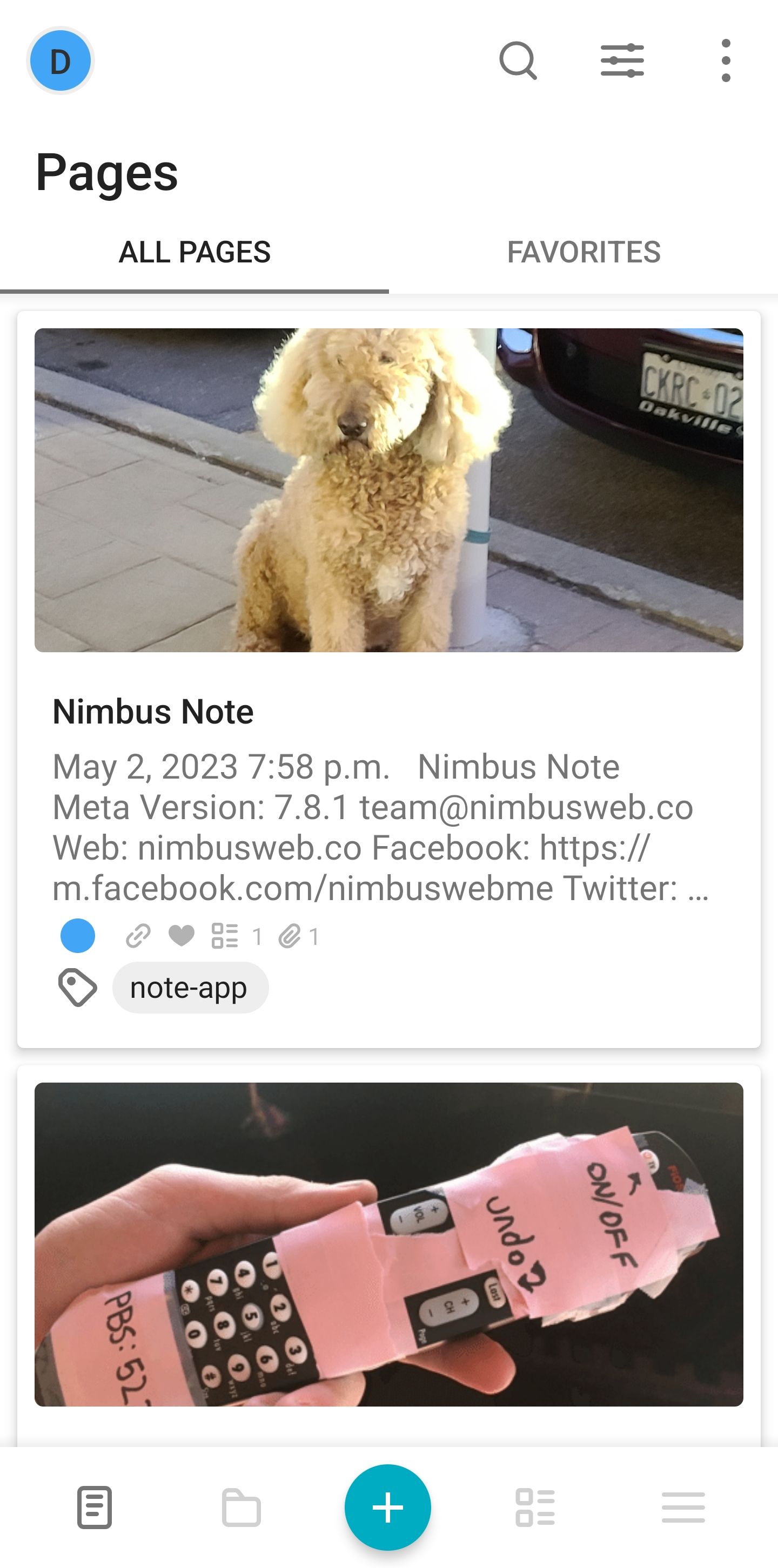 Meta
Score: 8/10
Version: 7.8.1
Device: Samsung Galaxy S20 5G
Google Play rating: 4.4*
Location: Cleveland, Ohio
Ugly
Requires an account, not local first
Takes 3 seconds to create or load a note
No export to Markdown
No export from the app (has it on the Web)
Not end-to-end encrypted
Bad
Not offline
Requires an account
Markdown hyperlinks don't work
No tags inside notes
No backup and restore within the Android app
No API (see Great)
Good
Text formatting: bold, italics, underline, strike-through
Bullets
Numbered lists
code
Quotes
Sort by date created, date modified, alphabetically
Indent and outdent
Inline checklist
Favourite a note
Page info with word count and character count
Tags on a note
Toolbar
Horizontal line
Text alignment: left, right, center
4 font styles
3 font sizes
3 Heading levels
Dark mode
Folders
Plain Text
Trash
Filter by tags, created date, public pages, and reminders
Great
Markdown support
WYSIWYG editing
Device synchronization
Attach video
Attach a file
Reminder by time
Long-press menu: Photo, ToDo, Audio, Text
Search within a note
Zapier integration
4 different note list views: title only, compact, comfortable, and detailed
Embed content (Web app)
JS/HTML embed (Web app)
Move bullets up or down with a toolbar button
Set the font style and size per note
Change the style for all bullet icons in a section: filled circle, star, arrow, hollow circle, filled square, etc.
Attachments are shown in a separate tab
Tasks list
Highlight a row with one of 23 colours
Copy block of text
Colour text with one of 23 colours
Duplicate block of text
Set page colour to one of seven colours
Tons of settings
Shows a thumbnail of the image in the note list
Insert date, time 2023-04-29
Insert a person/contact reference
This is my second note
Callouts
Awesome
Multiple workspaces
Comment on a row/bullet and shows the comment counter in a nice bubble to the right
Attach via scanning a document
Reminder by place (location)!
Import pages from Evernote, HTML, Notion, Bear, Quip, Confluence, Word (DOCX) - but via Web- Add inline drawing with easy to using drawing function built-in
Export to PDF and HTML (on desktop though)
Link notes!
Version control
Publicly share a note with or without a password: https://nimb.ws/QhD6jk
Publicly shared not looks really good and has dark and light mode options, can view files, and tasks
Revert to a previous version (Pro)
Table of contents built in which is well done
Thanks again for reading and have a great note-taking week ahead!