Notes by Bill Farmer and 1K subs!
Notes is a fast, local-first, free, open-source note-taking app that supports Markdown!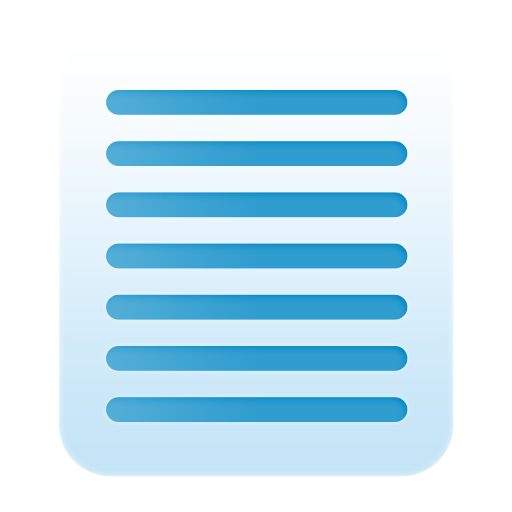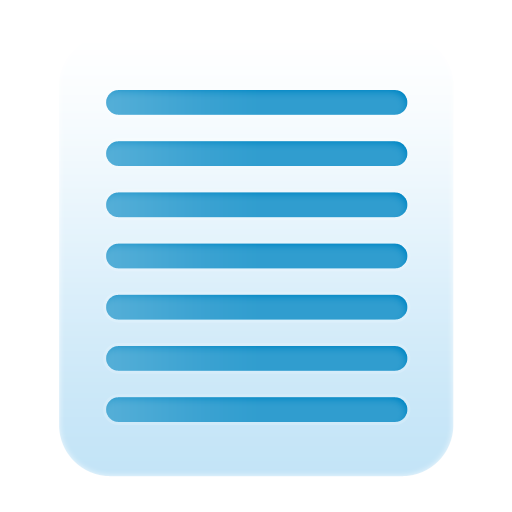 Yesterday I hit my goal of 1K followers across the various platforms and it motivated me to keep going this week. Thank you!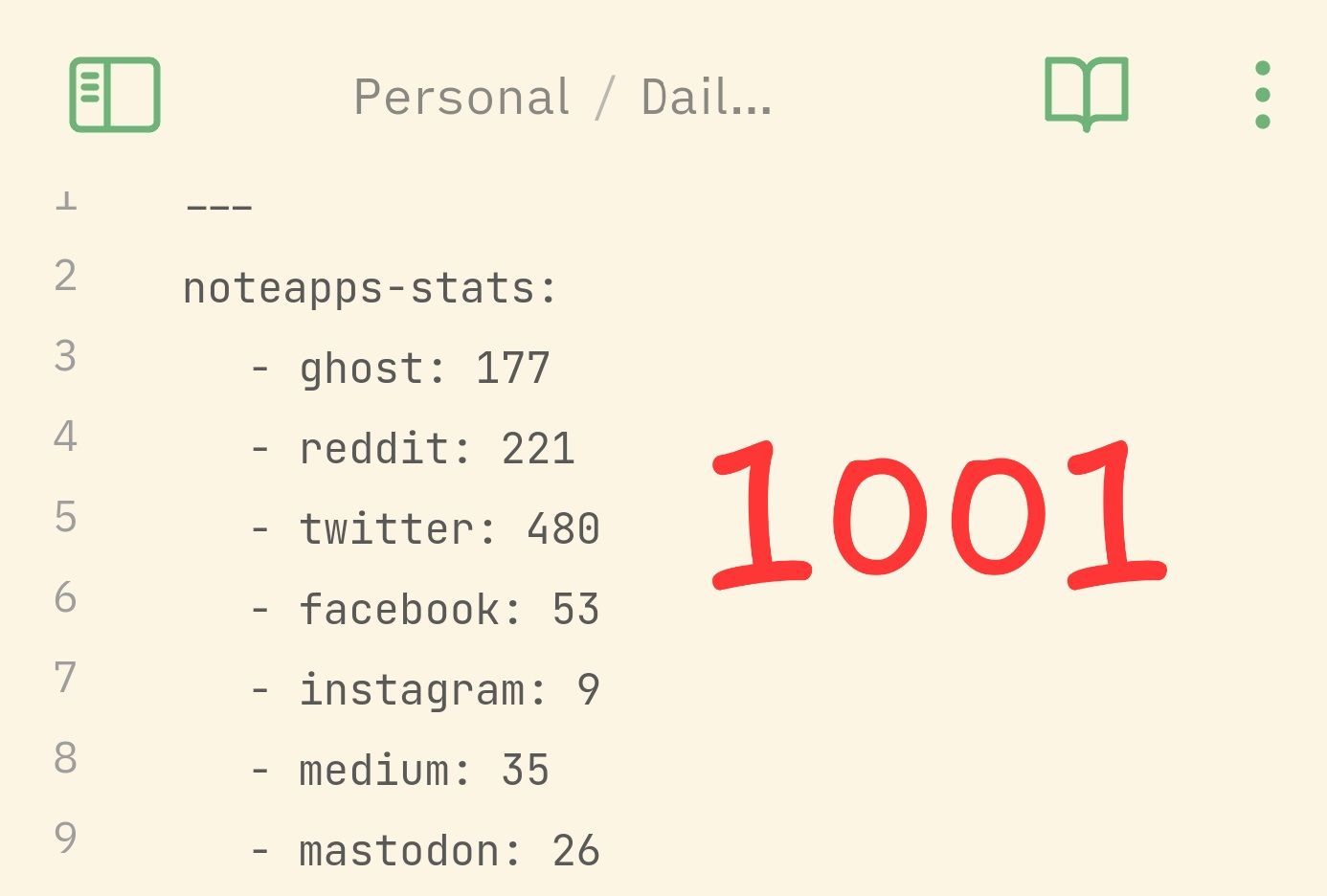 I joined Mastodon a couple of weeks ago and am finding it pretty good so far. To follow me, visit @noteapps@pkm.social, click this icon, then the "Follow" button: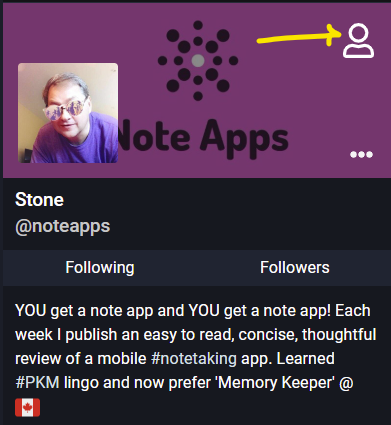 Now onto this week's app review.
Notes
Notes was developed by Bill Farmer, a retiree in the UK, and it's available on F-Droid which is an app store for Android free and open-source (FOSS) apps.
This app is one of many open-source Android apps that Bill developed and I'm keen to try the others, especially Diary.
At first glance, Notes appears pretty basic but it's quite impressive for one person's work and it's giving me hope that I'll be able to continue creating during retirement, health permitting!
Notes is fast, local-first, free, and supports Markdown! That knocks off most of my criteria for a great note-taking app. If it were beautiful and had note-linking it could be one of the top ones.
That said, I suspect someone that knows CSS could make it look better by using Notes' support for CSS theming. I only know basic CSS and haven't tried customizing it so if you do, please let me know!
Notes supports scripting and templates which are typically only available on much more mainstream note-taking apps.
You can share geo-location URI from another app into the currently open (or new note) and then view a map using the integrated OpenStreetMap. This could be great for cyclists, runners, garage sale go-ers, salespeople, or anyone looking to mark where they took a note.
Read on to see the ugly, the bad, the good, the great, and the awesome aspects of Notes!
Screenshot
Top right is where you can add a note, open list of files, or access options menu to share, print, or modify settings: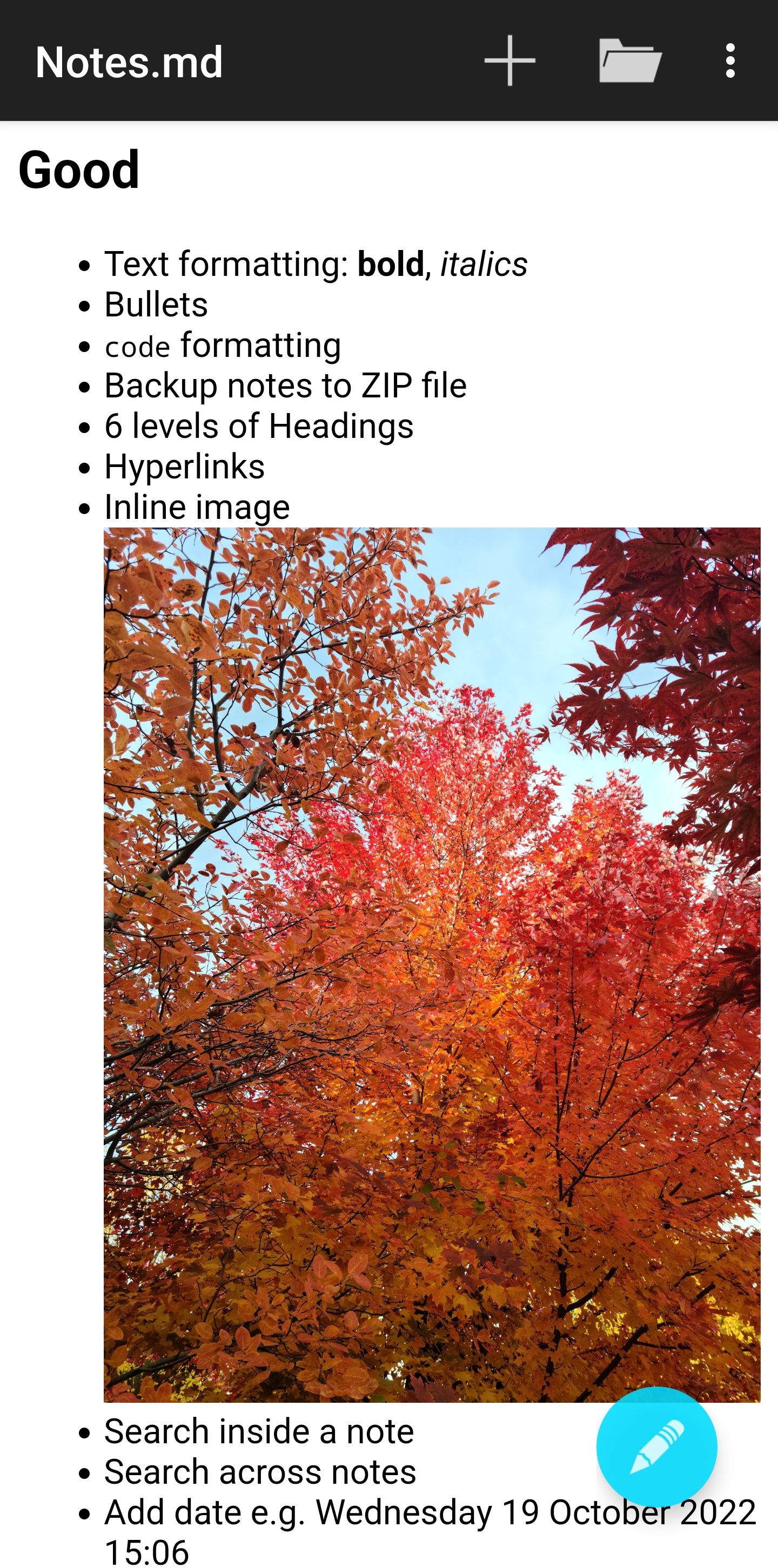 Meta
Score: 7/10
Version: 1.32
Developer: Bill Farmer
F-Droid download
Location: UK
Ugly
The plain UI - could be under the "Good" section for some people
Bad
Doesn't automatically create the next bullet when I press Enter
No highlighting
Share into this app should provide a choice to create a new note, insert it at end of an open note, or at the current cursor position
No WYSIWYG editing
Share via email does not attach images
Can't control date format when inserting date
Can't rename the note file by changing the title, have to "Save as"?
Can't choose which file shared text from other apps goes
No linking of notes
No link to help in the menu
Good
Text formatting: bold, italics
Still being maintained and updated
Bullets
code formatting
Backup notes to ZIP file
6 levels of Headings
Hyperlinks
Inline images
Search inside a note
Search across notes
Add date e.g. Wednesday 19 October 2022 15:06
Double tap to edit: why doesn't every app support this?!
Preview mode - OpenStreetMap map support with a geo URI
Android shortcut to quickly add a note
Great
Markdown support
Attaches a PNG of note when sharing
Works on old versions of Android 4.0+
Open recent notes
Print
Templates
Tables (see Bad)
Edit styles
Keyboard shortcuts
<<date>> in templates
Share to this app adds to note
Superscript ^super^ and subscript ~sub~
Receive text shared from another app into the current cursor position
Awesome
Open-Source (GPL v3)
Free
Fast
Print output is very good and includes images: can use this to print to PDF
Share via email works well
Share as Markdown
Add JavaScript script to run when a note is loaded