edit: this post was originally published as part of my weekly review. I've separated out the newsletter content from the app review for people only interested in the app.
Notesnook is a privacy first, zero knowledge, and open source app for Android that is well designed and easy to use. It has almost every feature you could want in a note-taking app and then some.
It could be one of the best apps but it needs a few fixes. I really enjoyed testing it this week and to learn that they're going Open Source during the same week that I was doing my review was simply bonus points for them!
At $6.99 per month for the Pro version, which I didn't try, you can export to Markdown, HTML, PDF and attach images. That's a bit steep and the fact that the editor seems a bit buggy means that I am going to keep a close eye on this one. If you're into playing with apps, do check it out!
Screenshots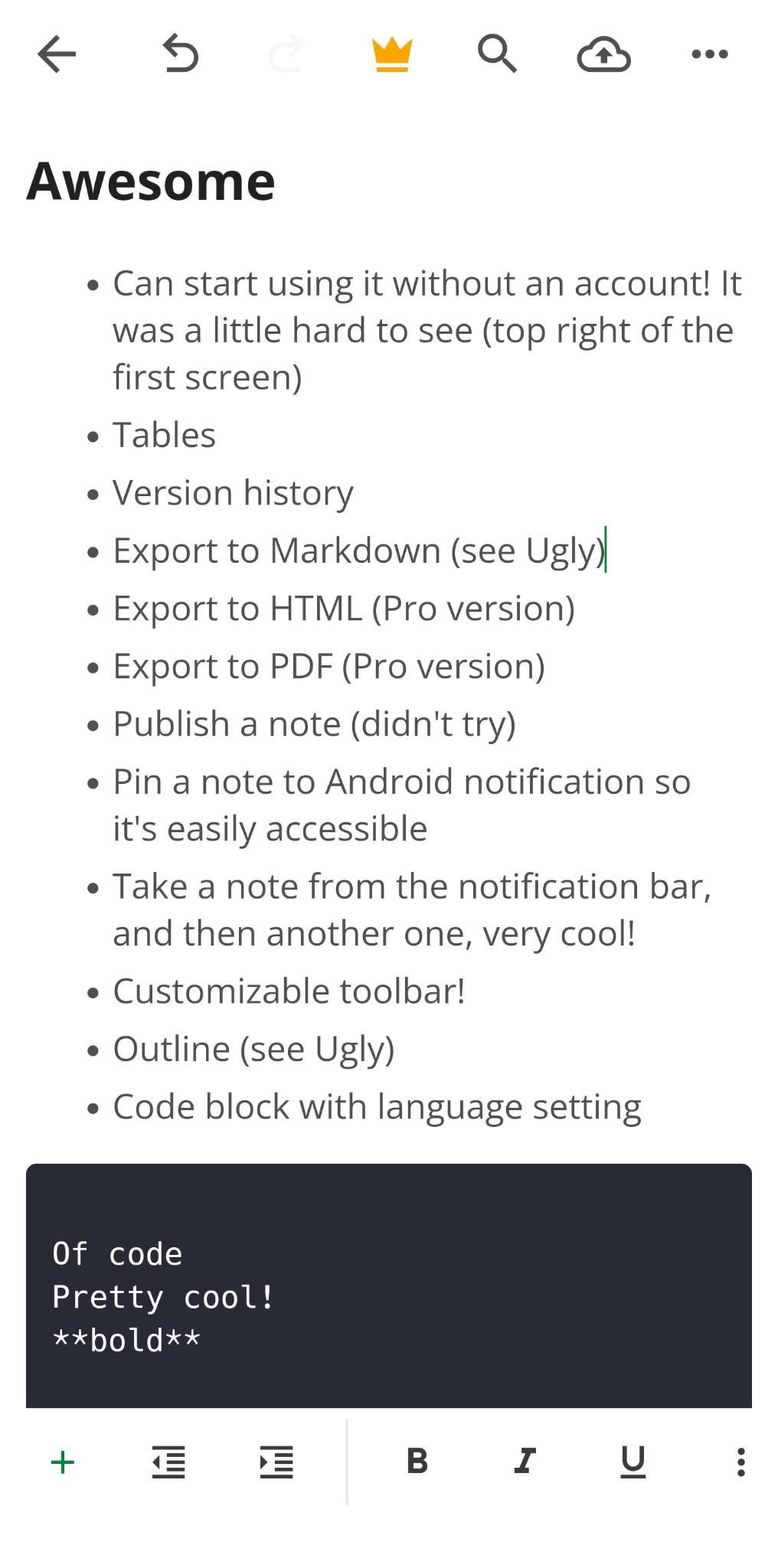 References
People
Quotes
Zero knowledge private note taking
Write notes with freedom, no spying, no tracking.
Going open-source in August, 2022. Help us by giving a star on our GitHub: https://github.com/streetwriters/
Ugly
Export to PDF and HTML didn't work, icon kept spinning likely because it's a Pro feature
Bug where, after unlocking app via biometrics, the note screen is empty. Going back to main screen and back into note shows the note
The UI to add a notebook is confusing
Add attachment from the menu didn't seem to work and no error. If you try  using "+" then you get the warning it's a paid feature
Editor is buggy
Bad
Price of $6.99 CAD a month for Pro
Couldn't get the highlight to work
Adding a Hyperlink without first selecting text and you can't type the text label
Text editor has an easily reproducible bug where I type and letters are displayed but the cursor doesn't move along with the text
Can't add tags within a note
When sharing a note via email app, subject line is not filled in and there's  extra blank line between each bullet
Export to text or Markdown has extra blank lines between every bullet
Add attachment didn't seem to work, I couldn't see or select any files
Outliner seemed buggy, couldn't collapse and expand predictably
Good
Created a title for me with date and time
Default font is very nice
Text formatting: bold, italics, underline, strikethrough, code
Horizontal rule
Bullets
Numbered lists
Hyperlinks
6 Heading levels
Formatting toolbar
3 fonts (Sans-Serif, Serif, Monospace) and you can mix them on the same line
Undo and redo
Handy toolbar button to remove formatting
Favorite a note
Tags on notes
Attach an image (Pro version)
Dark mode
Copy a note's text
Duplicate a note
Read only mode
Export a note to text
Task lists
Backup and restore
Text alignment
Quote
Great
Very nice UI
Well designed menu "..." with buttons
Fast
3 privacy modes: none (no locking of the app), medium (locks on app exit),  max (app locks when switching to another app)
Biometric lock on app
Filter by tags
Themes with 4 colors
Pitch black mode
Notebooks
3 styles of bullets: solid dot, circle, solid square
6 different numbered items: number, letter, Roman numerals, etc.
Search and replace within a note which is rare
Toolbar button to jump to the start or end of a line, very handy
Colors on notes
Image from URL
Math formulas which would be awesome if I needed it
Subscript and superscript
Embed an iFrame, not sure when I would use that but interesting!
Font sizes from 8px to 120px
Awesome
Strong encryption for notes
Privacy first and zero trust
Open Source (A)GPLv3 inspired by Drew DeVault
Can start using it without an account! It was a little hard to see (top right of the first screen)
Tables with a widget to make them
Version history
Export to Markdown (Pro)
Export to HTML (Pro)
Export to PDF (Pro)
Publish a note (didn't try)
Outliner (see Ugly)
Pin a note to Android notification so it's easily accessible
Take a note from the notification bar, and then another one, very cool!
Customizable toolbar!
Code block with a programming language setting