Paper
If you subscribe to Dropbox and need a quick and clean note-taking app with Markdown support, then Paper could be for you.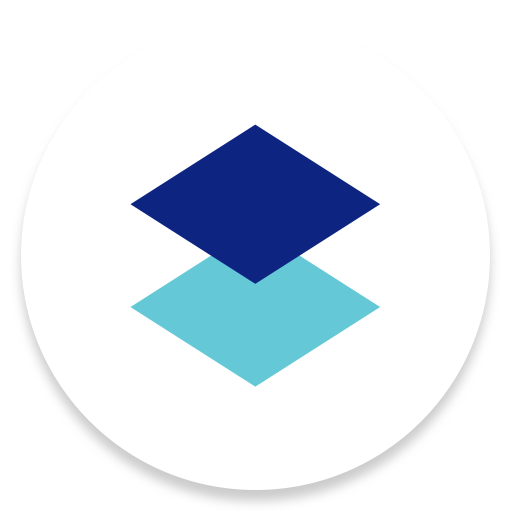 Welcome to Episode #101 in what I thought was a completed journey to find the best Android note-taking app but no, there are still more apps to explore! Before getting to this week's app, a quick thanks.
💡
Welcome, Rachel from Pennsylvania, Steven from Maryland, and Maja from Norway! Thank you for joining the newsletter and supporting my journey.
As the summer comes to an end and kids head back to school or off to college, it's good to know there are a lot of choices for their note-taking. This week I tested out Dropbox Paper.
Originating from the company's acquisition of document collaboration company Hackpad in April 2014, Dropbox Paper was officially announced in October 2015, and launched in January 2017
Hackpad was founded by Igor Kofman who then became Dropbox Paper lead but has now moved on.  He's currently a co-founder of Act Now Coalition which provides data insights to solve "today's urgent problems", very interesting!
So, what about the app? Well, what's great about Paper is that it's no additional cost above a Dropbox subscription which makes it an easy choice for people. Dropbox has about 700M users so that's a lot of people. They should put some of their almost $2B annual revenue into the Android app!
Paper supports Markdown for input (not output!), WYSIWYG editing, collates checkbox items as tasks across notes, supports collaboration with other users, inline images, and public sharing of a note.
Unlike many other apps, you can actually access your notes when offline. That's not offline first, but handy if you go off the grid. The Android app has been downloaded a million times and gets a 4* rating on Google Play which is better than most apps.
The Web app has many additional features including revision history, tables, dark mode, keyboard shortcuts, folder browsing (slow), drag and drop content, embedded media from many sources like YouTube, presentation mode, and additional collaboration features. Luckily you can export individual notes from the Web to Word, Markdown, and PDF but only one at a time, doh!
Read on for the ugly, the bad, the good, the great, and the awesome aspects of the Dropbox Paper Android app.
Quotes
Dropbox Paper is more than a doc—it's a co-editing tool that brings creation and coordination together in one place. Dropbox Paper is free with any Dropbox account.
Dropbox Paper is a collaborative workspace that helps teams create and share early ideas. You can work with everything from video and images, to code and sound—all in a single place. And it comes free with Dropbox.
Screenshot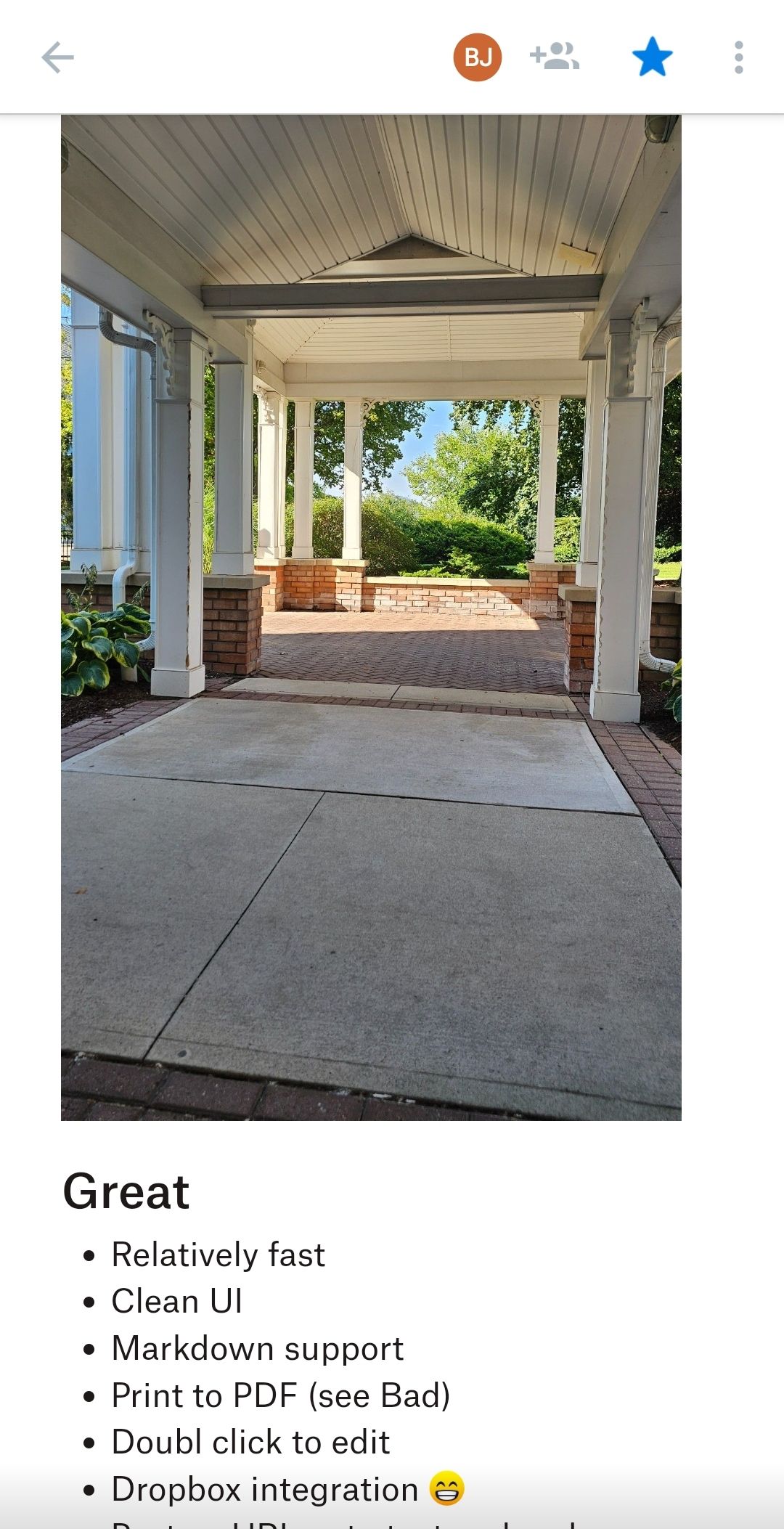 Meta
Score: 7/10
Device: Samsung Galaxy S23 Ultra
Language: JavaScript
Google Play rating: 4.0*
Developer: Dropbox
Ugly
Not offline first, requires an account
When I saved the first time and tried opening the note right after it failed "Error loading note" since it hadn't yet synchronized the file to the server
Only 1 setting, no customization
Bad
No ability to secure a shared link, wide open to anyone who has the link
No tables
Doesn't scale down photo size when printing a note
No export to Markdown text
No audio recording
No images in the list view
Files stored in .paper format not Markdown
No tags in or on a note
1 font style and size
Good
Text formatting: bold, italics, underline, strike-through
Inline checklist
Bullets
code and code blocks
Indent and out-dent
3 heading levels
Undo and redo
Toolbar
Hyperlinks
Attach photo
Archive a note
Star a note
Search in a note
Quote
Horizontal line
Inline images
Great
Relatively fast
Clean UI
Markdown support
Print to PDF (see Bad)
Double-click to edit
Dropbox integration 😁
Paste a URL onto text and it generates a hyperlink
Notifications if comments or @mention in a note
Share a public URL to a note
Print a note
Apps for Android, iOS, and Web
WYSIWYG editing
Awesome
Free (with Dropbox subscription)
Collaboration features
Follow a document
View and edit docs offline
The public view-only note looks great
Add links to Dropbox files
Text viewer for viewing attached files
Checklist items are collected outside of specific notes they exist in, Sweet!
In Summary
If you subscribe to Dropbox and need a quick and clean note-taking app with Markdown support, then Paper could be for you. The Web interface has a ton of additional features and could be great for students or families. Since you can't export all of your notes to Markdown, just don't put everything in there unless you periodically export important notes.
Have a great note-taking week ahead!