PureWriter
Very fast, supports Markdown for input and output, also exports to text, PDF or image, and supports backups to WebDAV, OneDrive, Google Cloud, or Alibaba Cloud Disk.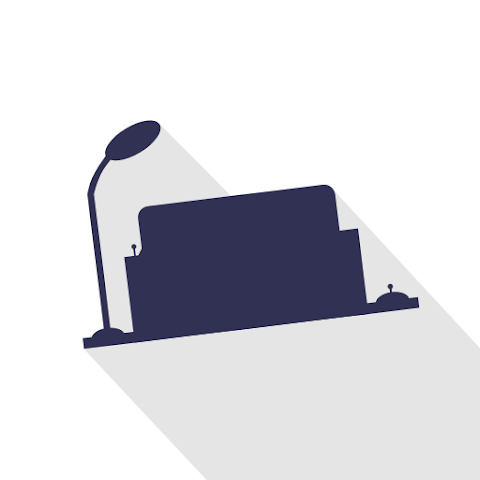 Welcome to Episode #102 of my hobby gone wild! I'm running a day late on this last long weekend of the summer. Let me welcome a couple of new people to our little club – term used loosely as there's no club-house nor secret handshakes here.
💡
Welcome Reginald from New York and "M.A." from Bangladesh. Thanks for subscribing and stumbling onto my odd hobby!
It's pretty cool to have two people from across the world with similar interests. If you two ever want to meet, the flight is about $2,000 CAD and would take about 21 hours.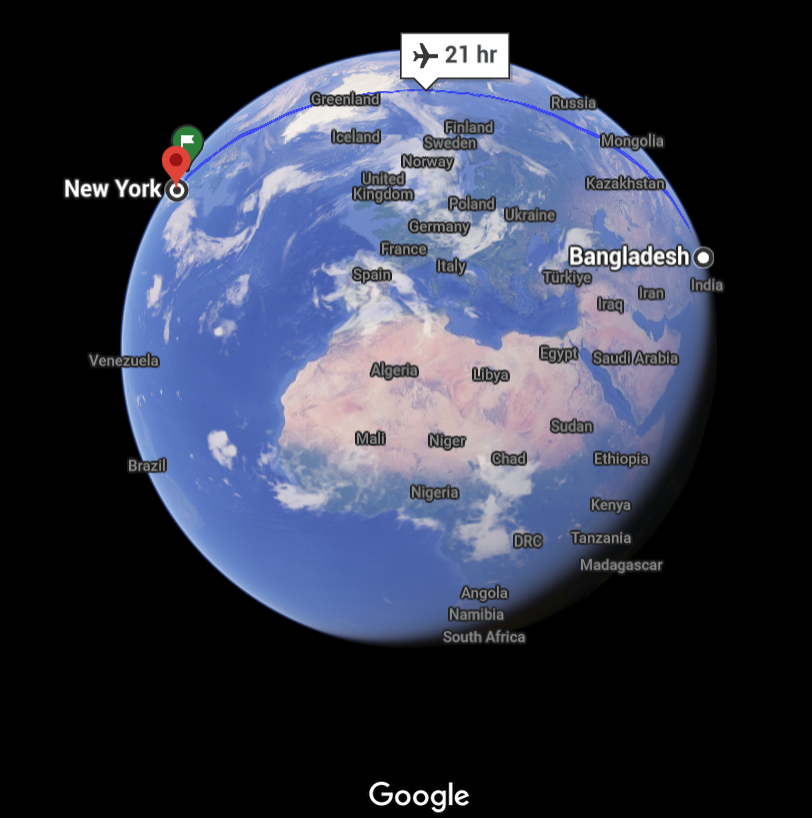 OK, with that silly thought, let me tell you about my experience with this week's app: PureWriter.
PureWriter really surprised me and in a good way! After reviewing over 100 apps you'd think there wouldn't be any "firsts" left but this app had a couple in store for me. I was so impressed and really wanted to know who created this software.
I couldn't find a lot of info on the Developer "Drakeet" but they look to be honest from their face pic on GitHub, assuming that's their face 🤣. I need to talk about the desktop app a bit because it's unique.
P2P-ish writing
Drakeet joined GitHub in 2013 and created an open-source "companion app" (my terminology) for desktops in 2017 around the same time as the Android app.
What's really cool is the support for asynchronous editing via their free desktop/laptop app. You need to be on the same network, launch the MacOS, Windows, or Linux app and enter the IP address that the mobile app provides you.
It's the first I've ever seen of what felt like peer-to-peer (P2P) tech for note-taking! What you type on one device is instantly shown on the other, as you type, with zero latency.
What this feature doesn't do is allow you to see or edit your notes without connecting to your phone. Think of the desktop app as a companion to your phone: it works well with it but not without it.
If you don't know what an IP address is that's ok, think of it like a location on the internet. Every device in your home gets a private one that no one else can access if your home network is secured – it should be if you use your Internet Provider's router or one you bought.
I doubt the companion app approach will work at Wi-Fi hotspots since, if configured correctly, hotspots block P2P communications so that nefarious people at the coffee shop can't (as easily) attack your device.
PSA: Always use VPN software if you do confidential work while connected to someone else's Wi-Fi Network.
I was able to easily move from my laptop writing this article to my smartphone and not worry about syncing. In reality, it makes your laptop a companion to your smartphone which is the primary device. The desktop app doesn't actually keep your files on the local filesystem from what I can tell.
PureWriter desktop supports dark mode, a full-screen "immersive" mode, and allows you to change font size but only two font faces and no WYSIWYG editing, text only. It's an OK and free no-frills writing app for your desktop. To me, it's all that you need if you're writing.
I like that the Developer is up-front and transparent about this in their documentation:
Pure Writer Desktop is currently basic, providing only two-directions real-time synchronous editing for your current article. If you are going to pay JUST for this Desktop, I strongly recommend that you reconsider it.
Now, back to the Android app!
The Android app was first published in 2017 and has received several awards, deservedly so:
Xiaomi Golden Rice Award
OPPO Best of the Best Award
Huawei Ingenuity Award, Best App of the Year
Minority App of the Year
Drakeet uses Continuous Development and Deployment (aka "CD") methodology so there are tons of software updates. So much so that they had to add a message in the app to explain to users why the app keeps getting updated and an option to disable it! This is awesome and I'd not want, nor recommend, to disable updates.
They support an Artificial Intelligence (AI) co-pilot, you only need to provide your OpenAI key but that makes sense. I didn't have time to test out that function.
There's only one font in the app but you can configure additional fonts if you know how to: you need to browse the Android file system to install it so not intuitive at all.
Pricing is CAD $1.89 per month, $8.49 every 6 months, or $13.99 annually. Considering there's no cloud service included, paying monthly seems a bit odd but you do get those continuous software updates so it makes sense to have a recurring revenue stream. Optionally, you can pay the one-time fee of 18.99 (on sale from $24) which I did because I was so impressed with this app.
The UI is designed around writing: folders are "books" and files are "chapters". Both can be manually re-ordered via drag and drop. I really like that the file navigation since it is just a single swipe away which most apps should do but don't.
The app has so much functionality and knocks off a lot of items (bolded) on my must-have list.
knows it's MY data, stores notes locally and syncs across devices
is easy to use, beautiful, and fast so I want to use it
has super fast search within and across notes
supports Markdown for input and output
lets me link notes together and deep-link them
PureWriter is not beautiful, you can't link notes together nor include tags, and it doesn't make me want to use it as my main app but otherwise, it is quite amazing. It's very fast, supports Markdown for input and output, exports to PDF or image, and backs up to WebDAV, OneDrive, Google Cloud, or Alibaba Cloud Disk. In fact, you can backup to multiple services at a time so your writing is always safe, kudos Drakeet!
The number of advanced features in this app is significant including multiple files open at a time and the ability to swipe between them, export to multiple image files, templated text, customizable toolbars, search with regular expressions (regex), a cool daily stats page, and many more.
Read on for the ugly, the bad, the good, the great, and the awesome aspects of PureWriter.
Quotes
Fastest editor. Never lose. Markdown. Jotter, Novel, Note. AI Copilot
A blazing-fast editor with peace of mind, history, cloud sync, cloud backup, multiple loss prevention features, and lots of writing aids.
Meta
Score: 8/10
Version: 24.3.0
Google Play rating: 4.4 (was 4.7 in 2019, ref.)
Device: Samsung Galaxy S23 Ultra
Released: 2017-07-04
Location: Suzhou, China
Screenshot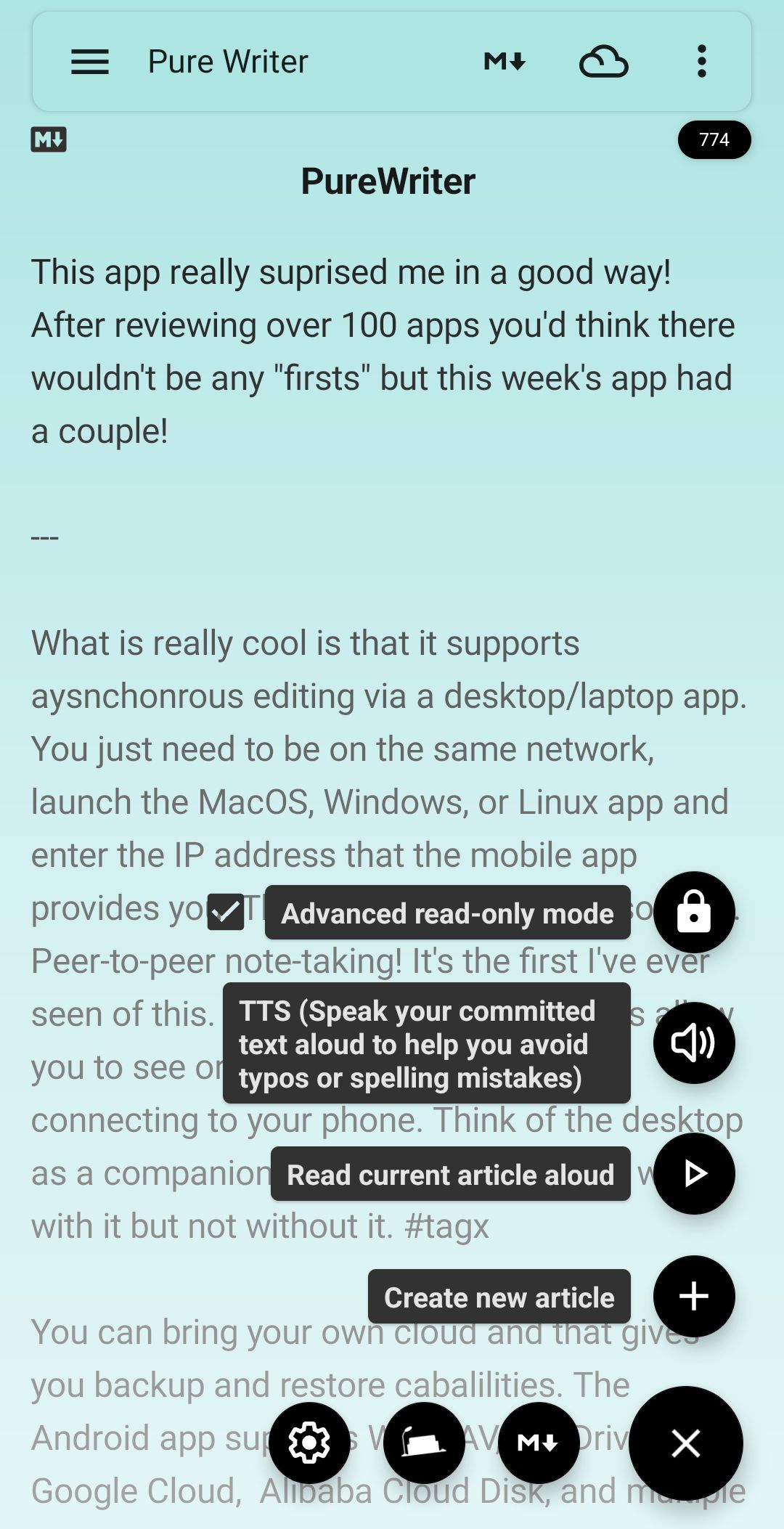 Ugly
No voice recording
No import
Bad
Can't export to PDF in Markdown mode, need to switch to TXT mode first: why give the option?
No WYSIWYG editing
No tags in or on files
No linking of notes
Not a lot of help is available
Hard to figure out some settings
Inline images are not easy to add
Good
Text formatting: bold, italics, underline, and strike-through
Backup and restore
Bullets
Inline checklist
Numbered lists
Undo and redo
Search within and across notes
Toolbar
6 heading levels
Preview mode
Inline images (see Bad)
Word count
Compact or expanded list of notes
Folders
Sort by date/time created, date/time modified, title
Copy a note
Preview mode
Long press menu
Manually order notes (chapters) and folders
Trash
Great
Markdown support
Fast
Auto-complete paired Markdown symbols e.g. adds ] when you type [
20 background themes: 10 for light and 10 for dark
Automatic local backup
Find and replace (Pro)
Export (Pro)
Text shortcuts to add date, time, or templated text
Regex search
Tables
Create a table via a button
When typing a double quote automatically creates a matching one
Custom line spacing (when not in Markdown mode)
Custom paragraph spacing (when not in Markdown mode)
Custom left and right indentation (when not in Markdown mode)
4 Android long-press menu choices
Sort manually
Export to Markdown
Export the entire workbook to a .txt  file
Auto-lock the app with fingerprint access after 3 minutes (configurable)
Android home screen shortcut
Awesome
Revision history
Customizable toolbars
Asynchronous editing with a desktop/laptop
A cool daily stats page (Pro) shows how often the app was used and how much time each doc was open
You can try the Pro features before paying
Swipe right to see a list of files
The file list includes snippets of the text
Export to PDF
Export PNG or JPEG (Pro)
Export to multiple PNG images (like pages)
Export in dark or light mode!
Backup to WebDAV, OneDrive, Google Cloud, Alibaba Cloud Disk
The End
PureWriter is not intended to be a note-taking app but it can most definitely be used as one. It's primarily intended for writing as its name suggests and it supports that incredibly well. If you need a distraction-free tool for writing, this could be the one!
Have a happy note-taking week ahead!