Quillpad
A fork of Quillnote, this one is also an open-source, free, fast note-taking app with support for Markdown, images, and Nextcloud sync!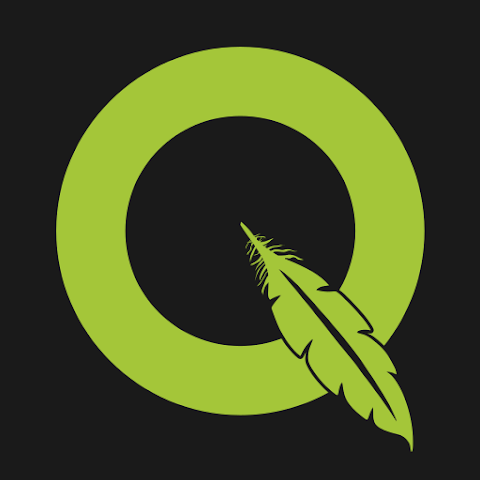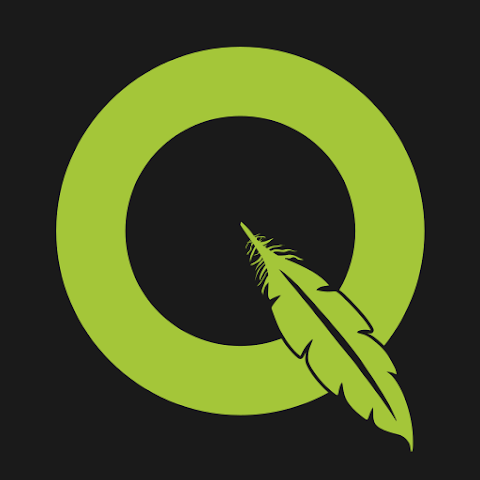 Another week, another app review. This week it's Episode # 76 of the silly, fun, and insane adventure to find the best Android note-taking app, for me. I've come up with a new definition:
Spending countless hours installing, testing, and tracking up to 300 features of 100+ Android note-taking apps over an 18 month period is insane!
It's a bit of groundhog day this week. But first, a note from our sponsors.
💡
Welcome to Micu from Romania, Dennis from Taiwan, and Eros from India - quite the name on that last one! Thank you for subscribing!
I kid. This newsletter is completely free but open for donations and sure enough, 1 of the 199 subscribers actually donated, besides Janet! If this were a company, it would've been bankrupt before Episode 1 was published. Alas, I can still afford the $11/mo Ghost fee plus a few paid apps here and there. Luckily Quillpad is free.
Quillpad was created by Arumugam Jeganathan (aka "jsixface") who, according to his profile, lives in Boston and with contributions from Felix Fischer who is based in Munich. The software is a "fork" – clone – of QuillNote which was developed by Michael Soultanidis, the 14th app that I reviewed. Michael had stopped working on it, so it's good that it was re-incarnated: thank you jsixface! I just wanted to type that again.
This app is open-source, free, fast, supports images and audio recording, checklists, tables, backup and restore, and best of all it syncs with Nextcloud! This hits almost all of my requirements. Kudos and glad to see it being maintained.
Read on for the bad, the good, the great, and the awesome aspects of Quillpad!
Screenshots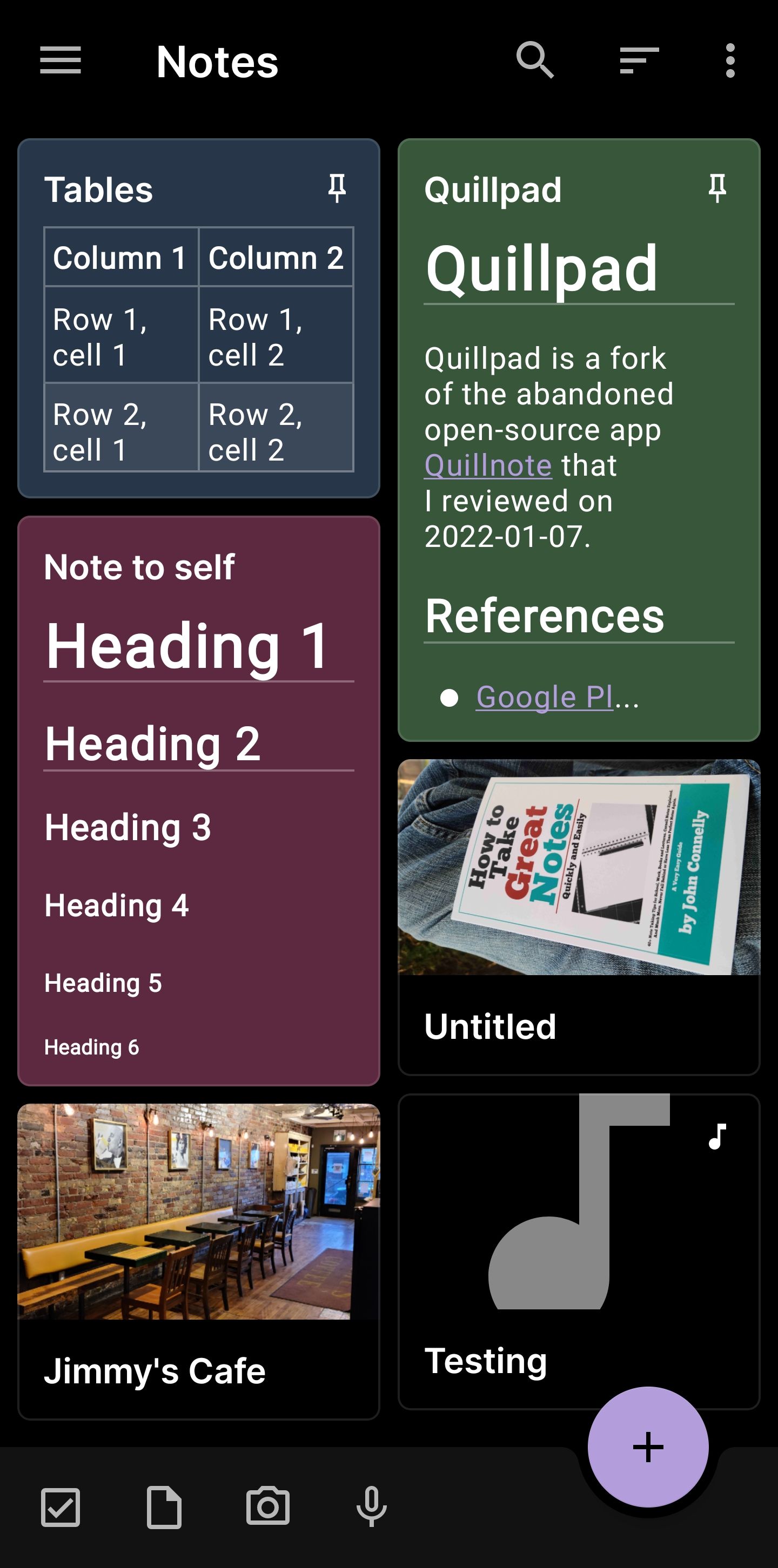 Quotes
Take beautiful markdown notes and stay organized with task lists. Fork of Quillnote
Meta
Ugly
Bad
URL dialog seems to jump up and down, don't like that
Note colours are fugly
Icon used for bullets feels too big
No tags in notes
No search within notes
No linking of notes (in the backlog)
No export to PDF, but you can print to PDF using Android
Good
Text formatting: bold, italics, strikethrough
Highlight
Horizontal line
Underline on headings
6 Heading levels
code and code blocks
Tags on notes
Tag list
7 Colors on notes (see bad)
Inline bullets
Inline checklists
Ordered lists
Attach image, photo
Quotes and blockquote
Hyperlinks
Toolbar
Toolbar item to go to the top or bottom of the note
Undo and redo
Duplicate a note
Dark mode
Change the date and time format
Show date created, modified
Pin a note
Move one or more notes to another notebook
Archive a note
Preview mode
Export to ZIP
Notebooks
Trash
Search across notes
Sort by title, date created, or date modified
Delete notes in the trash after 7, 14, 30 days, or never, or instantly
Great
No ads
Tables
Toolbar item to create a table
Shows images in the note list
Reminder on note
Hide a note
Record audio
Backup and restore
2 Android shortcuts: make a list, take a note
Select multiple notes at a time
Puts a line under Headings
5 colour schemes: blue, green, pink, orange, purple
Awesome
Free
Fast
Local-first
Open-Source
Shows tables in note list
Sync to Nextcloud
You reached the end, no more soup for you!