RemNote
A great tool for tracking your thoughts and learnings in bullet form with the ability to nest thoughts and tag them and create flashcards. Android UI is a bit jittery.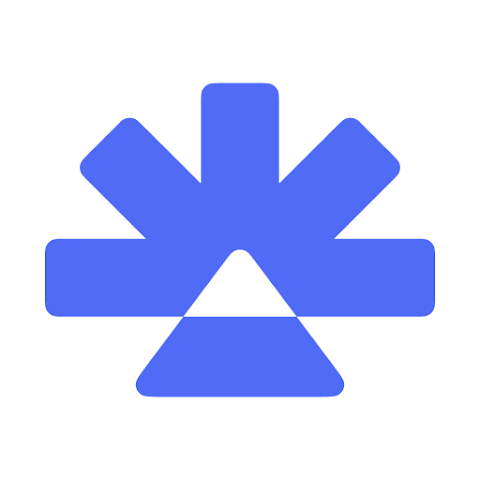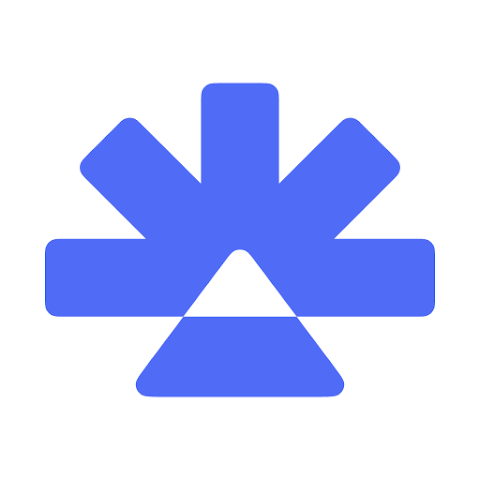 Wow, episode # 80 is here! It's been about 18 months since I started this crazy, whacky hobby to find the best Android note-taking app for me, and maybe for you. Just when I think it's time to find another hobby, I get excited by another app. This week I reviewed a cloud-based app but before I get into the review a quick shout out.
💡
Welcome, Daniel from Virginia and Mozg from Russia for subscribing to the newsletter and a special thanks to Susan from Connecticut for becoming a paid sub: you motivated me to get up this morning and complete the review!
This week I tested out RemNote which has been on my backlog for a year just down low because it is not local-first. I know a lot of folks aren't as concerned as I am that their data sits on someone else's computer and that's OK. Just make sure you regularly take your stuff off their computer and get it backed up somewhere, preferably 3 places and different physical locations. After that PSA, let me tell you about RemNote!
RemNote is a great tool for tracking your thoughts and learnings in bullet form with the ability to nest thoughts and tag them and create flashcards from individual bullets. You can add inline images and annotate PDFs which are also inline. These two features are very well done.
RemNote was started at MIT by two young folks who received $2.8M in funding from 13 investors in 2021. Assuming from their site that there are 14 employees, that money has likely mostly been spent unless they have other cash sources or significant revenue. I would wait a few months to see if it lives on before I would put my precious notes into the service. You can read about the company and see the people behind it at remnote.com/about.
Martin Schneider is the co-Founder and CEO. He went to Upper Dublin High School in Pennsylvania and then did his undergrad, master's and started a Ph.D. all at MIT. His co-founder Moritz Wallawitsch is from Germany where he studied Engineering Management at Hochschule für Technik und Wirtschaft Berlin and then got his Bachelor's in Software from C<>DE. He recently moved to California and interestingly started a blog on "epistemology, AI, startups, and progress".
That's a bit about the company and people behind RemNote so let me tell you about the tool itself. RemNote seems to be a Web-first app and the desktop browser experience is OK but the Android UI would drive me crazy. It's sluggish to start and the experience while using the app is not smooth, it seems to jump and be jittery as I scroll.  
That said, the more that I used the app and it's features, the more I liked it. I had to get used to the way things are organized especially as I'm not a bullet journal note-taker.
There are some unfamiliar constructs: a note is a "document" (I think) and a "Rem" may also be a note. I'm still not sure what a "Top level Rem" is but I can guess what a "Knowledge Base" is. I saw "Image Occlusion Cards" mentioned and thought to myself "FTW is that?". There's also a "Slot"? Some features are called "Power Ups" which sounds cool. Maybe these are terms and constructs understandable by their target audience (Students). Bottom line? Don't make me think so much as I just want to take great notes! :)
Even with all of that thinking, this is quite an interesting app. It relies on tags a lot and even documents are categorized using tags like Source list, document, and daily document. Those tags are collapsed by default so they don't get in the way which is very smart.
Tags within notes are very well done. Each bullet can have one or more tags on it and those are kept to the side (on the far right) using a small icon.
The free version is generous with unlimited "Rem Storage", 3 annotated PDFs, 2 Knowledge Bases, 5 Image Occlusion Cards, and unlimited devices. An upgrade to Pro for USD 8/mo (or USD 6/mo for students and educators) gets you unlimited PDFs and Knowledge Bases, Unlimited file uploads, the ability to collaborate with anyone, and priority support.
You can import from Markdown, Dynalist, Obsidian, Workflowy, or a RemNote export itself. If you ever want to leave, the great thing is you can quickly get your notes out in text, Markdown, HTML, OMPL, Anki, or in JSON. This is super important. Of course, you should export at least weekly but I didn't see a scheduled export which they should add. Also, I didn't see my images and PDFs in the ZIP export file which is concerning.
The app is under active development as you can see in their Change Log and they have quick software release cycles. They seem responsive to user feedback, have apps for iOS, Android, and Web, and most importantly sync across devices.
Read on for the ugly, bad, good, great, and awesome aspects of RemNote.
Screenshots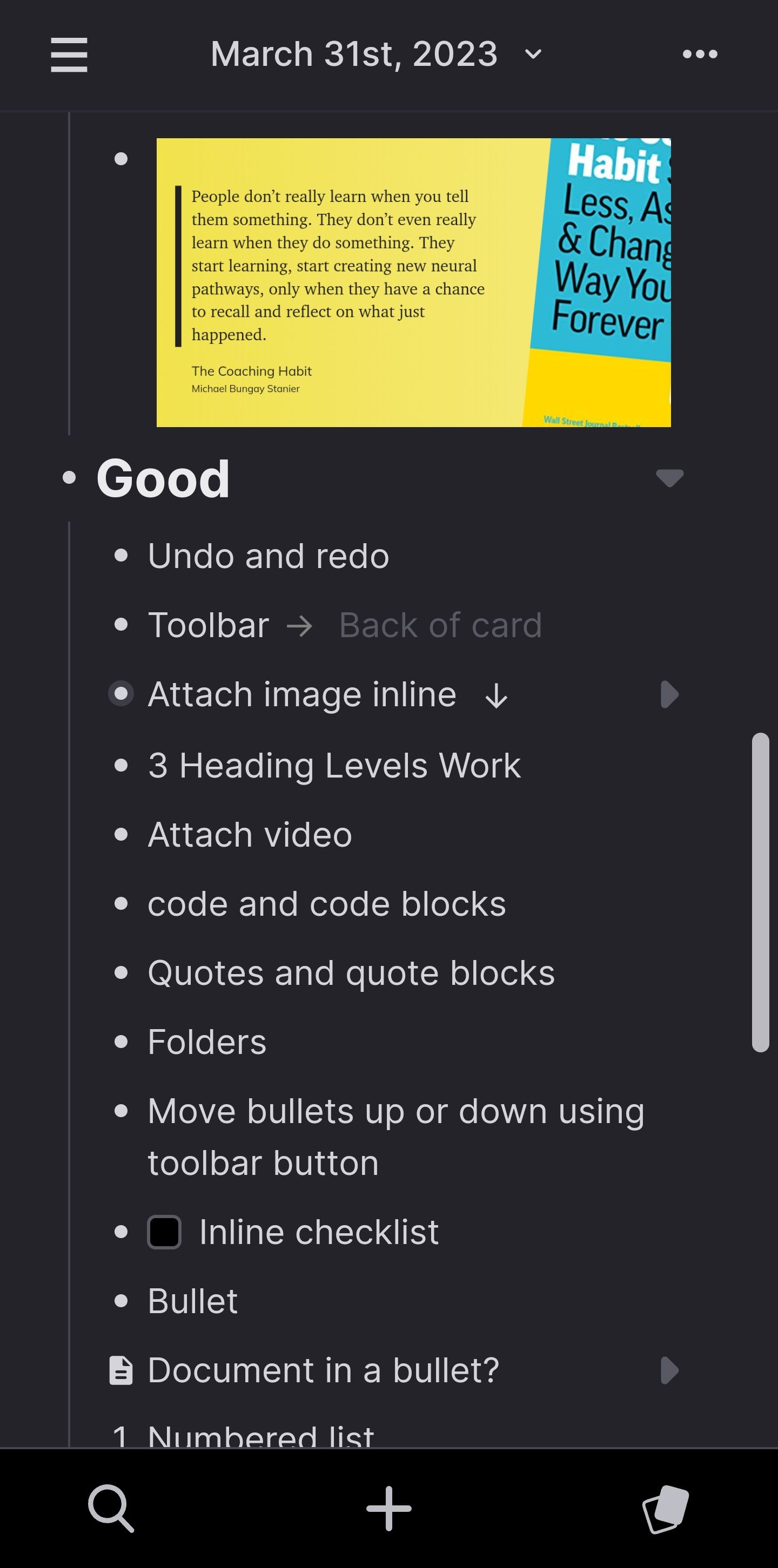 Quotes
The all-in-one tool for thinking and learning. - remnote.com
@rem_note 1.8 has convinced me to switch over full time. It has all the main features that I want and to top it all off, sync is insanely fast. When I pull up the mobile website it takes just a few seconds to load and the mobile UI is fantastic. - Joseph Wood Tweet
Meta
Pricing
Free: Unlimited Rem Storage, 3 Annotated PDFs, 2 Knowledge Bases, 5 Image Occlusion Cards, Unlimited devices using RemNote
Pro: USD 8/mo (or USD 6/mo for students and educators) - Unlimited PDFs and Knowledge Bases, Unlimited file upload, Collaborate with anyone, Priority Support
Life Long Learner: USD 300 - Lifetime Desktop Pro Access, Cloud Storage for 5 Years
Ugly
Text jitters I scrolled through a long note
My images are wide open, no authentication to access them, try this link
Weird user experience, jumps around a lot and feels clunky
Bad
Can't use #tag for a tag (but can use ## tag)
No export on the mobile app (but can from the Web )
Sluggish to start, not horribly slow but not fast either
Slot, what is that?
Editor adds extra space after the first word in a bullet
"Power up" is an extra "menu level"
Autocorrect changes URL to url
Good
Text formatting: bold, italics, underline
Tags
Undo and redo
Toolbar
Attach image inline
3 heading levels
Attach video
Folders
Bullet
Move bullets up or down using the toolbar button
Coloured bullets
Inline checklist
Numbered list
Numbered list with checkbox
code and code block
Document in a bullet
Add an image or asks for a URL, instead of allowing me to paste it
Tag counter on far right side
😬 emojis
Insert time
Insert date
Quote
Great
Markdown support
Journal
Flashcards
Attach PDFs inline
Link to a reference inline
Integrated PDF viewing
Tags per bullet
Multiple tags on a bullet
Tags are nicely done with a small icon and # to the right of the bullet
Can show and hide all tags on a note (document)
Hide the bullet
Help resources, videos, support
Add an edit later checkbox to a bullet, interesting!
Awesome
API
Link notes
Under active development
Quick software release cycles
Responsive to user feedback
Apps for iOS, Android, and Web
Sync across devices
Good free version
Change image thumbnail size easily to small/medium/large
Open the image in a popup window
Collapse and expand blocks
Highlight a bullet with one of 6 colours - very easy to use
Share a public link to a note
List of PDFs from across your notes
Add multiple sub documents
You made it this far? Thanks for reading and have a great note-taking week to come!
Stone.