Simplenote
Really good if you're looking for an Open-Source, fast, multi-platform, note-taking app that supports Markdown, has bi-directional sync, linking of notes, and a very cool change history.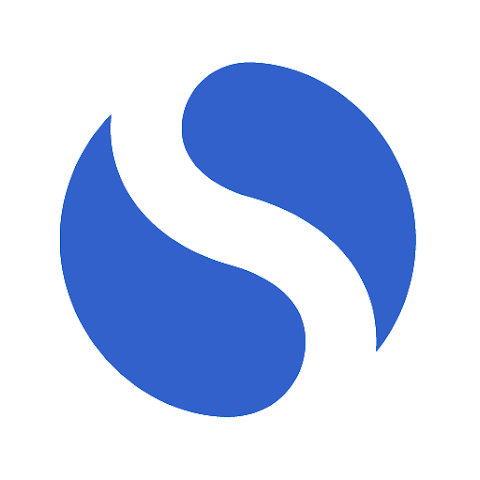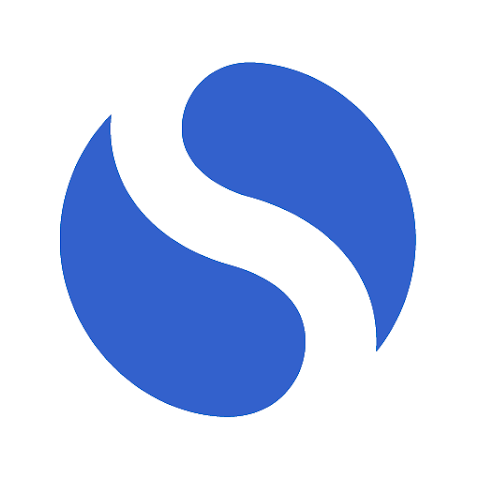 Welcome to Episode 73 in the never-ending quest to find the best note-taking app for Android, maybe iOS someday.
💡
Welcome Vas from no-fixed-address, Rey from Florida, subarao from India, and Roger from Canada to my weekly newsletter. Thanks for following along!
Simplenote is really good if you're looking for an Open-Source, fast, multi-platform, note-taking app that supports Markdown, has bi-directional sync, supports linking notes together, and revision history.
It is not local-first so you have to create a FREE account using your email address or log in via a WordPress account. You can opt to pay USD 19.99 a month or USD 199.99 a year to support it, which doesn't give you any more functionality and only removes a banner under Settings. This is so bizarre. I'm not sure why they don't have a lower monthly donation tier as I don't know anyone that would pay that much unless they can write it off. The screenshot below shows higher donation amounts but I expect that's because they lowered it.
The service was created in 2008 by Simperium so it is not new and there are still updates being made. Simperium also developed the sync service that Simplenote uses. The Android app was developed in 2013 by Automattic and they host the Simperium sync infrastructure. Don't worry if you didn't get all of that. The bottom line is the app is on solid ground.
What's great about Simplenote is that there are also apps for iOS, Mac, Windows, Linux and the Web and synchronization works between all of them so that's pretty good. There are even other apps that use their API such as NvPy which is a Python-based app.
I recommend this app to anyone needing a simple and fast note-taking app that works across multiple platforms or anyone that needs to collaborate with someone else on notes.
Read on to learn about the ugly, bad, good, great and awesome aspects of Simplenote.
Screenshots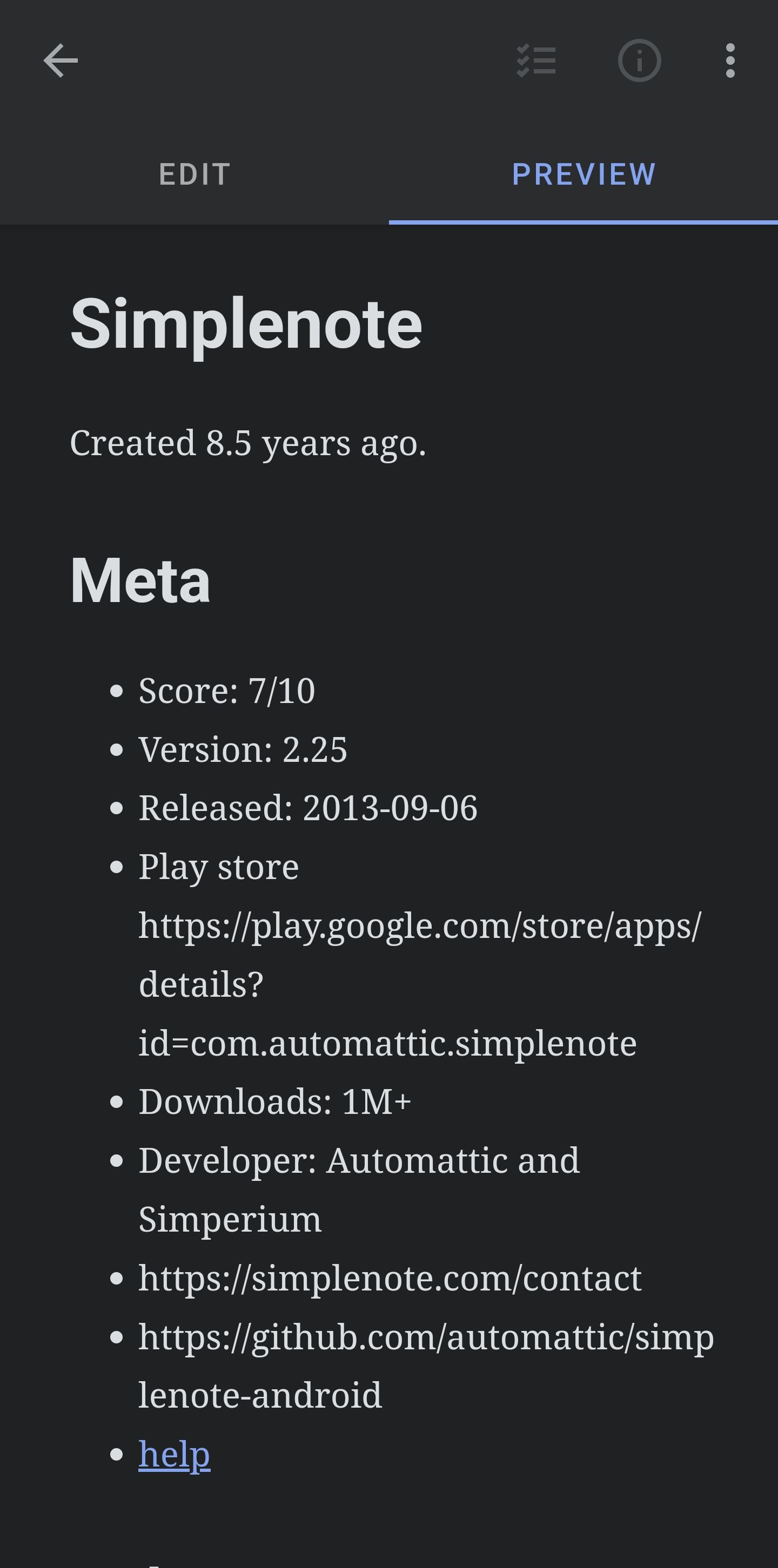 Meta
Ugly
Tried adding a collaborator via email and nothing happened: no error, no email ... likely because you can add non-users emails but they need to have an account
Can't change where my notes are stored on my phone
Notes are not stored in plain text on my phone
Bad
Not WYSIWYG
Linked images don't show in the note list
No highlight
No toolbar
No undo and redo
No image attachments (but has Markdown linked images)
I prefer [[wiki]]-style links between notes instead of [hyper](simplenote://links)
Only one font style
No search within a note
Good
Text formatting with bold, italics, and strike-through
5 heading levels
Preview Markdown as a tab
Pin a note
Word count and character count
Trash
Export and import
Dark mode
5 font sizes
Quote and block-quote
Disable screenshots with a password
4 Android widgets
Help page
Markdown hyperlinks
Filter by tag
Bullet list
Numbered (ordered) list
Inline checkboxes
Sort by created date, modified date, or title
Login with email or WordPress
Publish to WordPress -- which I don't use but many people do
code
Code blocks

Quotes
Great
Markdown support
Tags on notes and a nice UI for it
Share to WordPress
Fast search
Search by tags
Import selected notes from Simplenote (JSON), text file, Markdown file, and Evernote via the desktop app
Keyboard shortcuts
Inline images using Markdown
Tag list
Awesome
Fast
Free
Open-Source
Works offline
Externally accessible API
Notes are synchronized across devices
Link notes Welcome to Simplenote
Desktop apps for Windows, MacOS, and Linux
Suggests notes to link if you type a [
Incredible history feature with a slider which is super fast!
the end.