TagSpaces
Add descriptions and colours to files and folders, geo-tag and bookmark files, save searches, Kanban, photo gallery, and Map view of files.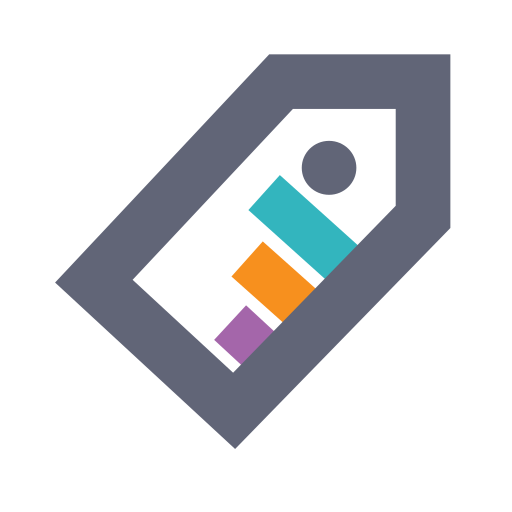 Welcome to Episode #93 in my long journey to find the best note-taking app for Android. Are we there yet? No. But first, a note of thanks.
💡
Welcome to Stephen from California and Björn from Sweden! One place I've been to many times and one I'd love to visit someday. I'm in Tech and live in North America so you can guess which one I've been to :) Thanks to both of you for joining this exclusive club!
This week's app was mentioned to me by my doppelganger friend Don who has the same incurable note-app affliction as me. Thanks Don!
TagSpaces was developed by Ilian Sapundshiev from Munich who did his Masters in Computer Science and Computational Linguistics at the Technical University of Munich.
In 2015 he founded the company TagSpaces UG (haftungbeschränkt) which focus is the further development of TagSpaces and derivative products.
The app comes in three flavours; Lite, Pro, and Enterprise which you can compare here. A brief summary:
Lite is free and includes tagging files and folders, image and video thumbnails, Web page clipping, dark mode, preview and print files, and search. You can connect to S3-compliant object storage like from AWS S3, Wasabi or MinIO
Pro costs CAD $54 per year or CAD $109 one-time payment. It runs in a Web browser so you host the app on your own infrastructure, use the app on mobile, or install it on a Network Attached Storage (NAS) device.
Enterprise adds an on-prem Web app, mobile app, Multi-Factor Authentication (MFA), white labelling, custom extensions, read-only embedding in websites, and priority tech support
With TagSpaces, you can add a description to files and folders, geo-tag files and folders, bookmark files, save searches, colour folders, a Kanban, photo gallery, or Mapique view. It's more of a file management tool on steroids with Markdown editing support than a note-taking tool and great as a personal photo and document (PDF) management tool.
The latest version of the Android app is not available on Google Play so you need to download it from the releases page on github (expand Assets and look for the file ending in .apk). The version I tested is here.
The software is available for Windows, Mac, and Linux and I feel you'd need the desktop version to get the full value for your money. It has keyboard shortcuts, mindmapping and EPUB support built in, and the ability to add or develop extensions.
Bottom line? TagSpaces gets a low score for now but it's definitely worth checking out. I'd love to see it tweaked to be a note-taking focused app on android as it has many unique features but I doubt that will happen given it's file management focus.
Read on for the ugly, the bad, the good, the great, and the awesome aspects of Tagspaces.
Quotes
TagSpaces is an open source, cross-platform, no backend, no login, no cloud personal data manager and file navigator. It helps you organize your files, photos and other documents with tags on different platforms and/or devices, according to your own preferences and following your own logic, by using the same smart and friendly user-interface everywhere.
create links between files managed in TagSpaces, so you can navigate from one file to another. The description field of any file or folder can contain links to other files, folders or locations. If you are using markdown for your notes you can place the same kind of links in content of the markdown file.
Screenshots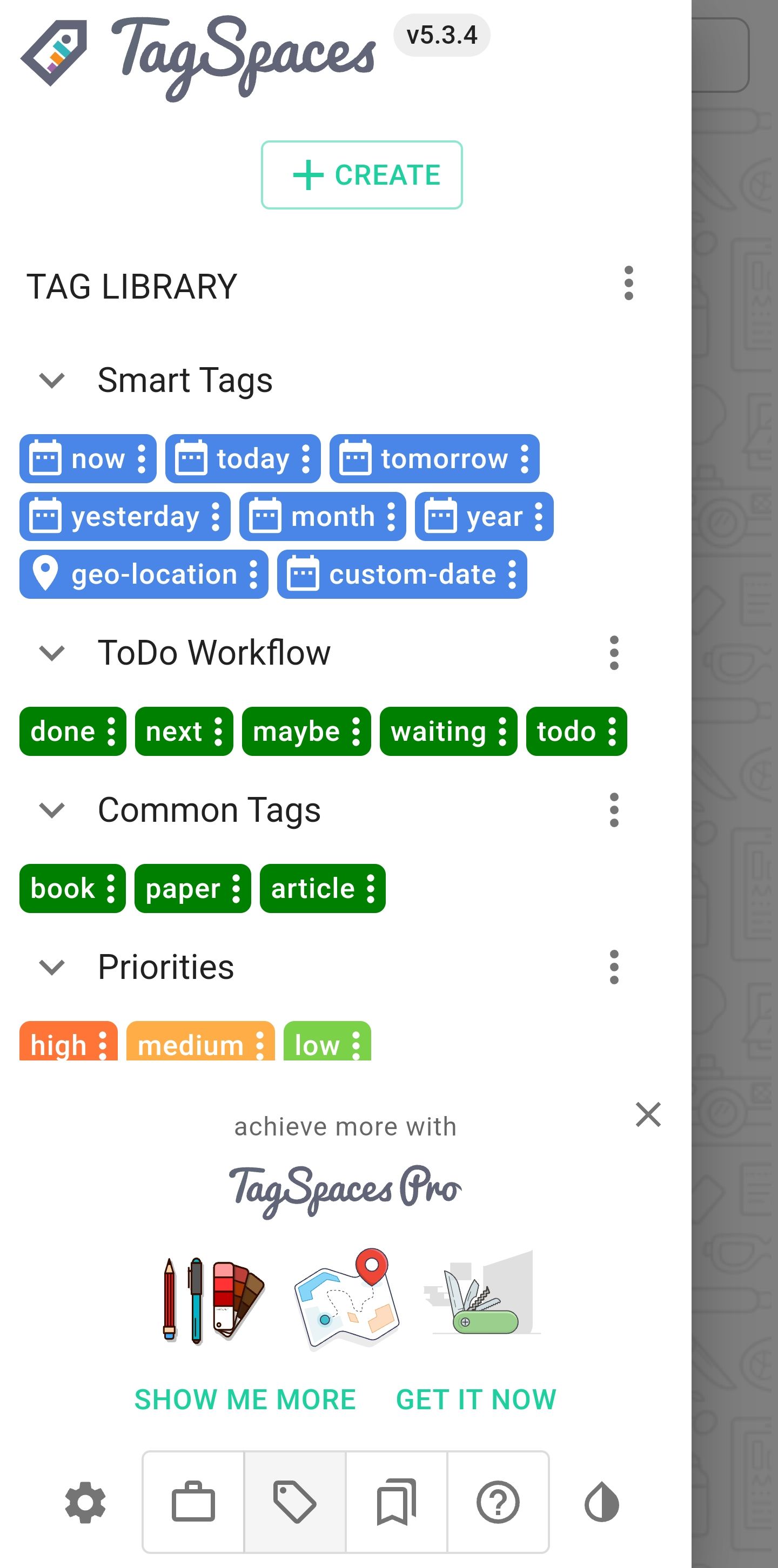 Meta
Ugly
Does not show a preview of the Markdown file in the note list just a big blank square
Bad
The user interface is quite busy
Doesn't remember the file I had open when I relaunch the app
Android < softkey doesn't close a file, have to click x
No highlight with ==text==
Good
Text formatting: bold, italics, strikethrough
Grid view or list view of notes
Sort by title, size, date modified, file extension, tag, random
Copy a note
Folders and sub-folders
Take a picture and goes directly into the current folder
Add files to a folder
Bullets
Numbered list
Undo and redo
Code and code block
6 Heading levels
Horizontal line
Tag
Tag list
Reasonable price
Quote and blockquote
Great
File manager
Markdown support
Fast
Go between files with ^ and v toolbar buttons
Drag and drop blocks of text
PDF viewer
Print
Select all notes in a folder
Option to open files using another app
Folder colours (Pro version)
Thumbnail for the folder (Pro version)
Bookmark files or folders (Pro version)
Kanban perspective (Pro version)
Geotag mapped view of notes (Pro version)
Awesome
Local first
Offline
Filesystem based
Use Dropbox, NextCloud, or Google Drive folder
Open-source
Links between files
Shows preview of PDF and images in the notes list
Folder description
Browser extensions available for Chrome, Edge and Firefox
Mindmap view of a doc
Amazon S3 and Wasabi support
Apps for Android, Windows, Mac and Linux
Comprehensive documentation