Walling
Aesthetically pleasing, fast, cross-platform, reasonably priced with inline images, highlighting, checklists, hyperlink previews, and a calendar view.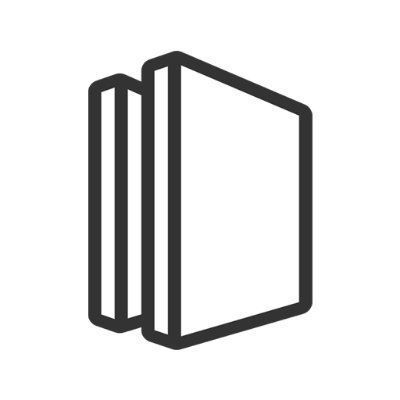 Welcome to Episode #90 of my Android note-taking app reviews, part of an experiment gone long! Before I tell you about Walling a couple of thank yous.
💡
Welcome to Kalonsteverseika from the Philippines and thanks for subscribing! Thank you also to Asen from Bulgaria who sent me an amazing email this week telling me about his favourite note-taking apps and letting me know about three apps that I hadn't heard of. Thank you, Asen!
Walling has been sitting in my "Requires Account" Android folder since May 13, 2022. That folder is akin to purgatory for note-taking apps because I prefer local-first apps. I got time this week to dig into it and enjoyed the experience overall.
All I could think of was Another Brick in the Wall when testing. For young folk, it's an iconic song from Pink Floyd's album The Wall.
Walling is developed by Walling Software who's founder and primary Developer is Ahmed Elmasry based in Cairo, Egypt. I couldn't find too much info on him.
I like the app in general as it's aesthetically pleasing, fast, easy to use and has cross-platform support. The app is not bloated and if you need to do more, you can always go to their Web app where you get a ton of functionality.  
Apps are available for Web, MacOS, Windows, Chrome, Firefox, iOS, and Android. The Web app feels slightly sluggish whereas the Android app is very fast.
The Web app supports Kanban boards, OCR to recognize text in images (not PDFs), comments, hyperlink previews, notes assigned to me, up/downvote notes, and see who edited each (I don't need that for my own notes thank you), customizable columns including colour coding, filtering, and templates. There's a g good 5 min video overview of the Web app.
The free version gives you unlimited notes ("Bricks") and Wall Sections with 10 Walls and up to 5 MB per file upload. This is plenty enough access to try it out. The premium version costs USD 8 per month, gets you unlimited access plus OCR, and removes their branding. The team version is USD 8 per member per month and adds shared Walls, private Walls, and advanced wall permissions.
Speaking of permissions, I worry about their security because if you look at this link it's an image I attached and now it's available wide-open without authentication. Sure it's not a link people would guess but security by obscurity is not security.
The Android app is a dumbed-down version of Walling and seems to have some issues. I added images and hyperlinks to my Wall but they didn't display in the app although they did show up in the Web app. The only sharing option is to share a public URL, ugh. I need to be able to share as text, Markdown, image, PDF, or something.  
For Markdown input, I couldn't figure it out on the Android app which is bizarre. On the Web app, it works for headings # but when I used > it didn't render as a quote. It's really easy to link to another note which is key for "networked notes".
Walling is worth checking out and won't be an app that I will be using but I wish them luck in sustaining and improving the Android app. I know how hard that is with a small team.
Read on for the ugly, the bad, the good, the great, and the awesome aspects of Walling.
Screenshot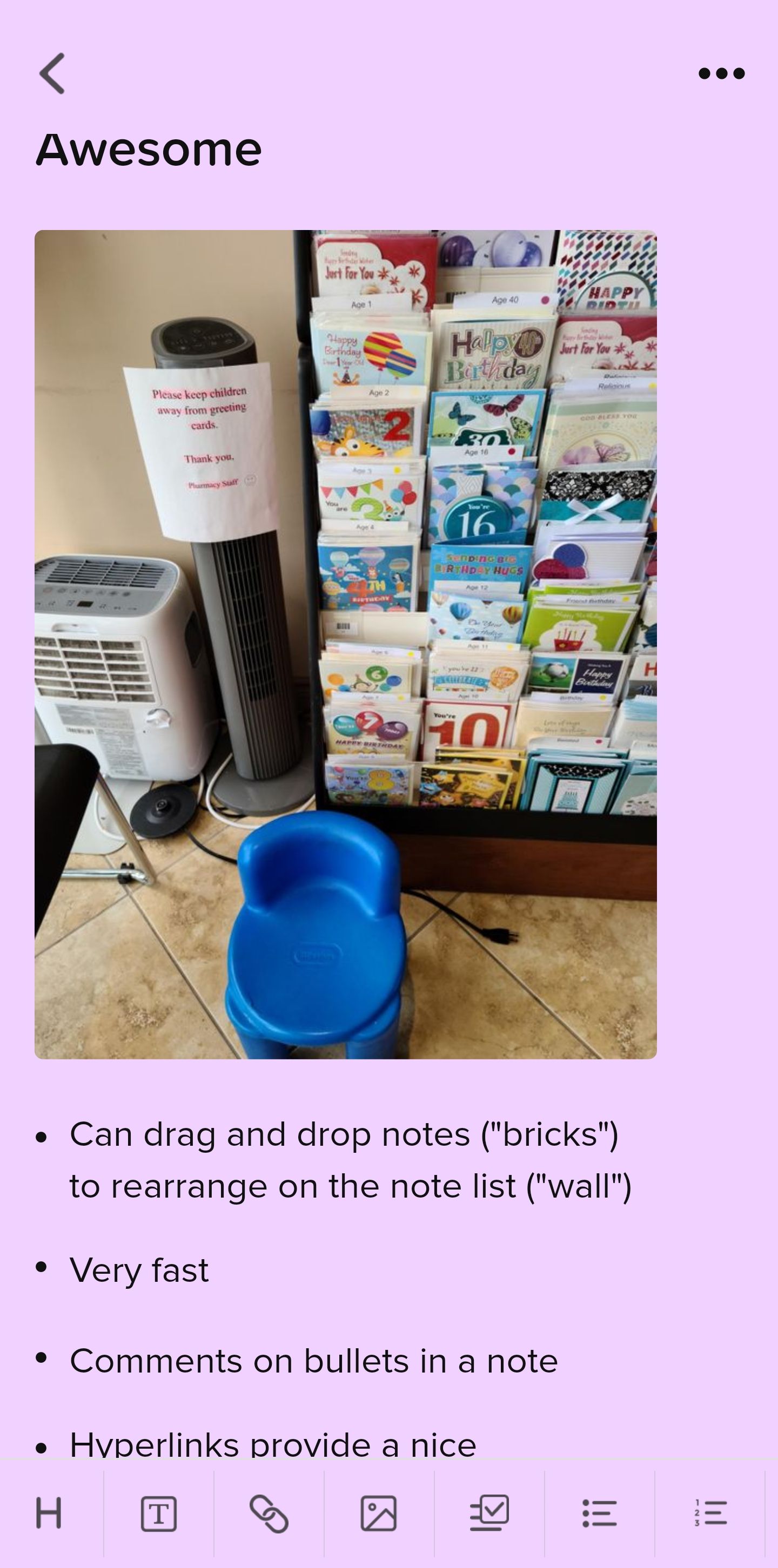 Meta
Score: 6/10
Version: 1.4.81
Device: Samsung Galaxy S20 5G
Google Play rating: 4.7*
Location: Cairo, Egypt
Ugly
Requires an account, not local first
Images are publicly accessible without authentication
No share as text, Markdown, image, or PDF
Only one setting on mobile: dark mode
Bad
No API (says "coming soon")
No passwords on publicly shared noted
Too much sample data
Not clear what a wall or brick is to start
Markdown input on Android unclear
Clicking bullet toolbar item adds a bullet when I thought it would convert the text to a bullet
Couldn't figure out how to re-order bullets
No backup and restore from Android app
No export from Android app
Good
Love the heading font
Text formatting: bold, italics, underlined, strikethrough
Bullet list
Numbered list
Toolbar
Tags on notes
Inline images
Pin a note
Hyperlinks
Grid view of notes
Dark mode
Inline checklist
5 text highlight colours and they're nice!
8 note background colours and nice ones
Add links as atomic items on the wall
Assign note to another user or yourself 😂
Add images to the wall
Due date on notes
Toolbar
Mark a note complete
Great
Fast
Recent notes in note list
Apps for Chrome, Firefox, MacOS, iOS, Android, Windows, and Web
Item selection bullets on the far right
Awesome
Web Clippers for Chrome and Firefox
Comments on bullets in a note
Hyperlinks provide a nice rectangular preview
Make a note public
Optionally allow comments from public
Calendar view of notes
The end. Happy note-taking week ahead everyone!