Wondr Note
Wondr Note is perfect for a student, an event planner, a garage sale goer, a parent with kids into sports or crafts, or a small business owner.


I enjoyed testing Wondr Note as it's extremely colorful, fast, and functional. Their privacy policy is great, simple, and clear. Backup and restore from Google Drive is important and it gives me some comfort knowing that my notes are safely backed up. I don't know if the backup can be scheduled but that would be bonus points.
The data can only be restored from Google Drive via their app. When I went to look for the backup files in Google Drive I couldn't find them. This is how Android apps work with Drive sometimes: they get a separate place to store the data which is not visible when you look at your files.
I'd like to learn if it's possible to access my "hidden" app data to get it out of Google Drive and usable without another app. As a serious note-taker, I prefer my notes to be stored where I can see them and export them in case I want to use another tool. For this reason alone I gave it a 7/10, otherwise, it's definitely an 8/10 app.
On the plus side, you can share individual notes as HTML from within the app which is great. There's just no bulk export to take your notes with you.
Wondr Note has tons of features including a handy expense/cost tracker, simple task tracking with the ability to finish a task from the note list, and a "mood board" with a collection of photos. You can attach images and they're shown with thumbnails in the note list which is something I always like. Well done.
Wondr Note is perfect for a student, an event planner, a garage sale goer, a parent with kids into sports or crafts, or a small business owner. Basically, anyone who needs a place to keep track of their life, memories, or hobbies.
This is definitely an app worth trying but proceed with caution as there's little online activity from the company for the past 1.5 years. If they were visible and updating the app regularly or a community of supporters, then it would've been an 8/10.
Screenshots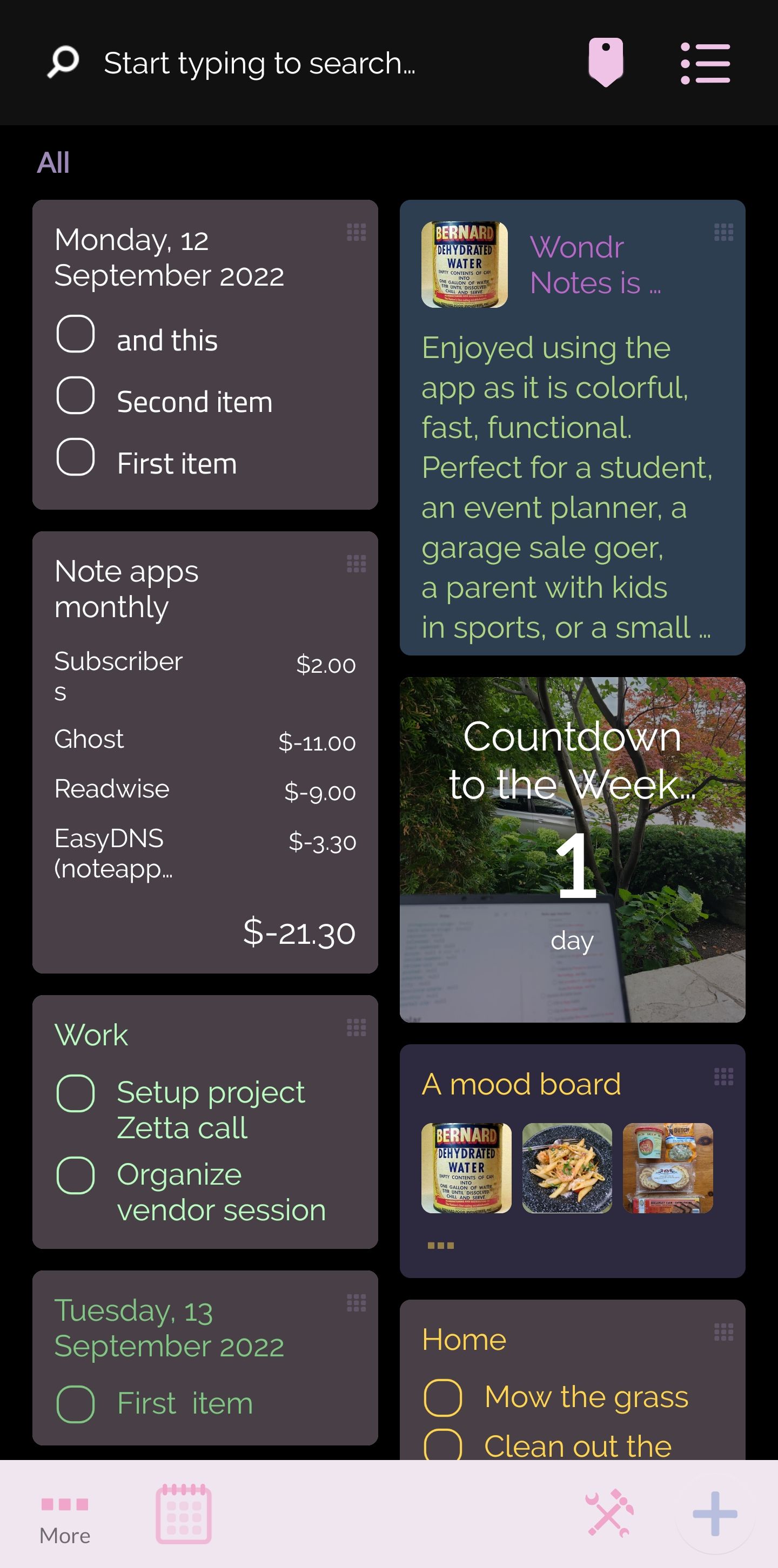 Quotes
Cute Notes, Lists, Countdown & more
Wondr Note is a creative & unique take on notes & lists.
People
I couldn't find the people behind the app. It's always nice to know who the Developers are. If it's you, please get in touch :)
Meta
Ugly
The company's Twitter account is a ghost town, Facebook has no updates for 1.5 years, same with their blog
Data is stored in proprietary DB
Bad
Can't add placeholder / label for a hyperlink
Too many default tags that I had to delete
Text alignment affects the whole document, not the single line
Share via email attaches only one of the files
Share via email doesn't put the title of the note in the subject line (minor)
No undo / redo
No formatting toolbar
No bullet lists, but you can do that manually with "- "
No export to Markdown
No bulk export
Voice notes feature accessed under Task list, should be front and center
Cursor up/down while using Samsung DeX doesn't work: an issue for me, not that many other people likely!
Good
Nice font which is good because there is only 1
Date under the title is grey
Easy to use out of the box
Attach image
Backup and restore via Google Drive
Text formatting: bold, italics, underline
Checklists (separate)
Tags
Filter by tags
75+ pastel colours for text
7 Font sizes: 13, 15, 17, 19, 21, 25, 29
Highlight text
Text alignment (see bad)
Grid view and list view of notes
Share as HTML
Backup and restore to Google Drive
Great
Low cost at CAD 4.99 for lifetime
Images shown at the top of the note
Take voice notes
Subtle button to get to the top of the note
Tags
Filter by tags
Can colour individual characters or the whole note
Image thumbnails in the note list
Can check off a task from the note list
Create a daily agenda by picking from open tasks across all of your task lists!
Awesome
Great privacy policy
Offline first (and only)
Fast text search
Calendar view of daily agendas
Drag and drop items in the main list to manually re-order
8 Android widgets: Agendas, Board, Countdown, List, Note, Today, Account, Quick Add
Many background themes: background colours which I liked, background photos which I didn't find useful
Mood board where you can add a collection of photos with captions and a title
Countdown item, pick a date, set title, choose a background, and get a countdown timer!
The company name :)