Supernotes
Well-designed cosmetically and fast, supporting Markdown, linking of notes, inline images, and apps for every platform you need including Linux.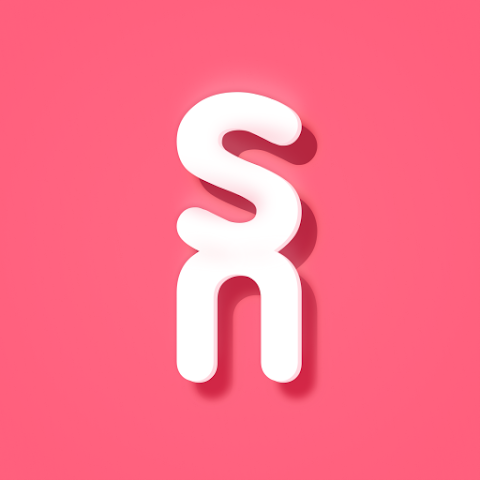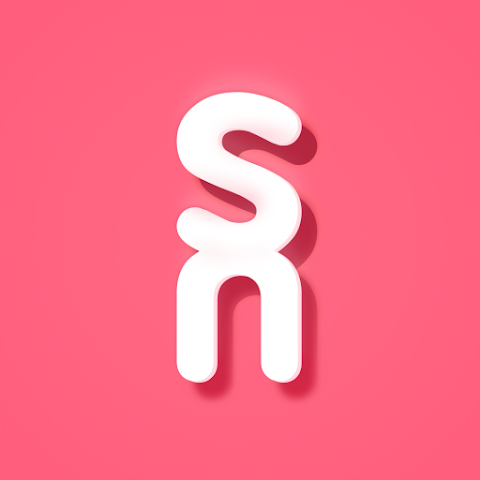 Welcome to Episode #79 in my never-ending adventure to find the best Android note-taking app for me, and maybe for you. If you are reading this, you represent 26% of my 205 email subscribers who actually open the email. I understand that's "normal" or maybe the rest of the subs aren't opening my newsletters because they found the note app for them! Speaking of subs...
💡
Welcome to Rajan from India and our neighbour Ray from U.S.A.: we hosted your president yesterday and one of us (not me) will be joining your astronauts on the Artemis II mission!
Last May I was DM'd on Twitter by Tobias, the Co-Founder and CEO of Supernotes, about their app. I really liked it at first glance and since my focus is on local-first apps, I only tested it recently.
Tobias studied Biomedical/Medical Engineering at King's College in London. His startup received support from Natwest Entrepreneur Accelerator, Santander Universities, King's 20 Accelerator, UCL Educate, and Young Academy and the Y Combinator: Startup School.
Their Chairman is David Walsh who was the first Entrepreneur in Residence (EIR) at King's College. He has done some interesting things and has his own investment firm FlameFinch. Check out these creds:
David created a solution centre in Malta, helping to initiate Malta as an ICT European hub and which has since attracted over 400 IT related businesses there. In 2010 David was awarded Malta Order of Merit for services to the Maltese economy.
I can see why David is investing in this Tobias and his Co-Founder Connor Neblett. Their app is very well designed cosmetically and it's fast, supports Markdown, linking of notes, addition of inline images, and has apps for every platform you will need including Linux.
There are a couple of UI things that I found awkward and are being worked on.
To save changes to a note I have to hide the keyboard, scroll down, and finally find the little "Finish" button. This is not obvious and too much effort just to save changes.
When setting a target date it's almost impossible to see what the current date is because of how faint the square is around today's date. That said, the ability to see the list of tasks and the associated notes (cards) where they were created is priceless.
There's a help button (?) everywhere which is comforting and it doesn't get in the way. When clicked, a really great cheat sheet is displayed with shortcuts and the Markdown syntax, LOVE IT! I found their docs comprehensive, clear, and concise.
You can import your existing Markdown files or import from Notion and Obsidian! Each note is a "card" and you have 40 cards for free. You can get 20 more cards by inviting someone or paying for a subscription. If you decide to leave, you can easily get your notes out by exporting them to a ZIP of Markdown files.
For techies: their tech stack includes React, Electron, Capacitor, PostgreSQL, SocketIO, Redis, Python/FASTAPI, and Nginx.
Some amazing features include the ability to sort random to re-surface old notes, publicly share a Supernotes card which looks incredible, and even an API with integrations via Pipedream, email, Raycast, and Zapier.
From a support perspective, be prepared to be amazed. I sent a draft of my review to Tobias and got a response back the same day. The same day! Not only did they respond, they actually provided some additional insights. Kudos Supernotes!
Read on for the ugly, bad, good, great, and awesome aspects of Supernotes.
Screenshots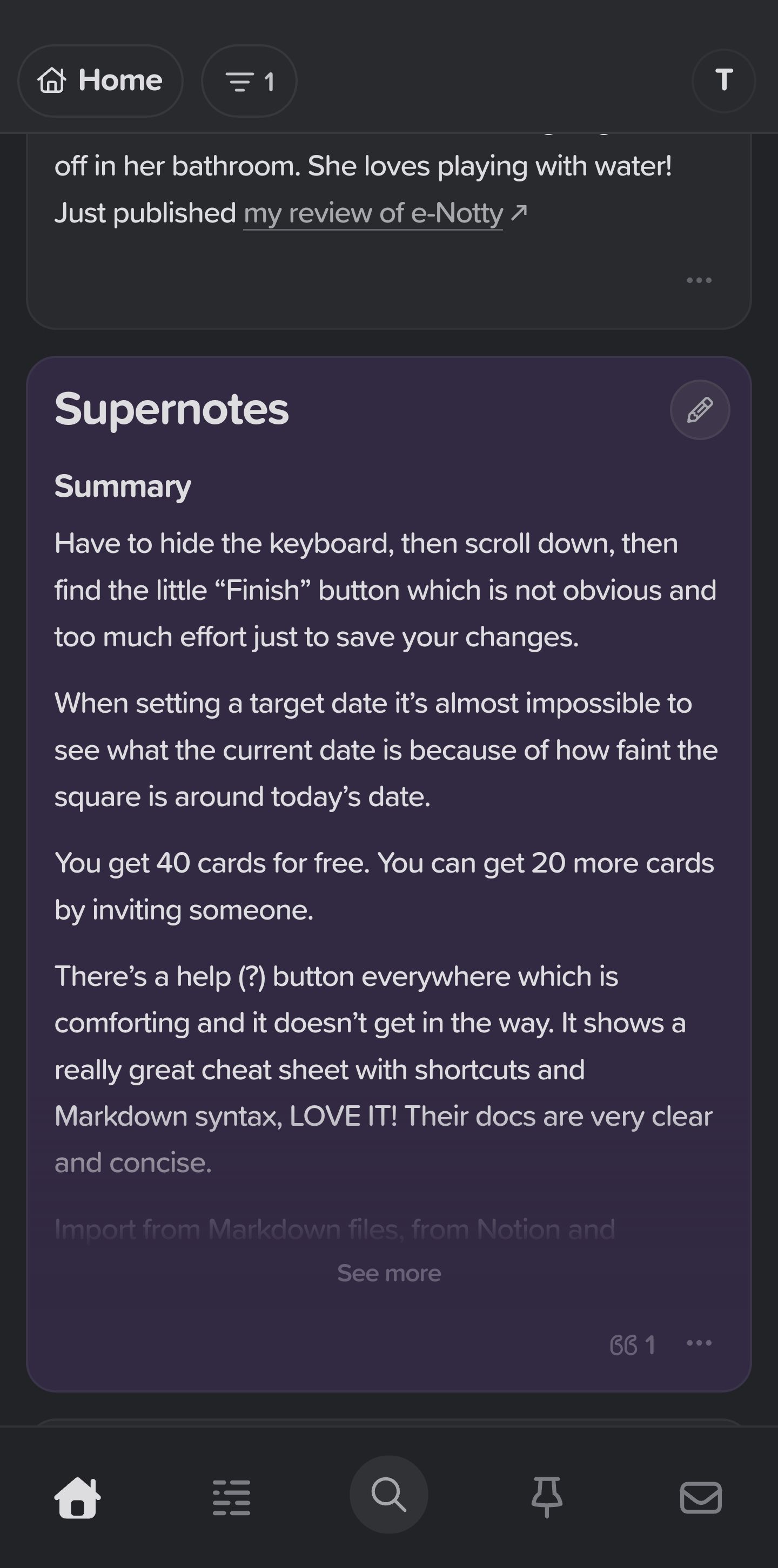 Meta
Score: 8/10
Device: Samsung Galaxy S20 5G
Video tutorials - on YouTube
Location: London, UK
Ugly
Not local first, need to sign up
Got it into a state where I couldn't see any of my notes. Relaunching the app solved it
Expensive at USD 7.38/mo if billed yearly or 9.78/mo if billed monthly
Bad
Not a great experience if you're creating long notes
Double tap to edit brings you to the end of the note, not where you double-click and still need to click to bring up the keyboard
Noteboard is confusing
No editing toolbar
No undo and redo via buttons but it is there if you use a keyboard shortcut
The email toolbar button is for invitations, I keep thinking it will email the note, maybe use a different icon. I don't want to have friends on here anyhow, at least not many that I need a button to see who I invited
When I click the share button on a note I expect it's going to ask me where to share but instead it creates a link
Go into a state where it said the note is open somewhere else
"Open in Noteboard" is confusing on a smartphone
To create a new note have to scroll to the top of the notes, please add a "+" like most other apps -- workaround: holding down the "search button" will create a new note (Thanks Tobias!)
Good
Text formatting: bold, italics, strikethrough~
highlight
code and code blocks
quotes and quote blocks
LaTex support
Love the default font!
Sort alphabetically, creation date, modified date, or size
Dark mode
3 Heading levels
Tags
Pin a note
Bullets
Numbered (ordered) lists
Inline checklists
Inline images
6 font sizes from 12 to 20
Trash
Great
Cool colours on notes
Markdown Support
Export to PDF
6 themes
Solo mode to hide collaboration features
Set a target date for a note
Markdown support
Import Markdown files
Import from Notion, Google Keep, and Obsidian
Make a note Priority, Visible, or Invisible (akin to an archive)
Filter by tags, liked, kept, priority, visible, invisible, mine, another person, or colour
Sort by priority, targeted date, parent count, child count, number of backlinks
Export to one Markdown file or zipped Markdown files
Export to JSON
Help docs and YouTube videos
Locate a note in the calendar
Awesome
Link notes together, backlinks
Apps for Android, iOS, Web, Windows, and Linux!
Create child notes under a note
Tasks view that shows notes with open Todos
Filter by multiple values using and
Comment on a note
Sort by random to re-surface old notes
Publicly share a card Supernotes and it looks incredible!
API and integrations via Pipedream, email, Raycast, and Zapier
Share with options for roles - How to Share and Join Cards
Have a great note-taking week ahead and thanks for subscribing.
Stone.