Anytype
A cross-platform, crazy fast, "open" app with a good looking UI, linking of notes, graph view, inline images, cool bookmarking, templates and a lot more. But is it a note-taking app?

Six months ago and about halfway through my journey to find the best Android note-taking app I was researching Transno. I setup a Telegram account so that I could find out who was behind Transno and there I ended up meeting a fellow note app enthusiast named Ivan. He was super helpful in a chat room so I sent him a message to say "thanks" and we ended up having a great chat about our shared passion. At one point in the conversation Ivan said:
You need to try Anytype. It's on early alpha now. Really great thing!
Being me, of course I signed up right away. Then, late March I received an email invite to their alpha program and I was excited! The challenge was that they wanted me to join one of their scheduled on-boarding sessions and I thought to myself: "I need to join a conference call to learn how to use an app?!". Something didn't feel right and with that I never responded and instead I added their app to my backlog and moved on.
Fast forward to a week ago when I received another email from them welcoming me to their alpha program, no onboarding session required and that was what I needed to hear. I installed the app.
If you've been following my posts, you already know that I prioritize local-first apps because it's my data and I trust my computer that I setup. Anytype is positioned as local first and de-centralized with the ability to synchronize your data between your devices.
What's confusing is that even though it claims to be local first, I had to create an account and that's definitely not local first!
Another confusing aspect of the service is that it's being positioned as an "open organization" where I, as a user, own part of it. That's kind of intriguing but in reality it's being funded by a lot of  VCs and those are usually very private, not public. To see how many people and companies are behind Anytype, read to the end of my post.
Looking at some of the content like this 3 year old YouTube video from the Founder Anytype - Zhanna Sharipova it appears that what they are trying to build is much larger than a note app, rather a no-code ecosystem where "even a child" can build a software application.
I question why I would put all of my notes into a de-centralized system and then, at some point in the future, they connect my and everyone's (a.k.a "experts") data and reward me. It feels far fetched and idealistic as well as cool if they can pull it off.
In the meantime, I'm keeping my notes to myself and sharing very carefully with the people that I trust with no intermediary, not even traversing an IPFS even if my notes are encrypted. IPFS is another rabbit hole that I haven't fully gone down but so far it looks like another set of computers that aren't mine, that I don't know where they are located or how they work, and that I have even less control of. In the end, where you put your notes is up to you and who you trust. Maybe Anytype will be trustworthy?
What's unique about Anytype is that everything is an object. That's good as it helps with structure but bad because it feels bloated with objects that I may never use. I found that distracting. What are the objects? humans, books, musicians, documents, ideas, places, numbers, or files.
From an end user perspective the UI is quite nice and they've developed a ton of functionality that works across pretty much any platform that you might use.
Besides playing with Anytype this past week, I also spent way too many hours working on my notes in Obsidian and I started going down another very deep rabbit hole.
I began to add more structure to my notes on people and added more non-note app folks to my "vault"  – vault is Obsidian's term for the top level folder with all of your notes and attachments. It's a little misleading since the vault is really only secured by your computer login. Anyhow, if you're interested in how I'm structuring my people files, check out my comment on a reddit post. My experiment has been incredible so far!
Why do I mention the above? Well, when I started playing with Anytype it was funny because they have a well defined object for a Human and so the timing for me testing their app couldn't have been better!
Bottom line:
If you have an interest in note-taking and knowledge management, then I think you'll really like trying out Anytype. You should sign up for the alpha but don't import all of your notes, at least not yet!
Anytype is a cross-platform tool with a crazy fast and good looking UI that supports linking of notes, graph view, inline images, cool bookmarking (hyperlinks with preview), templates and a lot more.  It's been in alpha for 2+ years and, from what I can see, the app looks more like a production ready service. They're likely holding it in alpha stage for a reason that's not obvious to me.
Below are my more detailed notes on Anytype and I hope you enjoy reading this as much as I've enjoyed writing it. For this review I've added a few new sections:
Quotes from various sources
References with links to articles or posts about the app
People to list the people that I could find involved with the app
Investors because I spent the time trying to figure out who really owns it
I'm looking forward to reaching my next milestone of 1,000 people passionate about note-taking. Please share this email with others or like, share, re-tweet one of my posts on @NoteApps or r/NoteApps. And please send me feedback so I know whether to keep doing, change something, or stop doing this!

Quotes
Anytype - Zhanna Sharipova on 2019-07-22 at IPFS Camp 2019
A Unified User Interface for a distributed, content-addressable web
Using these blocks even a child can create a sophisticated software product
Vision of the new web we are building: Each user has a right for private thoughts and communication and owns his or her data. Each user can exercise freedom of speech, and there is no central gate-keeper who can control or censor information. There are clear and democratic rules to reward participants that create, promote, store and deliver content and services
operating system for life
next-generation software that works like your brain does. It solves everyday problems while respecting your privacy and data rights.
Tools for thought, freedom and trust.
Set of tools to build and explore the new internet. From private notes to decentralized communities.
an open organization that is collectively owned by its creators. Everyone will be able to contribute and be rewarded.
Solve everyday problems, collaborate with others, and keep your data to yourself. Sign up for early access.
Anytype welcome email
June 2020, we shared the first alpha of Anytype for Mac and Windows. Not long after that, we added support for Linux. Two months later, we squeezed Anytype into our skinny jeans with the first release of Anytype for Android. Finally, we ended 2021 with the first release of Anytype for iPhone. In 2022, we're going to release the first public beta of Anytype, allowing anyone to experience our new metaphor for computing. We'll e-mail you as soon as we're ready.
Q&A on their site
will anytype always be free? yes
will anytype always be an open ecosystem? yes
will you open source anytype once you launch? yes
are there any storage and upload limits? no
can you help me if I need some support? yes
can I own my piece of the new internet today? yes
From their Desktop app
Anytype is a personal knowledge base, a digital brain that allows you to capture, describe, and connect information. You can use Anytype to create tasks, notes, ideas, documents, workflows, and more, and organize them any way you want. Future versions will allow you to share your work and safely collaborate with others.
From Inflection, their investor
an operating environment built on web3
Screenshots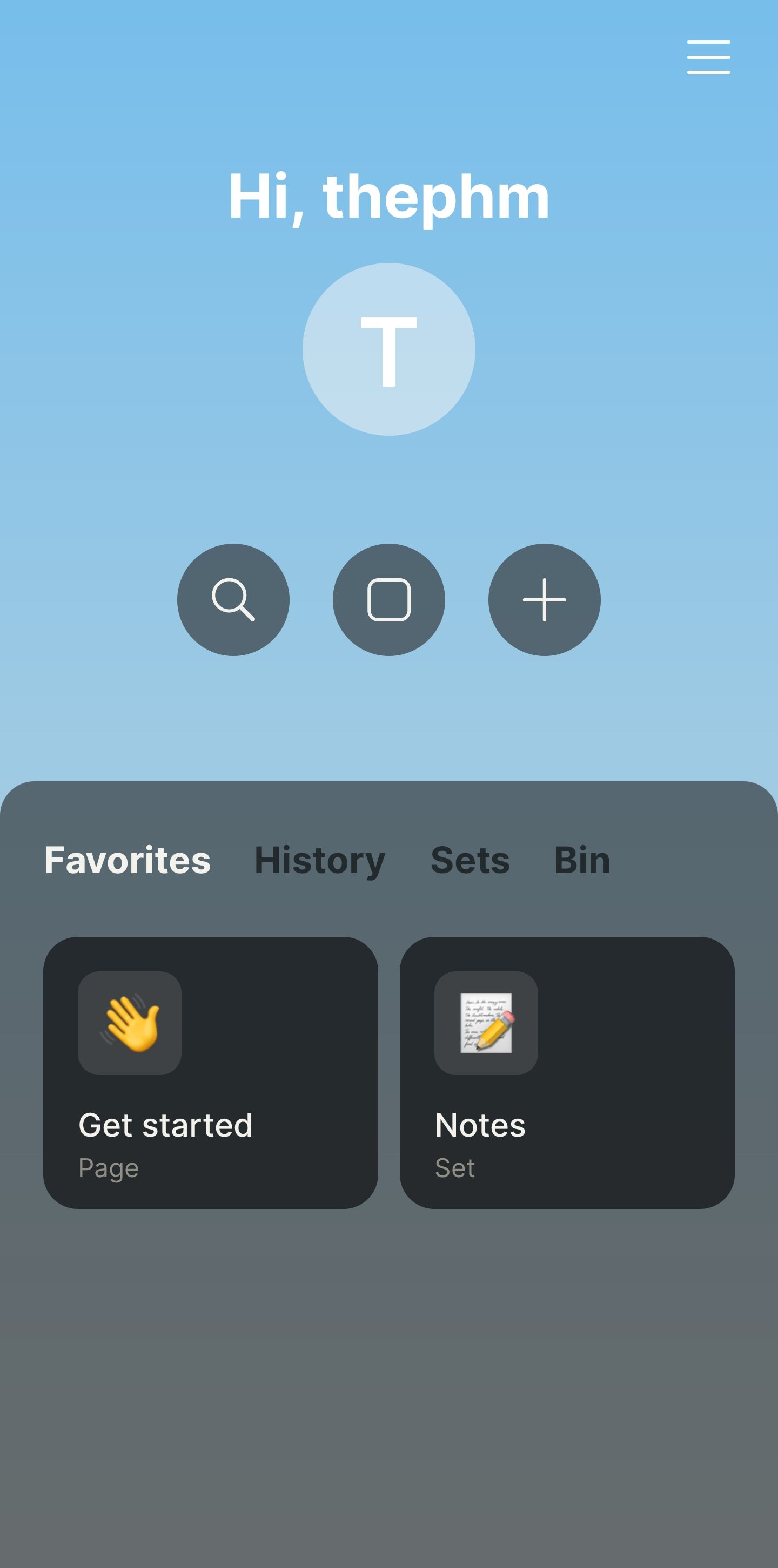 Meta
Score: 8/10
Version: 0.8.2
Last updated: 2022-06-03
References
People
Ugly
Says "local first" but you still need an account!
Can't select text across lines
Treats everything as an object: ugly and awesome at the same time
Constructs like objects, a canvas, blocks, and sets made me think too much
Too much sample data, needs a "clear sample data" option (maybe it already exists)
Bad
When I created the first note I couldn't see where the title was. When I changed the layout I could see the title
Couldn't figure out how to delete a bookmark / hyperlink
Sometimes after choosing style feels like a slight delay updating the item
The library icon doesn't help me know that it's for my library
Relations was confusing to me initially since the word means different things to different people. I shouldn't have to think about the app when using a note taking app
Weird to have objects called Humans and when I create one I'm creating a human?!
Weird, but also interesting, how you can slide a table of attributes horizontally while the item aka object stays still (hard to explain, you'd need to see it but the app creators will understand if they read this!)
Good
Fast launch, fast input, fast search
Nice tips on initial launch
Quotes are nice with the orange vertical line
Text formatting: bold, italics, underline, Code
Text alignment
3 heading levels
Inline numbered lists
Inline check-boxes
Formatting toolbar
Trash ("Bin")
Favorite
Undo and redo
Sets of items ("objects")
Create a bullet using * or -
Dark mode
Search in a note highlights the found text in a dark background color which is hard to see when in dark mode
Read only mode ("lock" a note from changes)
Highlight text with 7 colors but they're muted in dark mode
Inline images
Bookmarks
A reference to Pink Floyd in their help :)
Keyboard shortcuts
Graph view
Import from Notion
Great
Intro help pages are really good, didn't make me feel as lost as when I started using Obsidian
Templates
Link to other notes using @ sign
Image thumbnail shows up in the note list
Slash (/) menu
Table support just type /table and a handy tablex-y to get a table with x rows and y columns - just added in Aug 2022
Nice looking callout blocks using /callout
Drag and drop blocks to the sidebar #to-try
Code snippets for Developers with language-specific formatting
Colors on text and they're really nice
Awesome
IPFS based which is super interesting from a technical perspective but relatively new from a technology perspective which means risky
Apps for desktop (MacOS, Windows, and Linux) and mobile (iOS and Android)
Comprehensive documentation
Large and growing community
Bookmarks look really good with a little preview
Can create sets of bookmarks with Type:Bookmark
Great release notes not just "fixed bugs" but specific and detailed
Inline images render nicely with rounded corners
Photo / image in circle at top of a note, very unique
Inline attach documents like a PDF
Toggle block to have a section (block) of text that can be collapsed/opened
Anytype Investors
Not a comprehensive list but just to give you an idea of how many people, companies and how much money is behind this "open" organization.
"$300M raised" according to raisedtoday.com and from crunchbase and searches I gleaned this:
Acequia Capital aka AceCap - Hank Vigil, Marc Jalabert, Brennan Benioff, Todd Hopper, Rauten Hofmeyr, Leif Danielsen - Seattle
[[Alex MacCaw]] - Web - "Hacker" - Clearbit Co-Founder, Sourcing.io Founder, Earl Grey Capital Executive
AltaIR Capital - portfolio - San Francisco
Ash Egan ($1.2M) Archetype Founder, Accomplice VC Partner - Brooklyn, New York
Charlie Songhurst - Investor - Kirkland Washington
Declan Kelly - Foreword.vc Founder, Web Summit Advisor. Seedcamp EiR - Berlin
Jeremy Yap - Full time angel from Singapore
Jesse Clayburgh ($1.2M) of Protocol.ai and Filecoin - U.S.A.
System.One ($1.2M) - a pre-seed VC firm in Berlin
TechStars - one of their 3,585 investments -  Boulder, Colorado
...