Diaro
Fast, and supports drawings, geo-location on notes, tags, text-to-speech (read aloud), calendar view, map view, templates, 17 fonts, "on this day" flashback, and 35+ languages.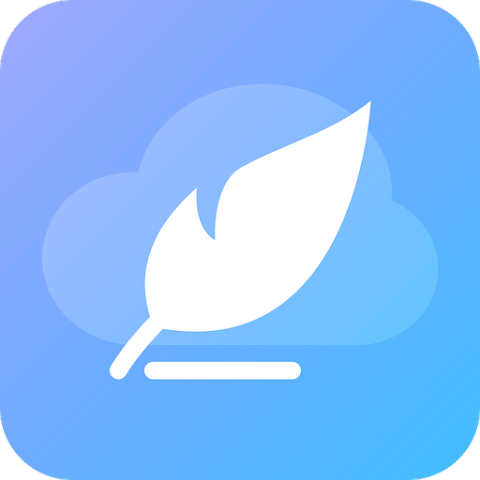 Welcome back to my hobby/obsession for the 87th Android note-taking app review! This week I review another diary app that works well as a note-taking app. But first, a note of thanks.
💡
A big welcome to Mark from Georgia U.S.A. and thanks for subscribing! You are member #214 in this exclusive club :)
This week I tested out Diaro which has a phenomenal 3M+ users. I was going to give it a score of 6/10 but then after playing with it more this morning decided on 7/10. Maybe I just woke up in a better mood but really it does have a great feature set.
Given the size of the user base, I don't see why it isn't as nice as some of the other journaling apps that I tried like Diarium or Journey. It works really well but doesn't feel as polished as those apps. Especially the Web interface, oh my it does not look like an app I would want open every day.
Diaro was developed by Abhishek Kumar who did an undergrad in Software Engineering and his Masters at University of Konstanz in Germany. He had a couple of intern jobs including one at Siemens AG and then started a company called Bazimo in 2010 which provides a solution for real estate management. He then started Sandstorm Software FZE in 2016 and he's based in UAE according to LinkedIn.
[Sandstorm specializes] in the development of mobile games, apps, and websites. Our expertise extends to both Android and iOS platforms, as well as web development. We have a large portfolio of native as well as crossplatform games for Android and iOS Apps.
The company is not active on socials with with only a single post per year for the past three years on Facebook and Twitter. They still list Google+ links on their site and that service is dead. I also don't see any community engagement via Discord or an interactive forum on their Web site. They do have a good-sized FAQ though. This makes me wonder if they're just milking the app.
Overall, Diaro has a good feature set, primarily targeted for diary and mood tracking and I think it would be a great travel companion.
For me, it lacks Markdown support and does not have the ability to export via Android so I'd end up having to revert to their Web app to do those things. And again, the Web app is not pleasing to my eyes.
You can use Diaro offline to start which is good for trying it out. Then, signup and get DropBox integration for syncing across devices along with backup and restore. If you like it, upgrade to Pro for USD 3.79 per month which is a reasonable price or spend USD 9.99 per year which is a great price.
Upgrading to Pro removes ads and gets you to sync across your devices, and export to Word (DOCX), PDF or Text (TXT) files via the Web app.
Diaro is fast, and supports drawings, geo-location on notes, tags, text-to-speech (read aloud), calendar view, map view, templates, 17 fonts, "on this day" flashback, and 35+ languages.
What's great is if you share a note via SMS, it includes the text and images. That's one of the first times I've seen that and it was a pleasant surprise.
My favourite feature is how photos are handled within a note. They show up at the top and you can swipe left or right to go through all of the photos from that day. It also moves to the next (or previous) note once you reach the last (or first) photo. It's a simple yet very effective feature. There's also a button that shows all of the images on a note, which is super handy
Read on for the ugly, the bad, the good, the great, and the awesome aspects of Diaro.
Screenshots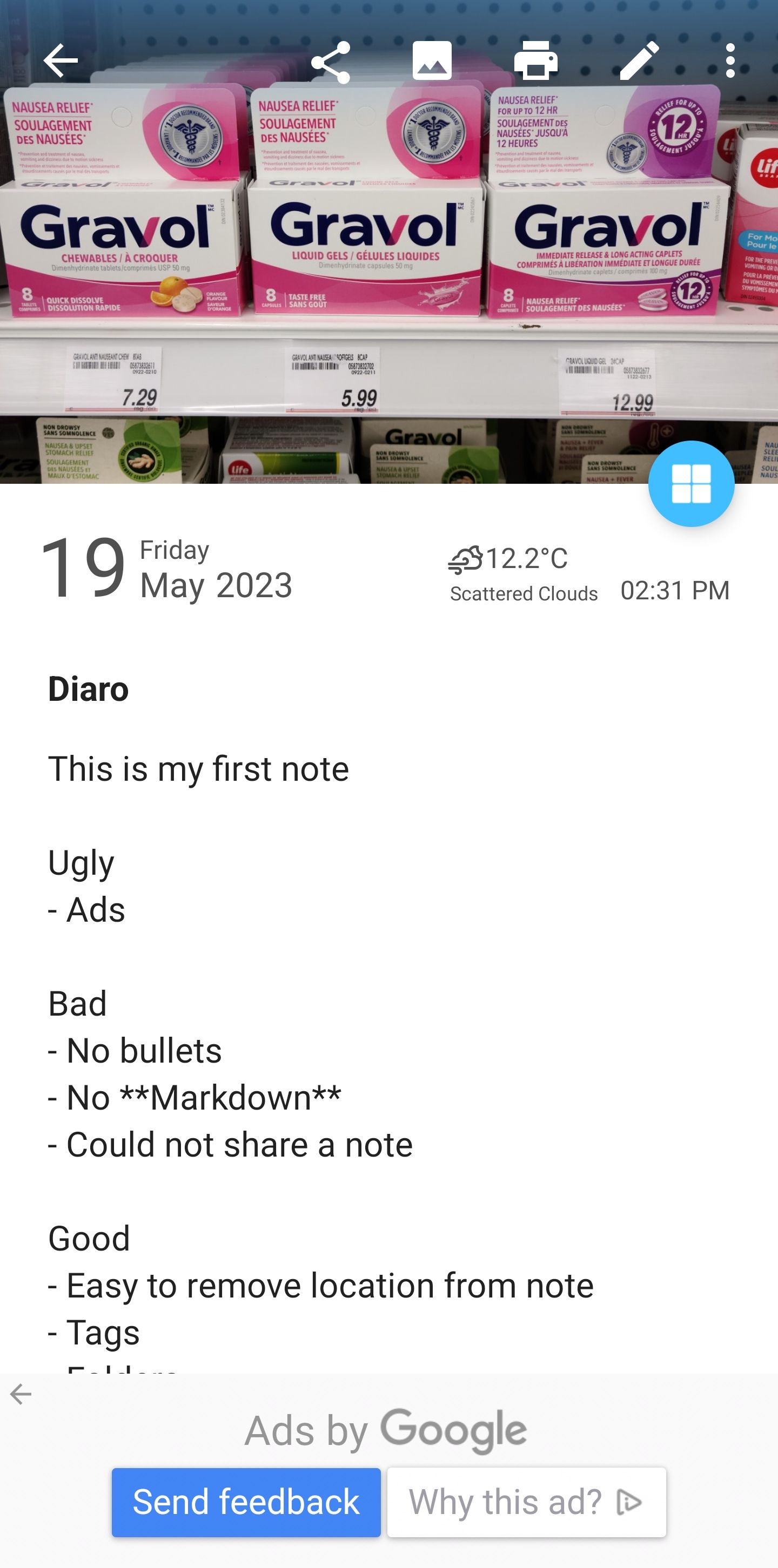 The Gravol in the pic was for my wife who was in a car accident this week and I'm taking her to physio shortly to be assessed. She was hit from behind by a young guy who sped up as if to intentionally hit her. It wasn't intentional but must've been very scary for her.
Quotes
Keep life moments and ideas always with you. Diaro is here to help.
Diaro is a multi-platform diary, journal, notes & mood tracker, designed to record your activities, events, appointments, experiences, thoughts, feelings, ideas & secrets throughout the day & sync data across all your devices & PC.
Meta
Score: 7/10
Version: 3.92.3
Device: Samsung Galaxy S20 5G
Released: 2012-12-05
Web: diaroapp.com | Twitter: @diaroapp | Facebook
Location: United Arab Emirates
Ugly
Ads
No export from Android app (use Web)
Share to Signal gave the error "Could not get share data from intent."
Bad
No bullets
No Markdown support for input our output (export)
No text formatting
Could not share a note
Only sort by date
No API
No trash in the Android app
Can't provide a label for a hyperlink
Good
Easy to remove a location from a note
Tags
Folders
Location
Weather
Undo and Redo
Insert timestamp
Duplicate a note
Attach a photo
Full-screen mode
Character count
Word count
Dark mode
Moods
Quick add from long press Android menu
Filter by tags, mood, locations, folders
4 widgets
4 font sizes
Runs on Android 5 and up
Sort by date
Sign in with Google or their app
Backup and restore via DropBox
Statistics on moods, diary entries
Share via SMS
Share via email
Read aloud (text-to-speech)
Reminders
Hyperlinks
Images are shown in the note list
Great
Fast
17 fonts
Drawing tool
Dropbox support
Calendar view
Includes the weather
Security code to lock the app
Web app
Map view
Import data from Journey, Evernote, Google Keep, Momento, Day One, Memorize, Diarium, Universum
Awesome
Reel of images at the top of the note
Button to see all images on a note
Templates
On this day
As you swipe the images it changes to the previous or next day, smart!
35+ languages supported
Share via SMS includes images
Thanks again for reading through and I hope you found this useful or at least interesting. Until next week and have a great note-taking week ahead!