Evernote
Nice design, Markdown for input, inline tasks, templates, attachments, PDF viewer, audio recording, sketches, offline access to notes, and an endless amount of features. Not cheap and has a lot of baggage.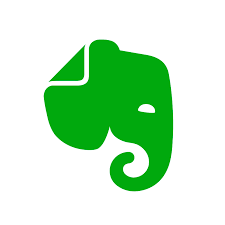 Welcome to Episode #100! I can't believe that I've written 100 Android note-taking app reviews. This week it's one of the heavyweights but first, a brief note about my other hobby.
This week I spent a lot of time working on a post "Goodbye social networks, hello Markdown". It's an incredibly long story but it felt good reminiscing about my journey learning the science, using the services, and creating and now killing my own software tool as part of my Social Network hobby over the past two decades. I'm moving from Web-based to offline leveraging linked atomic Markdown files and Obsidian. That's a mouthful!
I also finished my review of Evernote, an app that many of its users left for Obsidian, Notion, and other note-taking apps over the past years. I ended up paying CAD 20.33 as the free 1-week trial expired, doh!
Evernote has been around for a long time and was a pioneer in digital note-taking. It has a solid and loyal user base with the exception of those who jumped ship due to issues with the app and it not being maintained. Those issues seem to have been resolved.
Started in 2004 in Sunnyvale California by Stepan Pachikov, Evernote now has 400 employees. Stepan has an interesting background having taken his Ph.D. in Computer Science in Russia in 1975 and then gaining expertise in handwriting recognition technology. He founded ParaScript in 1989 and worked briefly at SGI in 1997. His LinkedIn profile shows he founded EverNote (capital N) in 2002.
They had 30M registered users in 2012 and $270M in funding. By 2015 Evernote had grown to 150M registered users but then laid off 18% of its workforce. In 2023, the company was acquired by Bending Spoons based in Milan. Looking at their Web site, they don't list Evernote as one of their products.
From Google Play, the Android app has been downloaded 100M times and has 1.8M reviews with a rating of 4.4*. That's impressive so OK, maybe some of the kids can use Evernote too!
This history was interesting to me and likely to my techie friends:
In 2010, the programming language used to write Evernote's software was changed from C# for version 3.5 to C++ in version 4.0 to improve performance. - Wikipedia
In version 10, they re-wrote Evernote using Electron and features were missing which annoyed a lot of their users. They've had numerous issues over the years and lost a lot of users to oodles of newer and more modern note-taking solutions. I know only one person who has hung on and still loves the app.
As one of the heavy hitters in the note-taking app space, Evernote has apps for iOS, Android, Windows, and the Web. The Web app is visually appealing but slow to load. I only created a couple of notes and the main page took 5 seconds to fully load which is a big #fail for note-taking.
I was pleasantly surprised by their Android app. Like the Web app, it's visually appealing and has all of the features that you'll need. Sure, it has some issues but overall a good app.
Where it becomes a challenge is their pricing as it's one of the most expensive I've seen. With the free version you can sync up to 2 devices but you're limited to the 60 MB monthly upload limit, fine for text notes but not for images and PDFs. Basically, you won't be using the Free tier for long.
Upgrading to the Personal plan is CAD 13.99/month and allows you to sync with unlimited devices and have 10 GB monthly uploads which should suffice for most people. There's also a professional plan for CAD 17.50/month.
Read on for the ugly, the bad, the good, the great, and the awesome aspects of the Evernote Android app.
Screenshot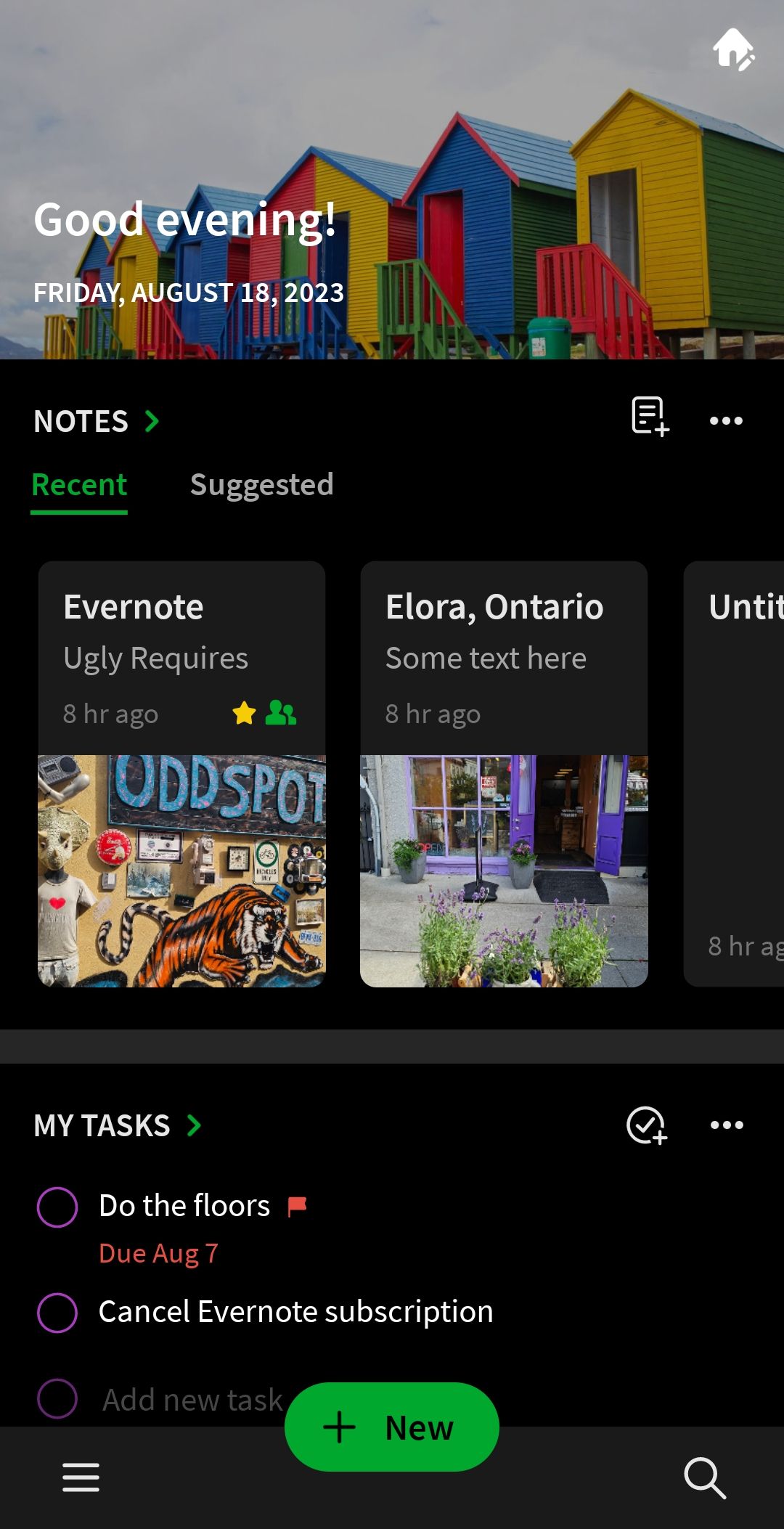 Meta
Ugly
Requires an account / not local first
Makes you provide a credit card upfront (part of Google Play)
Expensive
Export a note to proprietary .enex file
Kept rotating the screen even though I have a screen lock enabled
A few times my note wouldn't load at all, just the animated cursor
Had issues with my S-Pen drawing in the app, would not draw, and had to exit and reload the image. Happened multiple times
Bad
No inline tags
Asks for access to location without telling you why
The back softkey exits the app instead of going to the home screen
Emailing a note with an image in it makes the text so small it's unreadable
Good
Text formatting: bold, italics, underline, strikethrough
Nice default font
6 highlight colours
16 text colours
Hyperlink using dialog
3 heading levels
6 font styles
15 font sizes
code and code block
Toolbar
Text alignment: left, center, right
Undo and redo
Indent and outdent
Math formulas
Inline images
Insert photo
Notebooks
Move notes between notebooks
Horizontal line ("Divider")
Duplicate a note
Inline checkbox
Trash
Search within a note
Search across notes
Tags on a note
Filter by tags
Dark mode
Copy a note
Great
Markdown input
Record audio
Inline tasks
Share a read-only or edit link
Insert files like PDF
PDF viewer
Image in the note list
Sketch
Passcode on notes
Geolocation on notes (see Bad)
Google Drive integration
Reminders
Add shortcut
Tables (greyed out)
Calendar integration (greyed out)
Add a note to the Android home screen
Customizable app home screen
Image editing
A visual indicator of outstanding tasks on notes
Awesome
Link notes together
OCR
Web Clipper
Handwriting recognition (for tablets)
Homescreen is nicely designed
Recently captured content widget on the home screen
Offline access if you mark a note for offline
Inline audio recording
Homescreen shows tasks across notes
Templates
Pinned notes have a big preview of the note on the home screen
Google Calendar widget on the app home screen so you can see your schedule
AI Note Cleanup? (Beta)
Document scanning right into a note
Email a note to yourself (see Bad)
In Summary
Evernote continues to have some life left in it. Like any app, its future is not certain so make sure you export often. Given the scale of the service I expect you'd get some warning if it ever shuts down.
The Android app has a nice design and supports Markdown for input, inline tasks, templates, attachments, PDF viewer, audio recording, sketches, offline access to notes, and an endless amount of features. But, it's not cheap and has a lot of baggage given its age. Proceed with caution.
I hope you got something out of this review and happy note-taking week ahead!