Notion
Fast and supports AI to help with your writing. Use Markdown for input, link notes together, create sub-pages, amazing tables, add checklists, drag and drop sections, and attach photos and files.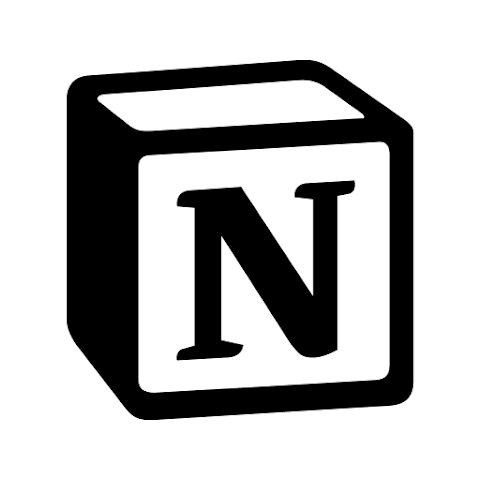 Welcome to Episode #97 on the road to Android note-taking app heaven. This week I finally tried out one of the most popular apps.
I hit a record of no new subscribers for two weeks and I suppose that signals we are a small niche of note app lovers from across the world. I'm thankful to you for hanging in and continuing to read my posts. If you have an app you've heard about and think it's worthy of a review, please let me know!
It's been crazy weather here in the Toronto area, extreme heat, torrential rains, wild thunder and lightning. In fact, I hear thunder as I write this post! The back-to-school shelves signal the coming of Fall already which inevitably leads to... Winter! Fall is my favourite season with the cool weather and colourful trees but I also don't want it to come too fast.
I had a bit of extra time this week and wrote a post on Medium about a cool feature of the Samsung S23 Ultra: I bought a phone but it turned out to be a telephoto camera. OK, onto Notion!
I put off testing Notion since it's cloud-based and I prioritized local first apps. It's one of the most popular services that I saw and heard about over the past year and a half. So, it's about time I reviewed it.
It's clear that the Web interface is the primary one and the mobile app is secondary. Having recently reviewed Microsoft Loop, my testing confirmed how far Microsoft has to go with Loop to catch up with Notion.
The company was founded in 2016 and has a religious following plus a massive community of consultants and plugins. As of 2021, they raised $343M on a valuation of $10B as in Billions according to Notion Success Story.
The Android app is fast and supports AI to help with your writing. You can use Markdown for input, link notes together, create sub-pages, add checklists, drag and drop sections, and attach photos and files. The table functionality is superior to most apps I've tested.
The Web is where Notion shines, super clean and fast user interface, and oodles of functionality, including collaboration features, endless table features, and a very well-done version history. It's really a collaboration tool more than a personal note-taking tool but you can definitely use it on your own.
There are seemingly endless integrations with other tools. From the Web app, you can import from Confluence, Google Docs, Text, Markdown, HTML, Dropbox Paper, Trello, Quip, or Workflowy.
You can quickly export all of your content via the Web with just a couple of clicks which is extremely important for a cloud service. The ugly part of this is the internal Notion identifiers appended to file and folder names. At least you can get your data out!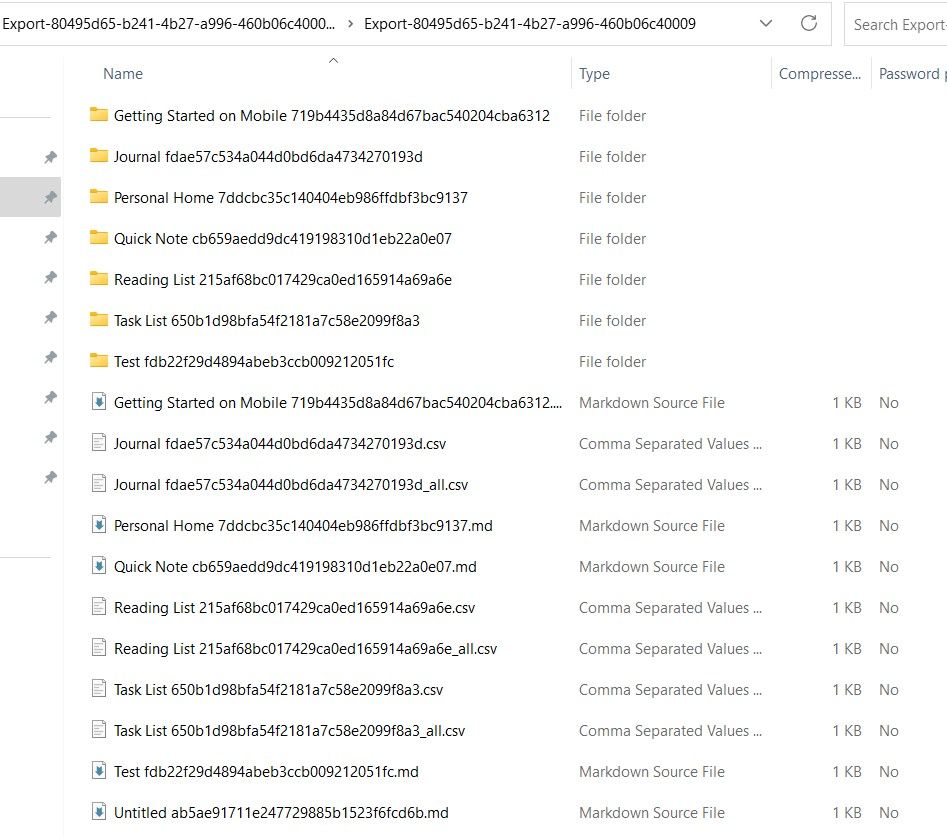 The free plan is generous with collaborative workspace, integrations with Slack and GitHub, page analytics, 7 days of history, and up to 10 guests.
The "Plus" plan is 10 USD per month ($8/mo if you pay annually) and has everything in the Free plan plus unlimited notes, unlimited file uploads, 30 days of history, and up to 100 guests. That's a very reasonable price for what you get.
Like Obsidian, the most important thing is the community surrounding the service/app and Notion excels at that. You can find all kinds of support and help online so you won't get stuck trying to make it work for you. I'm sticking with Obsidian because of the local first, simpler UI, and focus on me and my notes vs. collaboration.
Speaking of Obsidian, just this week they added preview support for Properties on notes which is very similar to Notion and I'm really excited about it. They respect and make your metadata (aka YAML Front Matter) come to life and ensure consistency across notes. If you didn't understand that, not to worry. It's a significant feature for note-taking geeks like me.
Read on for the ugly, the bad, the good, the great, and the awesome aspects of Notion.
Screenshot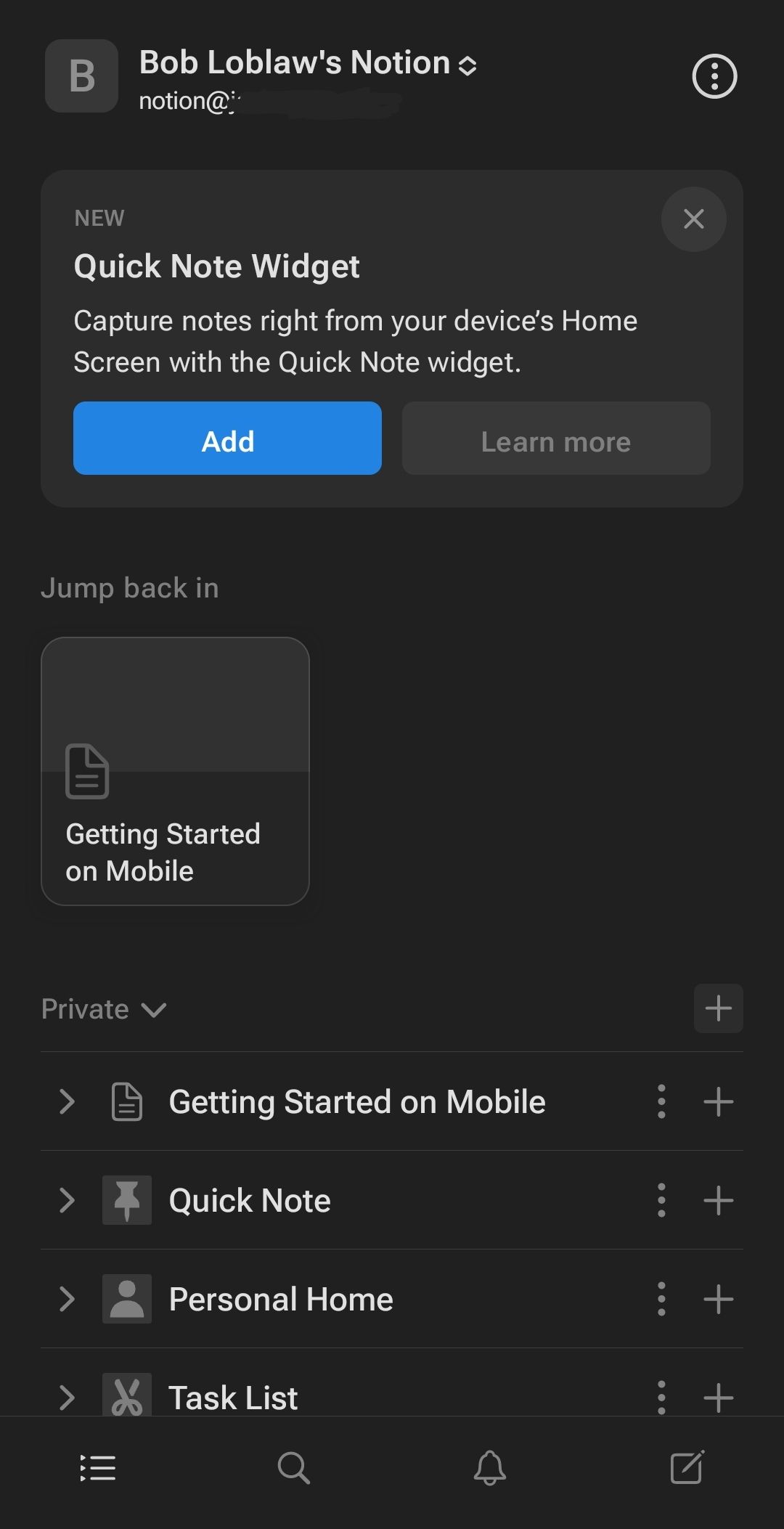 Meta
Score: 8/10
Device: Samsung S23 Ultra
Version: 0.6.1383
Google Play rating: 3.5
Developer: Notion Labs
Location: San Francisco, California
Ugly
Bad
Way too many sample notes
No import on Android (see Great)
Good
Text formatting: bold, italics, underline, strikethrough
Toolbar
Checklist
Numbered list
Insert image
3 font styles
3 heading levels
Undo and redo
Favourite a note
Duplicate a note
Hyperlink
Indent and outdent
Trash
Horizontal line ("divider")
Code
4 widgets
Great
Fast
Quick add note Android widget
Drag and drop content
Callouts
Share with link
Move notes to other pages
Collaboration
Notification on comments
Subscribe to page changes
Slack integration
Cover image
Templates
Page analytics
Insert video
TeX
Breadcrumbs
Attach files, audio
2, 3, 4, or 5 columns
Import from Confluence, Google Docs, Text, Markdown, HTML, Dropbox Paper, Trello, Quip, Workflowy
Long press Android menu
10 highlight (background) colours
Attach files
Awesome
Subpages
Version history
Support and development community
Online help and tutorials
Properties
Disable or enable change tracking
Add comments
Mermaid support
Amazingly simple tables: drag columns or rows, show or hide header row
Comment buttons with count are nicely displayed on the right and don't interfere with the content
See all comments on a note
Kanban board
Export to PDF, CSV, or HTML
Embed Tweets, Google Maps, PDF, Slack, GitLab, GitHub, Jira, Asana, Excalidraw and many others
Wiki
Outtake
If you need collaboration, Notion would be a great choice. I'm glad I didn't try it sooner as I would've spent too much time in it and still gone back to Obsidian.
Have a great note-taking week ahead!