ImapNotes3
ImapNotes3 is open-source, free, fast, with no ads, and supports WYSIWYG editing including tables and checklists, exporting to HTML, collapsable sections, tags, and 19 font colours.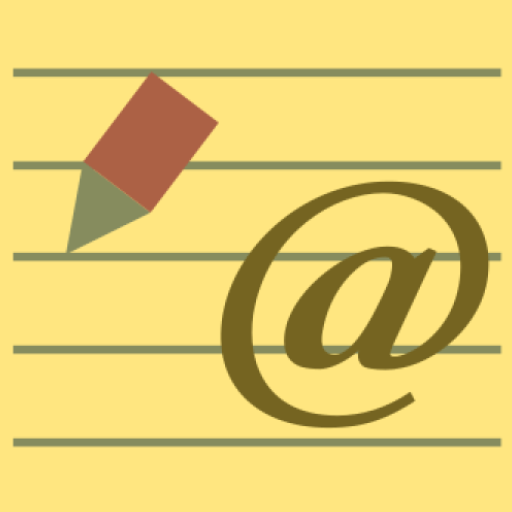 Welcome to Episode #95 on the long and winding road to find the best Android note-taking app. Before getting to this week's app, a note of thanks.
💡
Welcome Shishir from India and thanks Jonathan from Germany for the paid subscription! I'm happy and thankful to have you both along for the ride!
I mentioned briefly last week that I got a new phone, upgraded from the Samsung S20 5G which I got at the beginning of COVID-19 and loved because it was lightweight and fast. The new one is the Samsung S23 Ultra and OMG it's an incredible device. The main reason for getting this specific phone was to get the S-Pen support so I don't have to buy a tablet.
A good friend explained how it has one of the most secure chips on Android phones, the Snapdragon 8 Gen 2. It forces a restart of the device if an app tries to write in another's memory space. I believe it's part of their "Trusted Execution Environment (TEE)". Pretty cool.
I now remember how much I used to love writing notes on my Samsung S-Series tablets so if you see me review some "written" note apps in the future, that's why. For now, I'm using Samsung Notes for drawing which was one of the best Android note-taking apps when I reviewed it back in Oct 2021. A great side benefit for me is that this device loads Obsidian much faster.
Ok, onto this week's app.
This week I reviewed ImapNotes3 which is another app suggestion from Asen in Bulgaria. Thanks, Asen!
ImapNotes3 requires a little extra work to get going but once set up, it's very easy to use. To get the app you need to use F-Droid which is a platform similar to Google Play, not run by Google, and provides Free and Open Source Software (FOSS) apps
The app integrates your notes into Fastmail, Gmail, Yahoo, iCloud, and Posteo so you don't need to subscribe to a notes service! Notes are stored as HTML emails, a very smart idea.
With Fastmail the notes show up under Notes the menu and in Gmail they show up as labelled notes which makes sense and works well. I use Fastmail and am going to be keeping this app on my device.
It could be great as a companion to your email service although it doesn't support attaching images you can embed a link (URL) to the image if it exists somewhere.
ImapNotes3 is free, fast, has no ads, and supports WYSIWYG editing including tables and checklists, exporting to HTML, collapsable sections, tags, and 19 font colours.
Read on for the ugly, the bad, the good, the great, and the awesome aspects of ImapNotes3.
Screenshot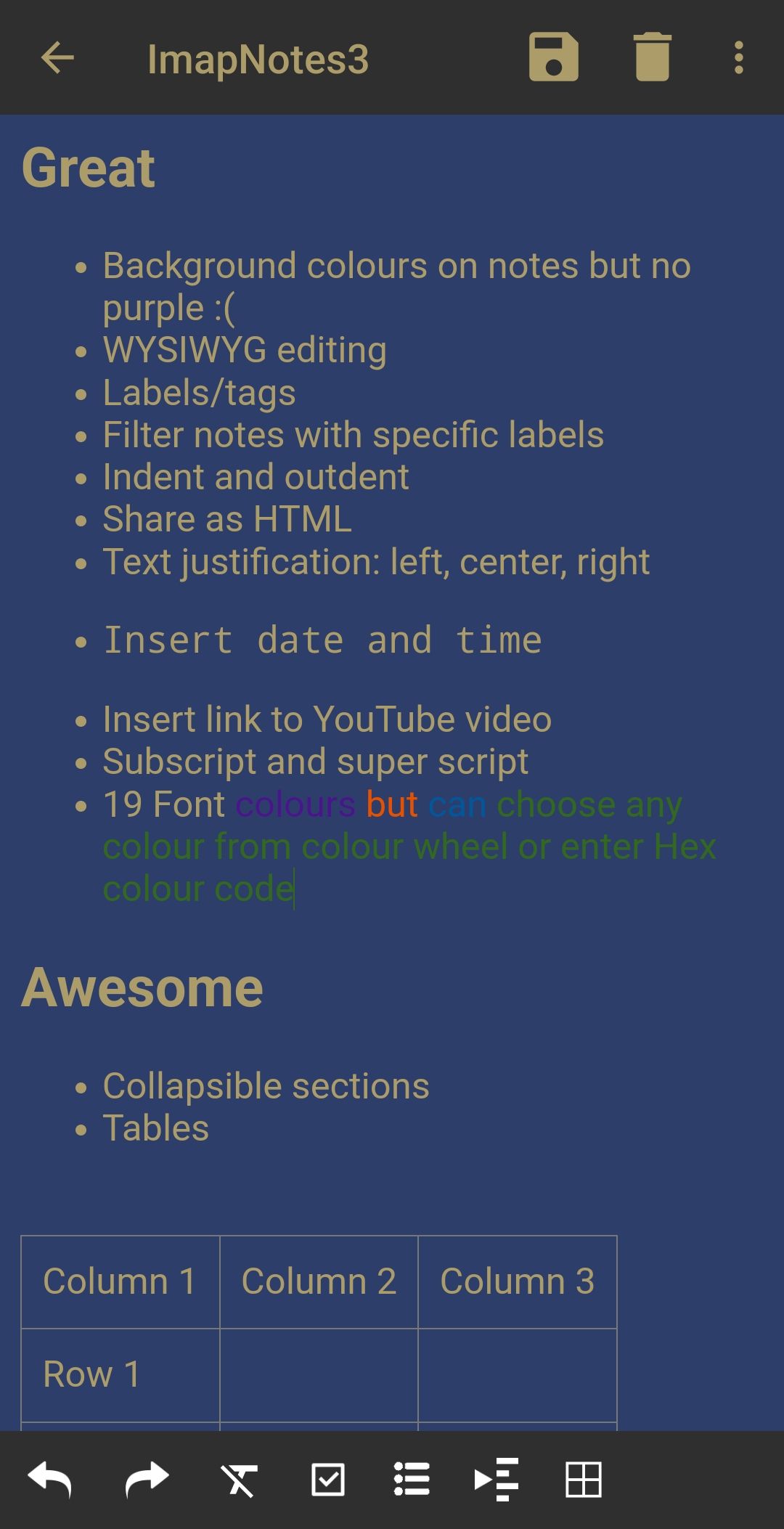 Quotes
View, edit and synchronize HTML notes and check lists on your IMAP mailboxes
Meta
Score: 6/10
Version: 1.3-01
Device: Samsung S23 Ultra
F-Droid: de.niendo.ImapNotes3
Updated: 2023-06-08
Developer: Peter Korf
Location: Leipzig, Germany
Ugly
Seems to create multiple notes in Gmail when you edit the same note – does not do this in Fastmail
Some of the colour backgrounds make the notes hard to read
Bad
No custom font colours
No share as Markdown
No export to PDF
No image attachments
No images in the note list
No audio recording
The UI is fairly basic
Good
Text formatting: bold, italics, strikethrough, underline
Checklist item
Bullets
Numbered lists
6 heading level
Insert image URL
⭐ insert a star
❗insert exclamation point
❓insert a question mark
Toolbar
Code
Horizontal line
Undo and redo
19 Highlight colours
Dark mode
Delete a note
7 font sizes
Quote
Great
Background colours on notes but no purple :(
WYSIWYG editing
Labels/tags
Filter notes by label
Indent and outdent
Stores the notes as HTML
Share as HTML
Text justification: left, center, right
Insert date and time
Insert link to YouTube video
Subscript and superscript
19 Font colours but can choose any colour from the colour wheel or enter the Hex colour code
Awesome
Free
Fast
No ads
Works offline
IMAP support :)
Open-Source with GPL v3 license
Multiple accounts supported
Collapsible sections
Tables
Thanks for reading though my review and have a great note-taking week ahead!