Nuclino
Nuclino is really fast, beautifully designed, supports Markdown for input and output, has amazing version history, tables, an API, and has oodles of integrations. Great for teams.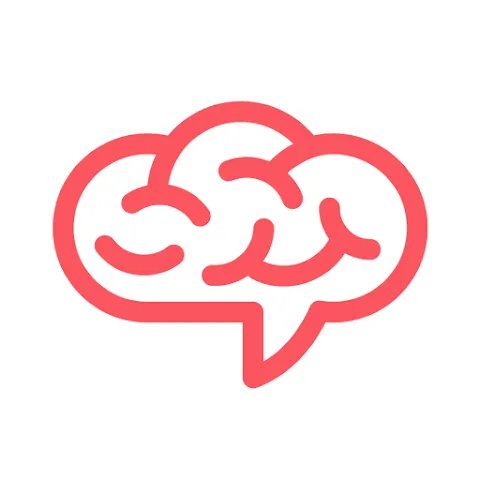 Welcome to Episode #98 in the journey to find the best of a thousand – I hope not! – Android note-taking apps. This week I tested Nuclino and was blown away, but before I tell you more, a thank you to 2 new "sponsors".
💡
Welcome Harry from India and Pari from California, U.S.A and thanks for joining the newsletter.
It's a long weekend here in most of Canada (not Quebec) so folks are out camping or cottaging, hopefully being safe. We're hanging out at home and looking forward to our granddaughter visiting tomorrow, then a day of rest after!
I had another busy week at work but was able to play a lot with Nuclino, which is one of the best apps that I've used. I would almost switch to it and end my search, it's that good.
The company behind Nuclino has the same name and is based out of Germany, founded in 2015. Incredibly, they only have 3 employees. I say incredibly because what they've created in such a small team is very impressive and goes to show you don't need $250M to do something awesome. Kudos to them!
All three employees studied at the Technical University of Munich. Björn Michelsen is CEO and has a Masters in Information Systems, Jonathan Kienzle the CTO has a Bachelors in Computer Science, and Anastasia Churazova the Product Marketer has her Masters in Consumer Affairs. Björn was very responsive to my emails and that's always a great sign!
Nuclino is really fast, beautifully designed, supports Markdown and Kanban, easy to use tables, and has amazing version history: the user interface for version history is the best I've seen in any app and most apps don't even have this functionality.
The app's target space is team collaboration so their pricing model and storage mimics that but I don't think it works for individual users. If they were to add a tier with unlimited notes, oodles of storage, no single sign-on (SSO), Kanban, or version control, then that would be good for consumers. That said, I would miss version control and definitely would miss Kanban!
Your team's collective brain
Like a number of apps such as Notion and Loop, you can type the "/" character to add content and that's quite handy.
Adding photos to notes is well done and the images appear with nicely rounded edges, support different sizes, and you can easily type captions.
Commenting on notes is another example of great German engineering. Simply select some text and comment on it, then the app highlights the text in yellow and allows you to edit, resolve, or delete the comment.
Getting existing notes into or out of a cloud-based service is important and with Nuclino you can import from Microsoft Word, text, or Markdown and then export to Word, Markdown, or PDF.
The number of integrations is quite large with over 40 connectors to other systems and the ability to embed content directly in notes from apps including YouTube, Vimeo, SoundCloud, Spotify, Figma, Prezi, Google Maps and other Google apps.
Read on for the ugly, the bad, the good, the great, and the awesome aspects of Nuclino.
Meta
Score: 9/10
Device: Samsung S23 Ultra
Last updated: 2023-07-18
Google Play rating:
Developer: Nuclino GmbH
Location: Munich, Germany
Screenshot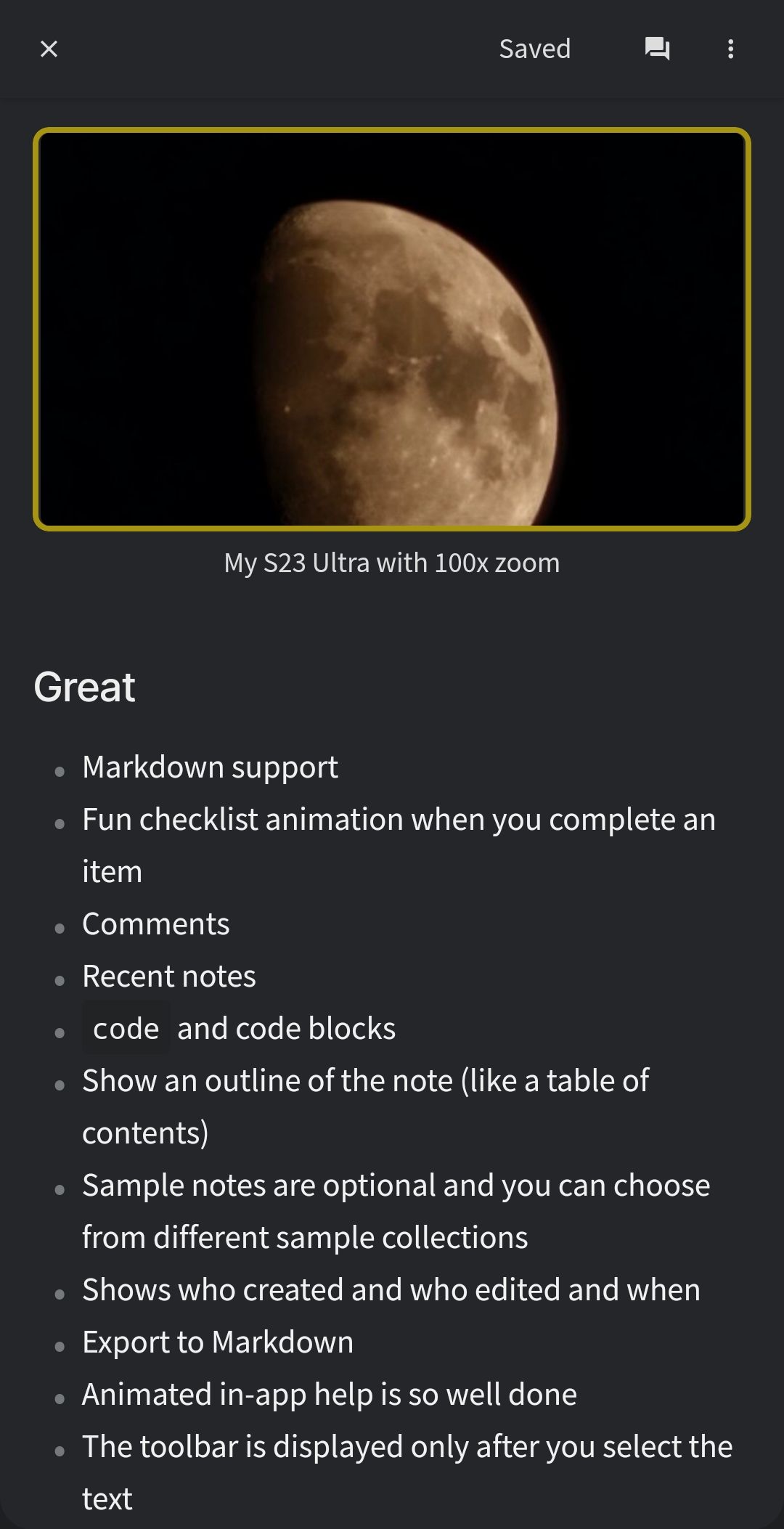 Pricing
Free: up to 50 items and 2GB total storage which is good to try it out but you'll need to upgrade if you plan to use it long term
Standard: CAD 7/mo gets you unlimited items, admin tools, version history, Single sign-on (SSO), and 10GB storage per user which isn't a lot, at least for me
Premium: CAD 14/mo adds audit log functionality, team insights, advanced security controls and 20GB storage per user
Ugly
Bad
Not local first
Saving and Saved kind of annoying at the top, distracting
Does not use [[ ]] syntax to link notes, instead @  - this is a personal preference coming from Obsidian
Changing a bullet to a checklist causes all of the bullets in that section to be checklists, this is not a major issue, just surprised
Some odd behaviour when editing notes, I will report if I can reproduce
Can't input tables using extended Markdown syntax and maybe that's a good thing as Markdown is a pain in the... but export tables do use Markdown syntax
Good
Text formatting: bold, italics, strikethrough
Highlight and it's purple!!
Inline checklist
Numbered list
code and code blocks
Hyperlinks
List view
Pin note
Workspaces
Move a note to another workspace
Duplicate a note
Archive a note
Test
Trash
Dark mode
Horizontal line
Search current workspace or all
Insert date
Star a workspace
Great
Markdown support
Fun checklist animation when you complete an item
Comments
Recent notes
Show an outline of the note (like a table of contents)
Sample notes are optional and you can choose from different sample collections
Shows who created and who edited and when
Export to Markdown
Animated in-app help is so well done
The toolbar is displayed only after you select the text
Presence indicator
Notifications about @mentions and replies
Quotes and quote blocks
Image captions
Sort and filter tables
Filter open tasks
Find unresolved comments
Import from Confluence, Evernote
2FA
Comment only role
Image grids
Slideshow
PDF viewer
Templates
Likes
Import from Word, text, and Markdown
Awesome
Fast
Link notes together
Beautiful design
AI ask anything
Image resizing
API
Tables (see Bad)
Embed local video works great
Apps for Windows, MacOS, Linux, Chrome, Firefox, Safari, Edge, iOS, and Android
Graph view
Export to Word
Export to PDF
Embed content from apps including YouTube, Vimeo, SoundCloud, Spotify, Figma, Prezi, Google Sheets, Slides, Docs, Maps, and Drawings
40+ integrations (see below)
Integrations
Calendar: Google Calendar
Files: Box, DropBox, OneDrive, Google Drive
Communication: MS Teams, Slack, Discord
Forms: Typeform
Writing: Grammarly
Design: Invision, Sketch, Google Drawings, Framer, Abstract
Diagrams: Draw.io, Gliffy, Lucidchart, Whimsical, MindMeister, Miro
Spreadsheets: Airtable, Baserow, Google Sheets, SeaTable
Jira
Video: Loom, Vimeo, Wistia, YouTube
Single Sign-on: Google Workspace, Microsoft AD, Auth0, OneLogin
Development: GitHub Gist, JSFiddle, CodePen, Plunker, Replit
Audio: SoundCloud, Spotify
Presentations: Pitch, Presi, Google Slides
GIFs: Giphy
In Conclusion
Every good story needs an ending. Not this one. I want it to keep going!
Have a happy note-taking week ahead.