FairNote
Supports Markdown, encryption, 13 languages, note colours, tags, and backup and restore to Google Drive, Yandex, Dropbox, WebDAV, or local. Free version is great and pro is only CAD 3.38.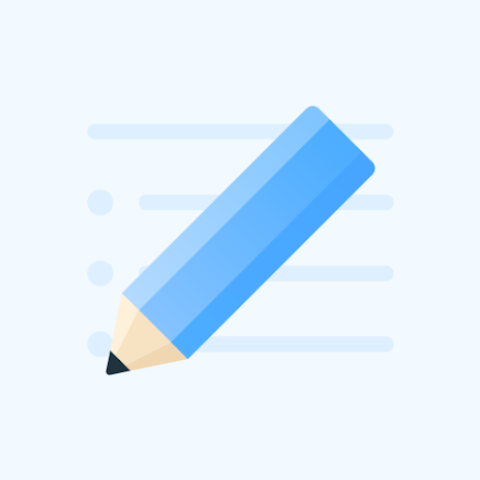 Welcome to Episode #91 as I inch toward my 100th review of Android note-taking apps. The adventure has gone longer than I thought it would, but meeting some of you virtually and sharing has been a ton of fun!
💡
Welcome to AJ from Virginia, Novia from Indonesia, and Zamir from Columbia. That's a set of subscribers from around the globe. Thanks for joining!
This week's app is called FairNote and it was recommended a couple of weeks ago by generous Asen from Bulgaria! I just looked back at his email and I rated it precisely as he did, 7/10! Asen is a de-Googler like me but more advanced, even looking at LineageOS to be Google-free. He provided such amazing personal reviews and his preferred tech stack of Android note apps including Notepad.Lite, Markor, and Simplenote. Thank you Asen!
I couldn't find any information about the Developer of the app. The domain tied to the app in Google Play is rgiskard.com which is registered to an address in Reykjavik, Iceland but the Developer info section lists them as being based in Saskatchewan, Canada. Possibly the Developer moved or registered somewhere else?
FairNote is fast, local first, supports Markdown, encryption, 13 languages, note colours, tags, and backup and restores to Google Drive, Yandex, Dropbox, WebDAV, or local device storage. Yeay, WebDAV!
The app is missing some functions that I need like attaching images and audio recording and the editing is not What-You-See-Is-What-You-Get (WYSIWYG) so you have to switch to preview mode to see the end result. The export options are limited to text-only and should include Markdown at least, PDF would be bonus points.
Overall, a great app if you're looking for fast text note-taking and don't need to include images or audio. I'm excited to keep an eye on this one, if only because the Developer is based in Canada... well, I think so!
Read on for the ugly, the bad, the good, the great, and the awesome aspects of FairNote.
Screenshot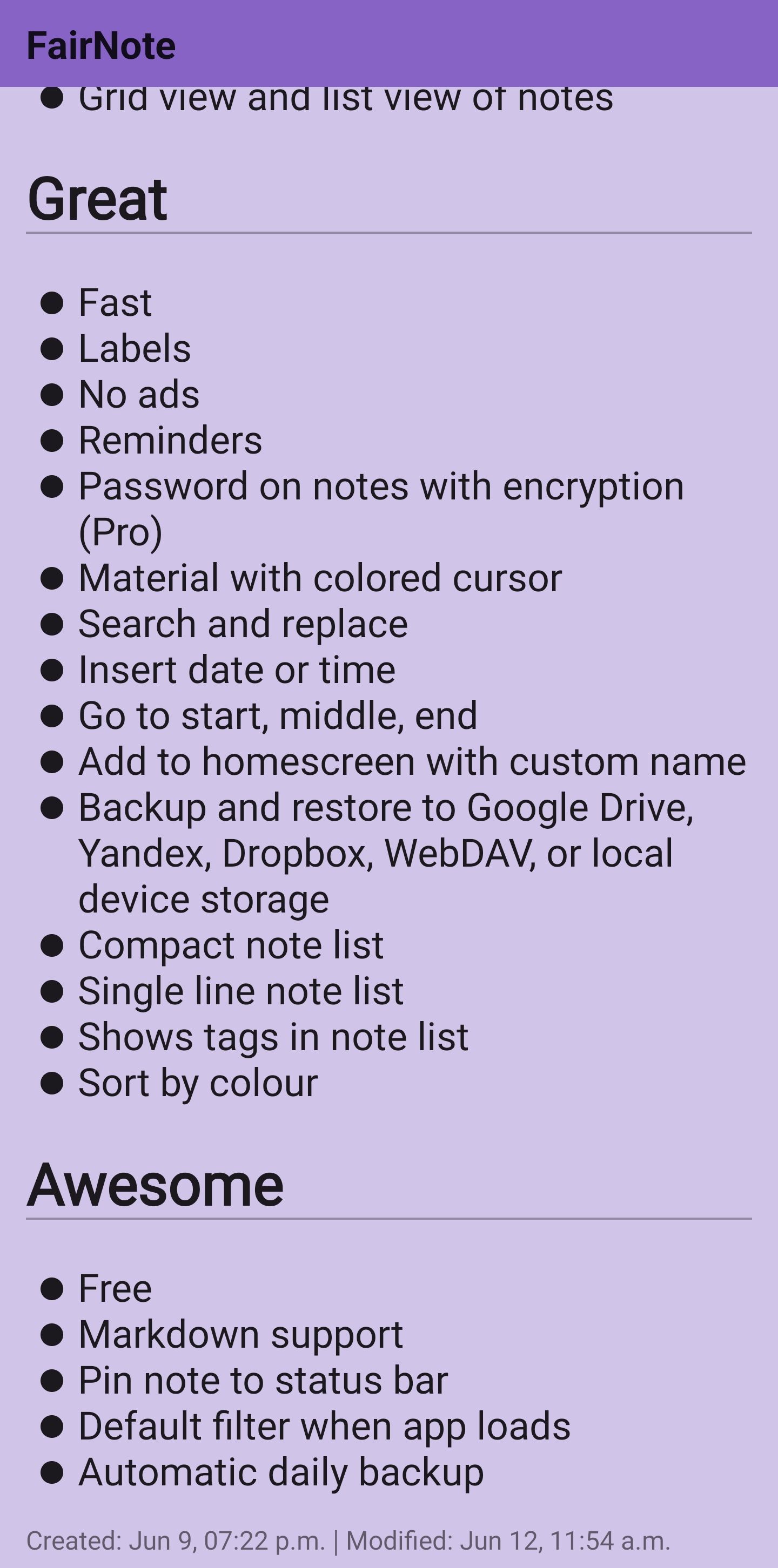 Meta
Score: 7/10
Device: Samsung Galaxy S20 5G
Google Play rating: 4.4*
Last updated: 2023-03-05
Developer: Tarique
Location: Saskatchewan, Canada
Ugly
No image attachments
No audio recording
Bad
After you save you also have to click the back arrow to go back to the note list
No WYSIWYG editing
No export to Markdown
The bullets are a bit "heavy" in preview mode
Good
Text formatting: bold, italics, strike-through
6 Heading levels
code and code block
quote and quote block
Checklists
Labels
Material design
20 background colours
Read-only mode
Undo and redo
Search within notes
Export to a text file
Copy note body
Archive note
Sort by date created, modified, or alphabetically
Trash
Share notes to apps
Checklists but separate from notes
15 languages
4 fonts
Grid view and list view of notes
Dark mode (Pro)
Created and modified dates and subtly shown
Great
Fast
Fast search
No ads
3 nice Android widgets
Reminders
Password on notes with encryption (Pro)
Search and replace
Insert date or time
Go to start, middle, and end
Add to the home screen with custom name
Backup and restore to Google Drive, Yandex, Dropbox, WebDAV, or local device storage
Compact note list
Single-line note list
Shows tags in the note list
Sort by colour
Export a collection of notes to text files in a batch
Import a text file or set of text files
13 languages supported: Chinese, Czech, Dutch, French, German, Hungarian, Italian, Korean, Persian, Polish, Portuguese, Russian and Spanish
Awesome
Free
Cheap
WebDAV
AES256 Encryption
Encryption at rest
Markdown support
Pin note to the status bar
Default filter when app loads
Automatic daily backup
That's it, thanks for reading and have a great note-taking week ahead!