Stone's note-taking week in review #4
Welcome 7 new subscribers, Samsung Gallery tips, my home screen, subscribed to JotterPad, amazed by a $30 tablet, and 53rd app review: Clipto
Welcome to note-taking app review # 53 and my adventures in note-taking. This week I tried a few apps but I was having a hard time motivating myself since they weren't very good. Then, all of a sudden, Sahil on reddit suggested that I try Clipto and once again I was excited to have something worthwhile to share.
Before I get into my review of Clipto, I want to tell you a bit about my week in note-taking. This week there were a few new folks, some learnings about images on Samsung phones, and two sales that had me "buy now!".
Thank you!
First off, thanks to each of you that follow along. I'm inching towards my next goal of 1,000 people across social networks: currently at 686. The number is likely lower with duplicates, but humour me!
💡
A big welcome to Paul from Missouri, Ramon from Switzerland, Citra from Indonesia, Benjamin from the UK, Steve from Texas, Claudu from Germany, and '4s9dnybn' from Malaysia.
Since you're following an Android note-taking app reviewer, many of you likely have a Samsung phone or know at least one person that does. Let me share something useful.
To all Samsung phone folk
Something I learned this week which helped me a lot on my Samsung S20 5G is that you can hide folders within the Samsung Gallery, their photo gallery app.
I take a ton of screenshots for this hobby, and I file them in folders. I then use them in Obsidian, post some in my app reviews, and upload some to Airtable. Having all those folders made the Gallery app very busy and slowed my workflow.
This week I saw an article by Rajesh Pandey which showed how easy it is to hide folders. Now, my gallery is much cleaner and only shows a few folders. Instead of duplicating the steps here, please read his article Samsung Gallery Tips and Tricks. That's not all I learned from the article.
Thanks to Rajesh I also learned about an object eraser which can be used to blur out parts of an image and spot colour which makes a picture black and white and then you choose the parts you want to have colour. Very cool.
I succumbed to two sales this week.
What's on your home screen?
The note-taking apps I use often have first-class locations on my home screen: Obsidian, EZ Notes, and Twos. Oh, and Dynalist since it's a fast "outliner" where I can keep the food preferences for my family handy.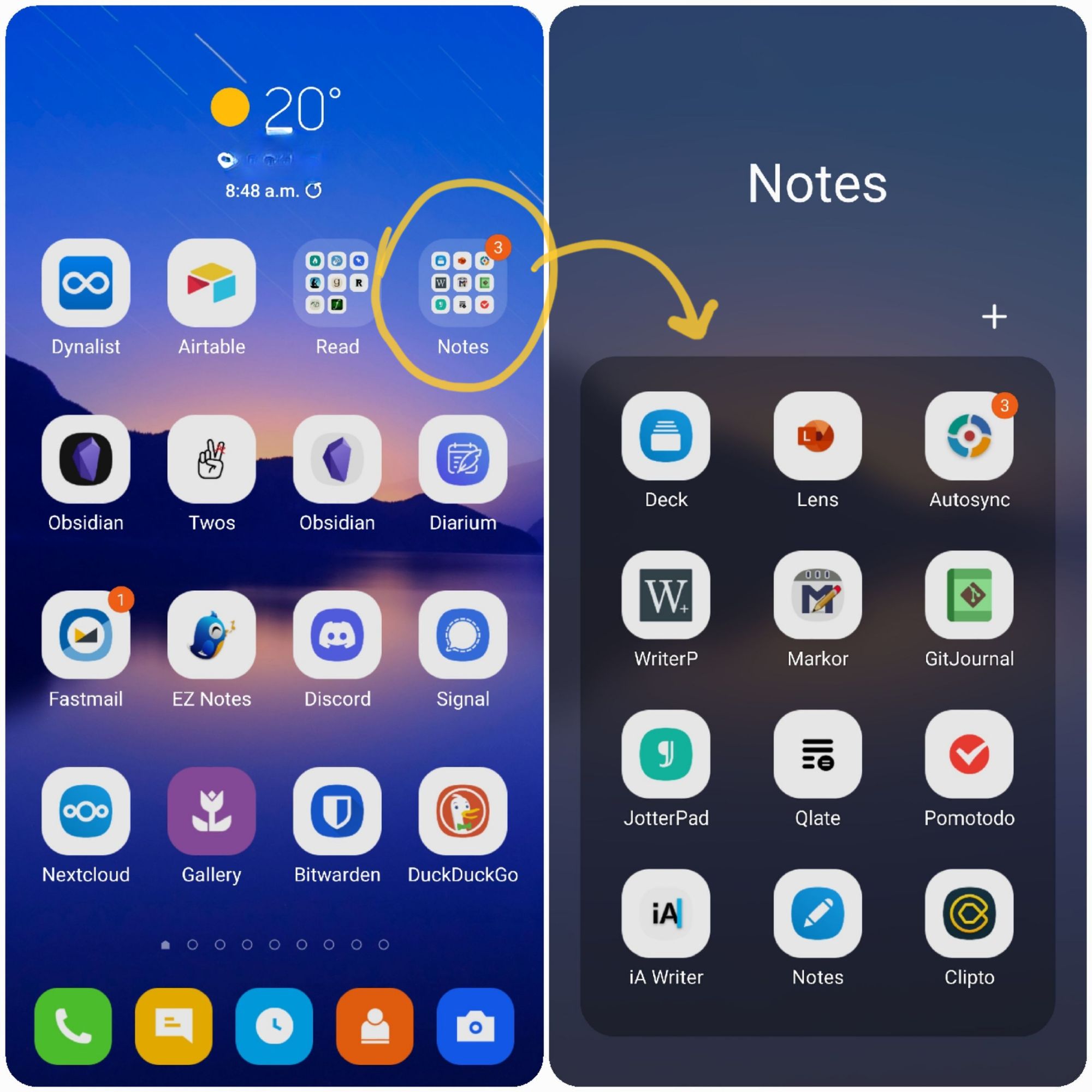 My "Notes" folder contains secondary note-taking apps that I like to play with every so often or that I use for specific things. These include Markor, WriterPlus, and JotterPad to name a few.
Markor has an ugly UI but it's fast, supports plain-text files, and has a nice-looking export to PDF. Writer Plus does exactly what it's intended for: super fast note-taking, plain and simple. JotterPad has a clean UI and uses a nice font which makes me want to launch it. I couldn't justify the cost though. That was until this week.
I cannot resist a sale!
I definitely don't need every Android note-taking app long-term and as my dad would always tell me:
"It's not a sale if you don't need it"
But this week I received the below notification from JotterPad who I'd been playing hard to get with. Ignoring my dad's advice I opted for the dopamine rush and clicked "Continue".
I will be using JotterPad more in the future as I'm keen to try its publish-to Ghost feature. Unfortunately, that's not a standard integration. No buyer's remorse as yet and speaking of sales.
A $30 tablet for note-taking!
Yesterday, I was in a local Shoppers Drug Mart which is a pharmacy turned into a general store with groceries, stationery, magazines, and of course electronics. Their electronics are very expensive, but they have a great loyalty program.
As I walked to the checkout, one of their displays caught my attention, not the least because it was full of electronics. I saw this sign and stopped to look.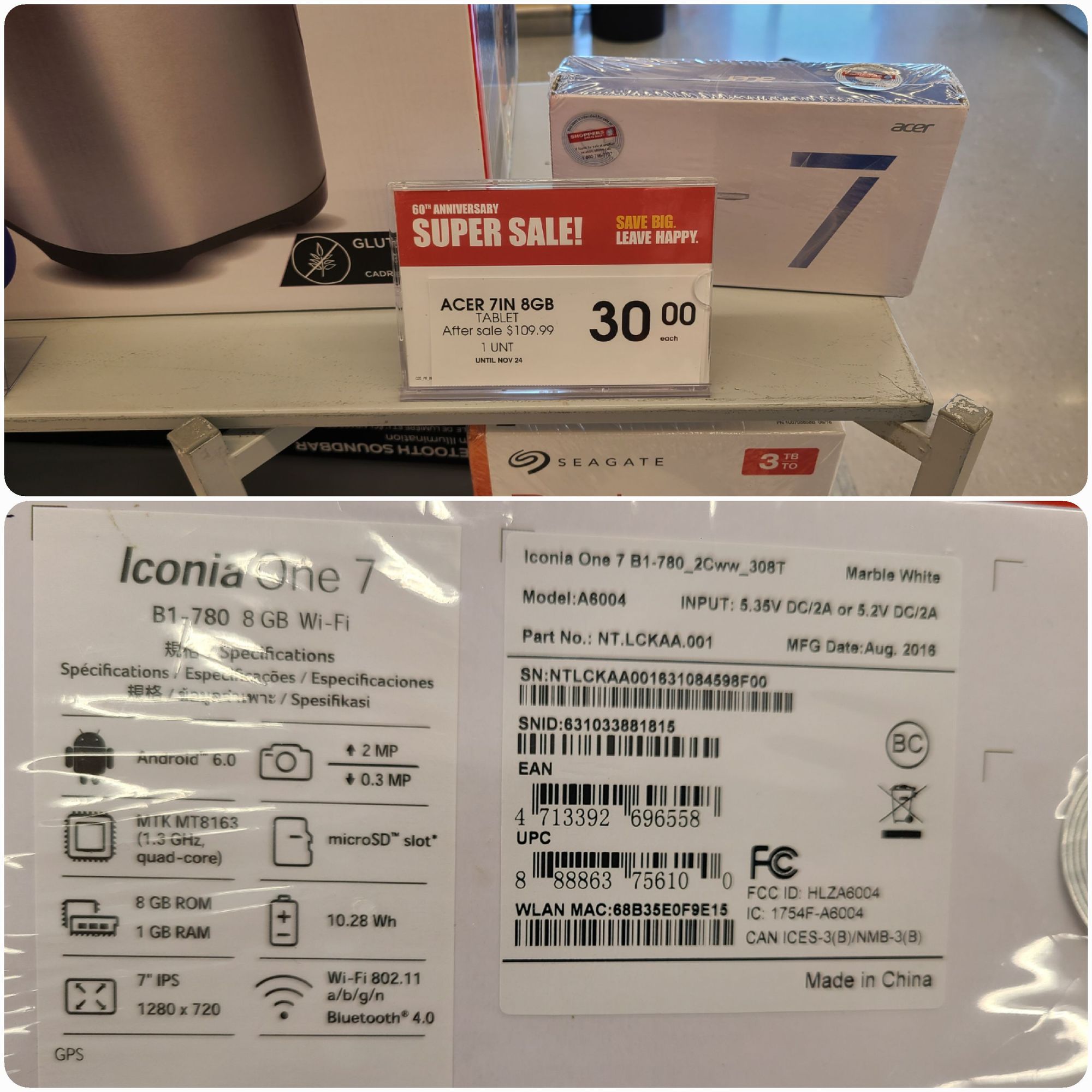 I turned over the box and read the specs: runs Android 6 and has very little memory. But, for $30 it has a very sharp IPS display and a micro-SD card slot for storage expansion. That alone is worth it.
I was thinking that I could root the tablet and install another OS on it but there aren't any images for it. I like the physical size as it fits in my hand just like the original Samsung Galaxy Note that I used for many years. I can type on this Acer tablet with both thumbs quite comfortably and quickly.
Last night, I was able to try out a bunch of note-taking apps on the tablet but it ran out of storage quickly. There were so many apps pre-installed that I had to remove a lot so that I could install the note apps.
My initial findings are pretty good except for Obsidian:
WriterPlus works great as I knew it would
Markor works well
Obsidian is installed but shows a blank screen once launched
Clipto works great, very snappy
Clipto? Yes, that's the app I reviewed this week!
Clipto is one of the best