The 12 note-taking apps of Christmas
A little reflection this time of year and a teaser about an app I've been consulting on!
I'm being a little lazy today since it's Christmas Eve, I just started a new job this week, and I've had this bad cold virus for the past 6 weeks.
With the Christmas theme, I thought I'd list the "top 12" Android note-taking apps from my reviews but before that a bit of a teaser on what's brewing!
Exciting times are ahead for 2023!
I've been dying to tell you about one super-exciting thing that I've been doing in the background over the past 6 weeks.
An incredible, very experienced, and young Android app developer in Indonesia reached out to me on reddit. He already has a top Android app in another area and now he's creating one of the fastest apps to draft notes before getting them into other services and tools.  
I've got a few friends and family members in a private Signal group where we share ideas, and test his product. Sahil - my note-taking Yoda - and I have been working very closely with the Developer via through this group. We have no financial or commercial involvement, just pure joy and excitement for a new tool that we all need.
In the short time since we've been communicating, we've seen multiple software builds per week each adding significant features. I couldn't have imagined this happening a year ago and it's an amazing outcome. I had thought about building my own app one day but just don't have the chops or time. This is the next best thing!
I'm so happy to be able to share this and I can't wait to tell you more in 2023! Now, what were those "top 12" note-taking apps over the past year-ish?
The 12 note-taking apps of Christmas
I don't actually think the following are the top 12 apps at this point since some apps have evolved over the past year, my scoring is not scientific, and my view of what makes great note-taking apps changes slightly too.
For example, Obsidian is not on this list but I use both the Android and Desktop (Windows) versions constantly as they handle my 4,986 personal notes and my 2,366 note-taking app notes extremely quickly. The Android app version I reviewed a year ago, almost to the day, has improved a lot so it's no longer a 7/10 but it's still slow to launch.
For the 12 apps of Christmas, I've copied the summary from my noteapps.softr.app site and below each, I provide an "Update" about my use of the app or some more recent thoughts.
With that said...
On the first day of Christmas my [note-taking App developer] gave to me...
"Just use Markor" [was what someone on reddit told me early on and I do]. It contains no ads, is free, completely local, supports Markdown, audio recording, and has a ton of settings. It has a few usability issues but those are far outweighed by its features and endless customization abilities. Import Markdown or other and export to PDF, image, Markdown, text, and HTML!
Update: Markor still lives in my home screen (under "Note Apps" folder) and I use it when I need a reliable and quick note app. I now trust it enough that I have it default to my Obsidian vault folder and they are playing nicely together! I love printing my notes to PDF from Markor and sharing them as they look great with its formatting.
An incredible app that supports Markdown, SD card access, uses local text files, is local first, supports AES encryption, inline checkboxes, inline images, 25 themes, custom themes, templates, a customizable sidebar, and more.
Update: I haven't been using Epsilon but I keep it in "Note Apps" folder to remind me that I want to customize it with CSS at some point to see if I can get it to "look nicer". At this point, it's not visually appealing when I launch it so I don't "want" to use it. If one of you out there is using it and has the CSS chops to make it look better, please share!
Notes is a great little app that costs under $5 and has oodles of functionality for that price. The UI is nice and clean, has useful help, and supports inline checklists and tables so it's definitely worth the money. Plus, it's developed in the Netherlands where my parents come from.
Update: I haven't used this one at all and it's not installed on my phone. I scored it high early on because I had seen so many sub-par apps and this one had a lot. Will go back and look at it again sometime.
Security and privacy first app with end-to-end encrypted sync across devices as part of the free plan! Basic functions like text formatting and checkboxes are an upgrade. Open-Source, change history, apps for every platform, has an API, 3rd party extensions, WebDAV support.        
Update: I haven't been using this one as I never subscribed. Very expensive for me to just get Markdown at $90/year. I will continue going back to look at this app for its security and the fact that it's Open-Source. I check their Discord Server periodically.
A great note-taking app targeted at authors and playwrights although it can be used by anyone. It's fast and has all the features including Markdown, WYSIWYG editing, version history, and publishing to Ghost or WordPress! Relatively expensive at $40/yr but you get what you pay for.    
Update: I keep this one installed and in my "Note Apps" folder and launch it periodically since I like the looks of it and want to try the Ghost integration at some point. Otherwise, I don't actively use it.
One of the best Android note-taking apps out there. It checks off almost all of the important features: offline first, fast, free, supports Markdown, inline images, linking notes, encryption, backup and restore, and tons of settings.    
Update: I don't keep this installed but just did a quick test and it looks like Dmitry has been busy and implemented some of the items on the Naughty ("Bad") list which is great.
Clipto's is one of the best note-taking apps that I've used. You can use it locally or signup using email, Facebook, or SMS. It's very customizable and configurable, supports plain text, Markdown and you can export to PDF, HTML, Markdown, or plain old text.                                                    
Update: This one is in my "Note Apps" folder as I love the look of it and the way it works. It's one of the apps I look at most often but don't actively use. The fact that it runs so well on an 8-year-old Acer tablet amazes me. The "Runes" name for features still confuses me and turns me off because it makes me think and I don't like to think when it's not necessary! I do check their Discord server rarely.
An incredible app, one of the best I've tried. It's fast and has a nice UI. It has all of the features you'd ever want in a note-taking app, minus Markdown. Hand drawing is simple and easy to use, add inline images and tables, and link notes to each other.                                                            
Update: None, haven't been using it or following it. Let me know if you use it and working well for you.
A great note-taking app targeted to wellness but you can ignore that stuff. Expensive at $5.49/mo or $38/yr but has an incredible amount of features. Supports WYSIWYG editing with Markdown, attached images, a calendar view, and publishing to Ghost, Tumblr and WordPress. You can get your data out!          
Update: None, haven't been using it but it did entice me to look at other journal apps. I ended up buying and using Diarium for a few months. I liked it more but Journey is still worth checking out. I now do my Daily Notes in Obsidian which is just a list of what I did during a given day plus some #todos – not really a typical journal with "I'm thankful for this", "That made me happy", etc. I think journalling would be great but I don't capture that emotional stuff in my notes, at least not yet.
#note-to-self why is Diarium not here instead of Journey?!
A few folks online suggested that I review this app. It's Open-Source, has Markdown and inline image support, linking of notes, and tons of sync options, as well as desktop, mobile, and Web apps. I couldn't figure out how to export from the Android app besides sharing the markdown version of a note.            
Update: I've installed and uninstalled Joplin a few times in 2022 and it's definitely a great tool. I check on their Discord server updates once in a while. Definitely, a high runner on this list and I will keep going back and checking on it.
iA Writer is one of the better Android note-taking apps I've used. It's super fast, supports Markdown, and has a clean UI, footnotes, and a ton of other features for free with no ads.                                                                          
Update: It had a place in my "Note Apps" folder most of the year but I removed it since I don't use it and rarely launched it. Definitely one of the top ones but more for Writers and I don't see myself as a Writer. Plus I needed to have a smaller set to keep an eye on.
Notesnook is a privacy-first, zero-knowledge, and open-source app that is well-designed and easy to use. It has almost every feature you could want in a note-taking app and then some. At $6.99 per month for the Pro version, you can export to Markdown, to HTML, to PDF, and you can attach images.
Update: I had this one installed but then removed it in a purge. Thank goodness I'm reflecting since I actually paid for the Pro subscription! It was cheap at CAD 18.91 but it renews in Sep 2023 at CAD 75.63 per year. I don't expect I will renew at that price. I just logged into the Web version and remembered how beautiful the Web app looks and then I got the error below ... ugh! I re-installed the Android app now and the Export to PDF works but it shows the raw Markdown instead of formatting ... ugh! I'm going to play some more as I remember how excited I was that Notesnook went Open-Source. I sure hope they've fixed the editor by now.
#note-to-self why is this one in the top 12 with these issues!?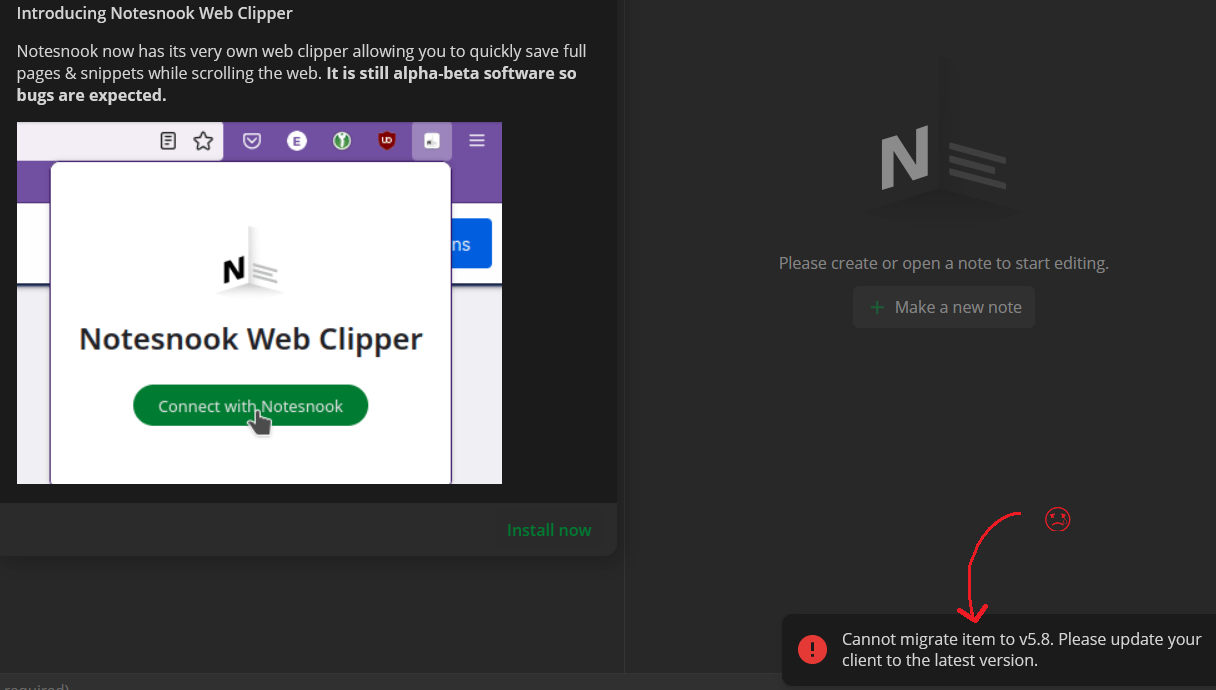 All the best!
Well, that took longer than I expected but it was fun to reflect on these 12 apps of Christmas 2022! I hope you enjoyed reading through as much as I did writing it.
This hobby has been a lot of fun and I'm thankful to each of you for following along when there's so much other content out there that you could be looking at instead.
Here's wishing each of you and your families a safe and happy holiday season!
Off to buy one last present...!